Rewards and challenges of Parfait's "farm to freezer" ice cream
This article was originally published in July 2019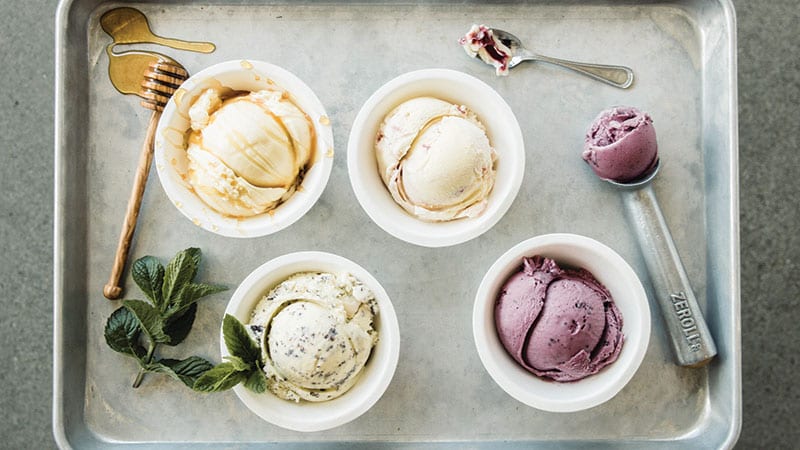 ---
Adria Shimada can tell you every step she takes to create the pints of Parfait Ice Cream in PCC freezer cases, but it's also easy to see for yourself.
The garden boxes outside her Ballard scoop shop and creamery overflow with spearmint for her mint stracciatella ice cream. Inside, workers might be baking pans of brownies and other "add-in" confections for different flavors, pureeing local berries and cherries, cooking up pots of caramel and hot fudge. Batches of ice cream begin with milk and cream and eggs (if they're not among her vegan blends), rather than the premade bases used in most ice cream shops.
It's all part of a process she calls farm to freezer.
"We are the maker, not just the flavorer, of the ice cream," she said. "We are certified by the WSDA (Washington State Department of Agriculture) as a dairy plant. I've taken the pasteurization course at Washington State University, I'm certified as a dairy technician, as are all my kitchen leads."
Parfait's presence at PCC is one step in the company's long evolution from Shimada's original business plan. The trained pastry chef started the business as a food truck 10 years ago—except the term barely existed in Seattle then, so she referred to it as a "mobile ice cream parlor." Her son, Ari, was born the same year.
"People always say, how did you manage that? I think in some ways having both of them has made me a better mother and a better business owner."
Back then, artisan ice cream was as unfamiliar a trend here as artisan coffee had been a few decades earlier. Still, Shimada drew fans for her commitment to scratch cooking and for intense, fresh flavors.
When the eco-conscious Greenfire campus opened in Ballard, her light-filled, French-inspired shop was one of the first storefronts, with gardens and a few small tables and a big back kitchen.
It allowed her room to experiment with ingredients, such as making and piping out her own sprinkles when she couldn't find commercial versions without added gums. She could play with recipes, balancing seasonal flavor notes like fruity blackberries against floral lavender.
The terms "handmade" and "homemade" are not regulated, which can make it hard for Shimada to showcase what sets her apart. She thinks the nutrition labels required on packaged pints help customers distinguish between brands, showing exactly what's inside the container—and, as important to Shimada, what isn't.
Customers looking at the variety of ice creams at PCC can prioritize favorite flavors, organic certification, additive-free recipes, local ingredients, local manufacturers, or some combination of other elements they feel matter the most.
Shimada has had to make similar choices herself. Adding wholesale pints to her business added complexity and costs, such as investing in a vat pasteurizer, acquiring a distributor, and reformulating recipes to tolerate a longer shelf life and greater temperature variations.
Those requirements encourage many manufacturers to add artificial stabilizers to their ice cream. In her case, that meant experimenting with quantities of egg yolks and percentages of butterfat.
"You don't have to use industrial practices, even in big volumes," she said.
She did, though, make the significant change of switching from the organic Smith Brothers milk that had previously been a signature to the company's conventional milk.
"It was a long, well-thought-out, researched process for me, and emotionally—not taxing, but I took it very seriously," she said. She ultimately decided organic milk, on top of her other costs, would force her retail prices higher than customers would spend.
"I started asking customers, friends and family what they cared about the most about Parfait. The organic part came up less than the fact it was made from scratch, the fact it was local, the fact it was farm-to-table where I knew my sourcing…and the fact it didn't have gums and stabilizers, that it was clean…
"As a consumer myself, I still try to buy as much organic as possible. But as a consumer I make choices too."
As Parfait turns 10, she's happy with how her one-time "other baby" is growing up. She's figuring out even more ways to smooth out a seasonal business, such as making an organic soft-serve base for various restaurants and bottles of winter eggnog for a neighborhood distillery. Her regular ice cream ingredients include organic stone fruits from Tonnemaker farms, organic berries from Hayton Farms supplemented by her own garden beds, non-GMO cane sugar, and organic fair trade Theo Chocolate.
"This ice cream is a dessert," she said. "I don't make any claims that it's a health food. But I'm very serious about it never being junk food."