Policy Report
By Aimee Simpson
This article was originally published in July 2019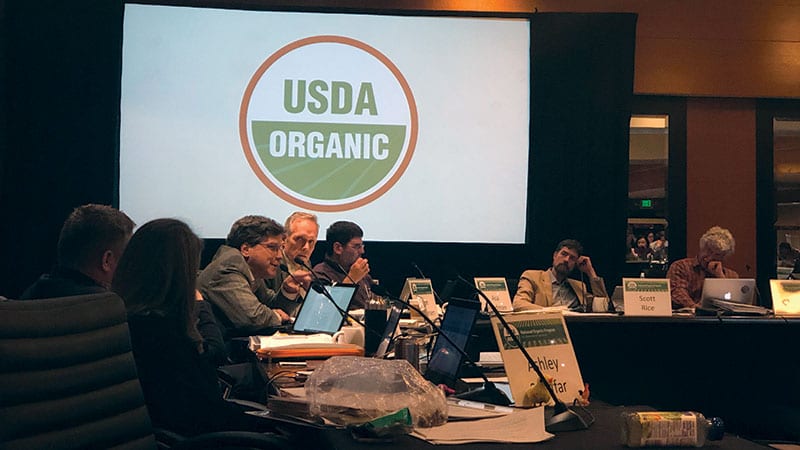 ---
NOSB in Seattle
Seattle had the once-in-a-decade opportunity to host a National Organic Standards Board (NOSB) meeting this past April 23 to 25. It was a rare chance to see the in-depth debates behind almost every aspect of the little green and white circle denoting organic certification, digging into questions as broad as fraud and as specific as "What is 'pullulan', how do I pronounce it, and should this be allowed in organic foods?".
As some of you were able to witness firsthand, it isn't just the 14-member NOSB weighing in on these issues. The meetings bring together people from all corners of the organic community to voice concerns, educate on production and policy issues, and learn about what is happening in the world of organic.
The NOSB is responsible for developing standards for substances to be used in organic production and advising the U.S. Department of Agriculture (USDA) on other important aspects of the National Organic Program (NOP). The work of this diversified panel (made up of farmers, certifiers, consumer advocates, scientists and retailers) offers a unique platform from which consumers and farmers alike can learn about and take part in a food systems process unlike any other.
Participants at the spring meeting started out hearing from Jennifer Tucker, deputy administrator of the NOP, on the intensive cross-agency work being done to address organic import fraud. Part of this work included updates to a newly implemented data tracking system, which should aid in many facets of organic enforcement. Tucker also commented on the controversial issue of certified organic hydroponic and container production techniques and noted that NOP was looking into some recent complaints.
The substance of the meeting came from the NOSB and its many discussion topics, expert panels and material reviews. Beyond "pullulan" (a non-organic starch product petitioned for use in organic vegan supplement capsules and pronounced like "pull-U-len"), other detailed topics included marine material impacts, analysis of organic celery powder nitrite and nitrate levels, and evaluating organic sources of methionine, an amino acid. Topics that were not on the agenda but found their way into the conversation included emotional pleas from farmers to fix the origin of livestock issue (see our article on page 10) and calls from all corners of the organic community to clarify standards for organic container production.
Last, but certainly not least, the board heard from over 70 individuals through testimony, including a PCC representative, PCC members and even the Raging Grannies singing group. Those who testified spoke about the broad spectrum of organic issues and emphasized yet again why organic stands apart from the rest of the food system in providing this public forum to engage on these issues.
Olympia Session Snapshot
PCC was hard at work in Olympia this legislative session and what a session it was! From orcas to sustainable farms, here is a snapshot of our efforts:
PCC supported 15 bills with nine of those bills going on to become law, including laws on 100% clean energy, chinook abundance, and fruit and vegetable access.
PCC testified or submitted written comments on seven bills, including bills targeting food waste, toxic pollution, and greenhouse gas emissions.
PCC members were instrumental in supporting Washington's new law preventing toxic pollution that affects public health or the environment, responding to our PCC Advocates call to action and helping pass the bill on one Senate vote (25-24) at a critical stage of the legislative process.
PCC helped defeat two bills trying to override the Washington Department of Ecology's decision to ban the spraying of imidacloprid (a neurotoxic pesticide) on Washington oyster beds in Willapa Bay and Grays Harbor.
Aimee Simpson, J.D., is PCC's director of product sustainability.