Beer partnership benefits salmon
This article was originally published in July 2019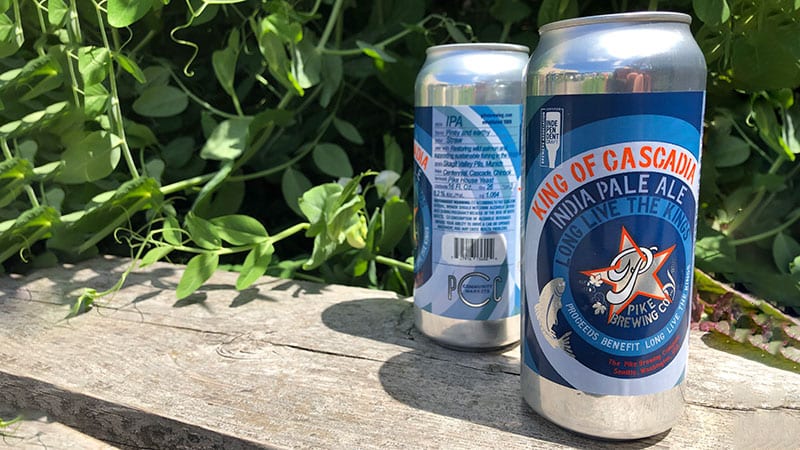 We know wine can have a sense of place, but how about beer? A new partnership between Pike Brewing Company and PCC reflects the Northwest in all sorts of ways.
We're collaborating on a series of new beers where a portion of sales will benefit Long Live the Kings, a 33-year-old nonprofit working to restore wild salmon and steelhead and support sustainable fishing in the Pacific Northwest. The first beer in the series, Pike King of Cascadia, is now exclusively available in cans at PCC and at Pike Brewery. It's on draft at a handful of other locations, including The Pike Pub, Tankard & Tun, Ray's Boathouse and Duke's Chowder House.
"We love Cascadia, and we want the beers to be a reflection of this place," said Jeff Cox, PCC's wine, beer and spirits merchandiser.
When it comes to flavor, that meant creating "an old-school Northwest IPA" that offers "a lot of brightness, with a savory note and a good bit of malt," Cox said. Pike Brewing describes "King of Cascadia" as having a light body, using Skagit Valley Pilsner and Munich malts. The wheaty, toasty character will reflect the grains grown in our region, while Yakima-grown hops will include piney Cascades and Chinooks along with pungent Centennials.
The cause is just as local. PCC is a longtime supporter of Seattle-based Long Live the Kings and also partners with Chinook Wines on its behalf. The nonprofit's priorities include rebuilding salmon and steelhead populations and habitat, plus supporting and advancing scientific research. Cox said they're leaders in a crucial field.
"You're dealing with not only an animal that's iconic to the Northwest, to Cascadia, but also one that is essentially the canary in the coalmine where our environment is concerned."
Pike Brewing is a local symbol on its own, one of the original craft breweries in the region when it was founded in 1989. Founders Charles and Rose Ann Finkel have been named as pivotal figures in the modern renaissance of beer, first as beer importers and later as brewers. Their many accomplishments include helping establish the Seattle branch of Slow Food, a nonprofit organization promoting "good, clean, fair food for all."
Pike Brewing will donate $10 to Long Live The Kings for each barrel brewed and PCC will donate $2 for each case, totaling more than $900 in donations for each iteration of the beer. "It's not only to generate dollars, but to generate awareness for Long Live The Kings," Cox said. "They just do incredible work."