PCC in D.C.
By Aimee Simpson
This article was originally published in June 2019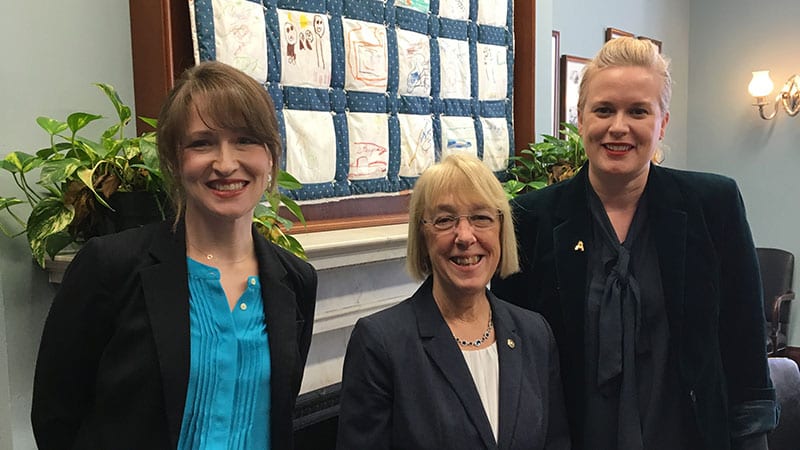 ---
PCC believes that supporting the organic label and the food production standards it affirms requires going beyond the store shelves and shopping baskets. PCC's voice — your voice — needs to be heard by lawmakers so they know we care about improving our food production system and support the farmers and producers doing their part to make that happen.
Working toward that goal, PCC became a full member of the National Organic Coalition — a national alliance of organizations working to provide a "Washington voice" for farmers, ranchers, environmentalists, consumers and industry members involved in organic agriculture.
On March 27, PCC participated in NOC's annual "fly-in" (a day dedicated to speaking with senators and representatives about a set of focused issues) in Washington, D.C. During the fly-in, NOC members met with 60 Congressional offices to advocate on behalf of organic. Brenna Davis, PCC's vice president of social and environmental responsibility, took the lead with me on engaging with Washington state senators and representatives. PCC met with six Congressional member offices from districts across the state, including in-person meetings with Sen. Patty Murray and Congresswoman Kim Schrier.
Major discussion issues included:
Growing organic agriculture in Washington state. Our state is No. 3 in the country for sales of organic crops and livestock, yet organic farms only make up 2.3% of farms in the state. Across the country, organic food accounts for 5.5% of retail food sales and is growing every year. This means that in addition to the health and environmental benefits of organic agriculture, there are economic opportunities for producers across the state to expand organic.
Finalizing origin of livestock rules. Congress must pay attention to challenges in the organic dairy sector and inconsistencies in the organic regulations that tell dairy farmers how to transition conventional livestock to organic. Corrections to the organic regulations have been drafted and received public comment but have not been finalized. Congress needs to encourage these much-needed regulatory fixes to move forward.
Continued support to address organic import fraud. The discovery of fraudulent imports in large commodity crops, such as soy and corn, has troubled organic farmers, retailers and consumers alike in recent years. Congress and the National Organic Program have taken significant steps to respond to this issue, but the organic industry needs swift and continued movement toward solutions and Congress needs to make sure that this effort is not delayed.
Climate change and organic agriculture. Research is increasingly showing connections between organic agriculture and potential solutions to challenges facing the agricultural sector when confronting climate change. Congress needs to increase support for research on organic methods and solutions to climate change, bringing agricultural practices into the conversation.
In addition to meetings with legislators, PCC participated in NOC's annual meeting and met with U.S. Customs and Border Protection to learn more about efforts to address import fraud. PCC saw tremendous value in these national advocacy efforts and will continue to bring the voice of its producers, members and customers to the national stage to advocate for a strong organic program.
Aimee Simpson, J.D., is PCC's director of product sustainability.