Fighting GE salmon with local tribes
By Rebekah Denn
This article was originally published in June 2019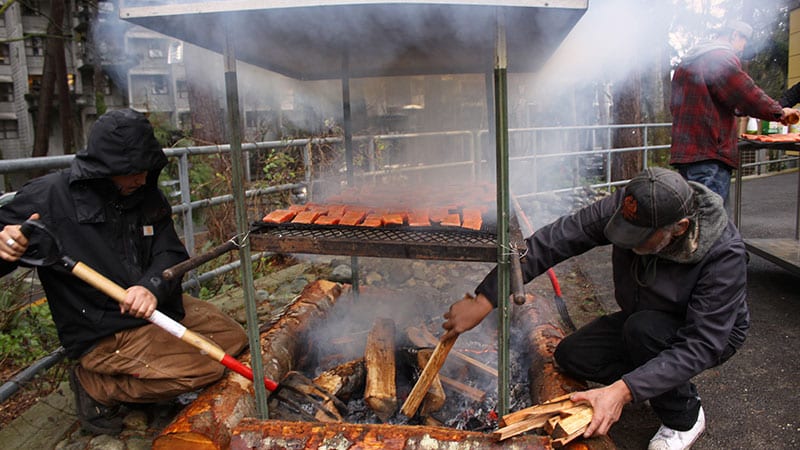 ---
In many ways, "it's the salmon's world and we just live in it," said Valerie Segrest, coordinator of the Muckleshoot Food Sovereignty Project.
Salmon are a keystone of Coast Salish culture, protected by treaties signed long ago.
That's why tribal members fervently oppose a plan to bring genetically engineered (GE) salmon into U.S. markets, a proposal that could become reality as early as 2020. Allowing the fish, they say, would put wild salmon at risk, divert needed resources from habitat restoration and ignore tribal rights.
Speakers at a recent Town Hall panel in Seattle argued against what they've deemed an unlabeled "Frankenfish," the first genetically engineered animal approved for human consumption. They encouraged the general public to join in fighting a March decision by the U.S. Food and Drug Administration (FDA) that will permit Massachusetts-based AquaBounty Inc. to import eggs from its Canadian hatchery to grow GE salmon in Indiana.
"It's an opportunity for all of us to intervene," said Dana Perls, senior food policy campaigner for Friends of the Earth, which co-sponsored the event along with the Community Alliance for Global Justice and Center for Food Safety.
Such public opposition has made a difference before.
PCC formally opposed FDA approval of GE salmon in a 2013 letter (see pccmarkets.com/r/5194), and was the first of thousands of grocers around the country to sign a pledge not to sell genetically engineered fish. The FDA received nearly 2 million letters against the 2013 proposal.
Many commenters felt, as Segrest did, that the fish's environmental and human impacts haven't been adequately researched.
"We are the experiment," she said at the Seattle panel.
Speakers also weren't placated by AquaBounty's assurances that their salmon, raised in a contained facility, could never breed with wild fish. The tribes have seen other such guarantees fall through, as when as many as 250,000 farmed salmon escaped from a net pen into Puget Sound in 2017. That crisis led to a ban on Atlantic salmon farming in Washington state waters. For them, the promise of fast-growing, cheaper protein sources isn't worth risking the fish that's so central to their lives.
The Quinault nation is one party in a lawsuit saying the FDA acted outside its scope of authority when first approving the fish. Members were "deeply alarmed" by the decision and should have been consulted about it based on existing treaties, said Fawn Sharp, president of the Quinault Indian Nation.
Sharp talked about how Billy Frank Jr., a hero of tribal rights and environmental movements, taught her that salmon can't get out of the river and walk through the halls of Congress. It's up to us, Sharp said, to use our collective voices on the salmons' behalf.
"We are the last line of defense."
---
Ways to Help
PCC has a long history of opposing genetically engineered salmon as well as net pens. We have spoken out on the issues (for example, see "Opposing AquaBounty's GE farmed salmon" and "End net-pen aquaculture in Washington waters") and our members have joined us in reaching out to legislators and raising awareness. Organizers of the Town Hall event recommend supporting their campaign against genetically engineered fish in three ways:
Watch and share "Salmon People," a short film on Coast Salish perspectives about the risks of GE fish for the Pacific Northwest. It's online at cagj.org/salmonpeople.
Ask your senator to co-sponsor SB 282, which would require labeling for any genetically engineered fish. (The bill was introduced by Senator Lisa Murkowski (R-AK) and is currently co-sponsored by Sen. Maria Cantwell (D-WA), Sen. Jeff Merkley (D-OR) and Sen. Dan Sullivan (R-AK).) (Federal standards already include AquaBounty salmon as one of the products that must be labeled as bioengineered starting in 2022. Opponents say those existing labeling requirements, which could take the form of a QR code, are insufficient.)
Watch for and lend support to future campaigns aimed at encouraging food service companies not to purchase genetically engineered salmon. The companies are major suppliers of school and hospital meals, and a large potential market for GE salmon producers.