Get involved for Orca Action Month
By the Washington Environmental Council
This article was originally published in June 2019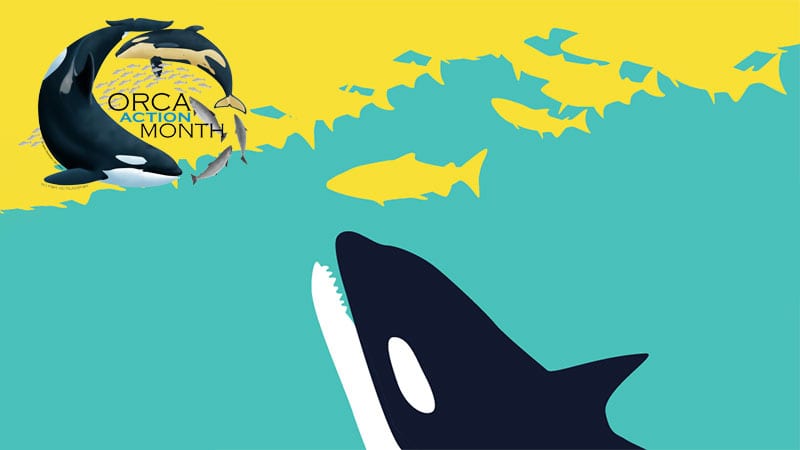 June is Orca Action Month, a chance to celebrate one of our region's most iconic species and the waters we all share. Sadly, we've all seen the dire news for these creatures. Because of a lack of salmon, toxics in our waters, and far too much noise in our waterways, our orcas are dying. There are now just 75 resident orcas left in the Salish Sea. We know that when our orcas are in trouble so is our Sound. And if we want healthy thriving places to live, work and play, we need to protect our waters.
Over the past 12 years, Orca Month has grown from a few small events to an enormous celebration with events throughout the region. Last year there were 38 events and activities attended by 11,300 people and reaching some 250,000 others via social media.
"This is exactly what we dreamed Orca Month to be like. Thank you everyone for making this dream a reality," said its founders, Susan Berta and Howard Garrett of Orca Network.
With the theme of Hungry for Change (because like the orcas themselves, we are hungry for change to create a better home for them), this year's Orca Action Month promises to be the biggest yet. Orca Salmon Alliance, the host of Orca Action Month, will serve up family-friendly events throughout the Salish Sea region. These events promise to be fun, educational, entertaining, hands-on, energy-rich, and will show individual actions to support recovery of the Southern Residents. Whether it's a workshop, festival, presentation, beach cleanup, pub talk, concert, kayak paddle or art project, everyone has a chance to make an impact and help make our community a better place for people and wildlife.
Orca Action Month is open to everyone and provides an opportunity to connect with our local communities; share the story of why we care about our Sound and our orcas; and step up to create change to help orcas, salmon, and our shared environment. While we encourage year-round change to help Southern Resident orcas, Orca Action Month provides a special opportunity to celebrate the place we live and take community action to help protect and recover these beautiful creatures and restore our Salish Sea.
Orca Action Month sponsors include PCC Community Markets, Seattle Art Museum, Ivar's, Snoqualmie Ice Cream and others.
Events
Highlighted events include a kickoff festival June 2 at the Olympic Sculpture Park in Seattle, a "Whales in Your Neighborhood" presentation June 9 at various locations around the region, and a Whale Trail Sign Dedication and celebration June 21 at Richmond Beach Saltwater Park in Shoreline.
For more details and a full listing of Orca Action Month happenings, sponsors and information on our Orca Poster Contest, visit orcamonth.com.
The nonprofit Washington Environmental Council's mission is to protect, restore and sustain Washington's environment for all.