Our co-op community
This article was originally published in April 2019
PCC has strong Pacific Northwest roots. We have been giving to our community for decades — supporting neighborhoods, ensuring a sustainable food system, and protecting the environment. Connect with us so we can support your effort to build a more healthy and sustainable community. For more information, please visit Healthy Communities.
Growing FareStart partnership
PCC has been a longtime supporter of FareStart, a local nonprofit dedicated to providing real solutions "to some of our society's most pressing challenges — homelessness, joblessness, poverty and hunger." The program began with adult culinary education but has expanded to include youth. FareStart's Youth Culinary and Customer Service Program, a collaboration with Seattle Public Schools, offers alternative education and career development opportunities for students.
Our Columbia City store has opened its kitchen for cooking classes for students participating in the program. The cooking classes, taught by chefs from the PCC Cooks program, provide an opportunity for students to sharpen their culinary skills. This year, we've increased the number of classes offered. We are proud of these students as they grow in their culinary skills and passion for the culinary arts.
Farmland forever drive
Farmland in Washington is among the most expensive in the country and is vulnerable to development. The PCC Farmland Trust, a local nonprofit founded by PCC Community Markets, protects farmland at risk from being developed. Well-managed farmland not only produces healthy food, it also promotes soil health, water conservation, habitat protection, and climate resilience.
This month you can help protect farmland by supporting the trust's capital campaign at our store registers. Every penny raised goes directly to the efforts of the PCC Farmland Trust!
Kirkland volunteer opportunities
Join the Green Kirkland Partnership as it celebrates Earth Month this April. The Green Kirkland Partnership is an alliance between the City of Kirkland and local nonprofits, businesses and the community with a goal of restoring more than 500 acres of land.
This month the partnership is hosting almost 20 different environmental events in Kirkland. PCC will supply snacks for the volunteers at several events. If you'd like to participate, you can sign up at greenkirkland.org.
Games for Good
Tuesday, April 16
5:30 to 7:30 p.m.
Lagunitas Taproom
1550 NW 49th St., Seattle
Want to have fun while supporting a local human services organization? Come check out FamilyWorks' Games for Good event at the Lagunitas Taproom. This annual fundraiser features jumbo-sized games, music, beer and trivia.
PCC is supporting the event with delicious food from the deli. Funds raised support North Seattle's FamilyWorks food bank and family resource center. Find out more at familyworksseattle.org.
Issaquah Rotary Grape Escape
Wednesday, April 24
6 to 9 p.m.
Pickering Barn
1730 10th Ave. NW, Issaquah
Join PCC at the Issaquah Rotary Club annual sip-and-taste fundraiser to benefit the Issaquah Rotary Foundation. Enjoy tastes from more than 20 local wineries, distilleries and a brewery and pair your drinks with appetizers from local restaurants. Staff from Issaquah PCC will be sampling delightful small bites for you to savor. Must be 21 and older to attend. For more details and to purchase tickets, visit issaquahrotary.org.
Y-WE career day
Saturday, April 27
11 a.m. to 4 p.m.
UW Bothell, Mobius Hall
18345 Campus Way NE, Bothell
Young Women Empowered (Y-WE) is hosting a free career day at the UW Bothell campus. Y-WE's mission is to "cultivate the power of diverse young women to be creative leaders and courageous changemakers." PCC Bothell is a sponsor of the event and will be onsite to share PCC career information. Register and preview the official Career Day program at youngwomenempowered.org/careerday2019.
---
April customer service star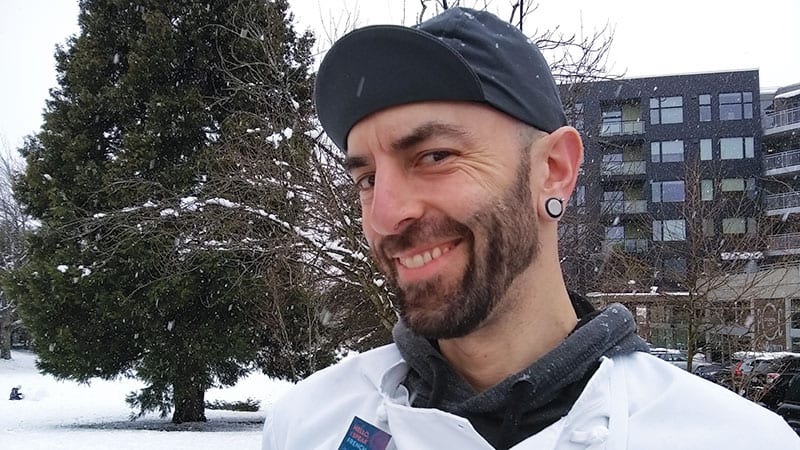 Zak Towle
Deli helper clerk and barista, Columbia City PCC
Zak is a rock-solid member of the Drink Center crew at Columbia City who can handle almost any volume of orders and still provide top-notch service.
In his year and a half at Columbia City PCC as a deli helper clerk and barista extraordinaire, Zak has built some genuinely amazing relationships with our customers — whether it's remembering the exact drink of many regular customers, communicating through American Sign Language with customers, or creating fun custom designs on cups, such as "Nina's magical unicorn potion," for kids. His personal, friendly, genuine service style is an inspiration to his teammates.