PCC's Story of Giving
by Lynn Bakeman
This article was originally published in November 2018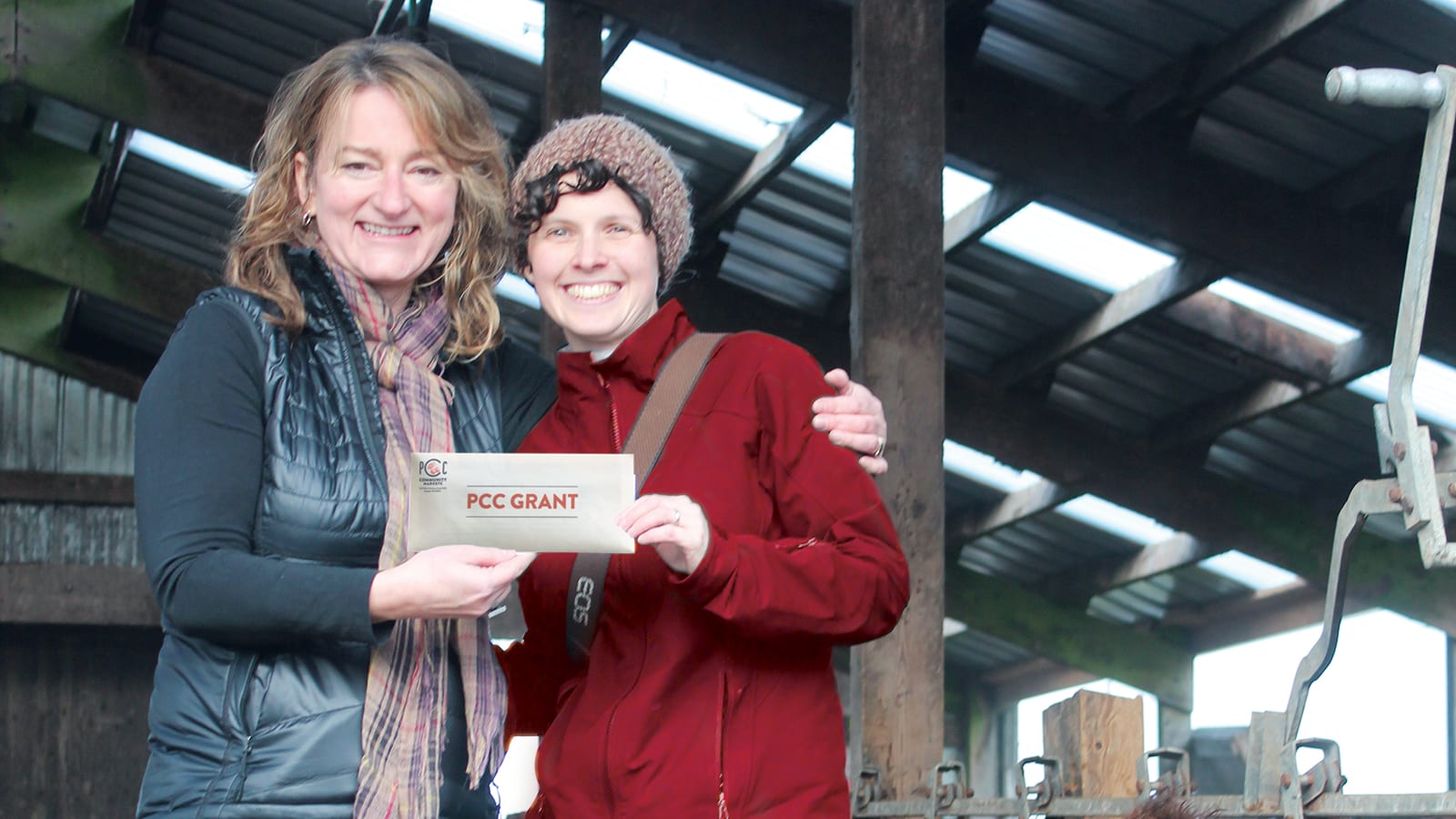 ---
PCC Community Markets first opened in Seattle in 1953. As we grew, so did our commitment to our neighbors.
PCC has grown from a deeply rooted philosophy: a shared commitment to economic, social and environmental responsibility. A single tree with deep, strong roots can shelter many for generations to come.
Those roots are sustained by being member-owned and operated. PCC actively supports neighbors and partners who share our core values, placing people before profits and farms before factories. This holiday season we reflect on the ways that PCC has given back to our communities and the ways that PCC has grown — and continues to grow — while giving.
Good neighbors
As PCC grew in the Puget Sound region, it focused on being good neighbors. Each community is unique, so PCC found ways to reflect the rich character of each neighborhood. A community activity at View Ridge, for example, may look different than an event in Redmond. To strengthen community connections, each PCC store is empowered to make its own difference in multiple ways.
Events and sponsorships: Every PCC store supports local activities where staff can interact, educate and develop community. For Columbia City's store director, Scott McCormick, moving to the neighborhood 20 years ago personalized his connection to the area. "This is the world around me; not just where I work. I walk to work every day, meet people in the neighborhood, and learn what they care about," he explains.
Columbia City PCC has been a sponsor of the farmers' market located just outside the store, which puts it on the map for visiting crowds, though it can be a challenge for business. "In the bigger picture, sponsoring the market creates a very special sense of community while also promoting local and healthy eating," McCormick adds.
Donations program: Any 501(c)(3) nonprofit organization can submit an online application to its local store for a donation to support social and environmental responsibility in the community. Each store has the autonomy to give gifts in their neighborhoods. When the store receives a donation request, staff reviews it to make sure it's from a nonprofit that aligns with the co-op's values. Because of this approach, PCC gives to many organizations across the region. Information about this process is outlined in PCC's 2017 Co-op Purposes Report.
Store tours: PCC is community owned, so it developed a store tour to help educate the community. The tours are a fun way to get behind the scenes and view how PCC stores operate. "Our staff is passionate about the food we sell and the people who make it and that shows in our store," says Ellen Archibald, Redmond PCC's assistant store director. "From the person who grows the food, picks it, brings it to us, puts it out on the floor, and rings the purchase up. We care about all these people and the land that's producing the food as well. Tours help break down barriers."
Chamber of Commerce: Every neighborhood where a PCC store is located has a local chamber of commerce, a network of business owners that advocates on behalf of the business community. Often the chamber serves as another arm of community involvement that deepens PCC roots.
For McCormick, involvement with one organization leads to others. "There are so many people here who care for their community and inspire me. Columbia Community Business Association meetings don't focus only on how to make businesses better; they focus on how to make the community a more desirable place because that will bring in the business and make it beneficial for everyone," he explains.
"The association was very supportive of our store when we opened 40 years ago," he adds, "and now we support them as well."
PCC grant program
PCC's grant program began four years ago. These quarterly grants are split into two areas: social action and environmental stewardship to support projects or programs that are local or regional in scale. Mission-aligned 501(c)(3) nonprofit organizations can apply online by visiting PCC's Community Grant page.
According to Lamai Cox, PCC community relations program manager, "This expanded program lets PCC make an impactful, systematic difference targeted to organizations that really are making change in our local area."
Partnership program
Through shared values, PCC has developed a symbiotic partnership with several organizations that exemplify our mission to create healthy and sustainable communities. Described below are two special partnerships that dovetail greatly with PCC values: Ventures and FareStart.
Ventures is a Seattle-based nonprofit organization that provides business coaching and support for local entrepreneurs who historically have been denied access to retail markets. Knowing there's a rich, untapped vein of local talent struggling to support their art, PCC's Social and Environmental Responsibility team reached out to Ventures last year to see how PCC could support microbusinesses. Exploring this new relationship required PCC to identify barriers, processes and policies that may prevent great local products from getting on the shelves.
With Ventures, whether entrepreneurs have a mere idea or established plan, they can attend a free orientation, then apply for the eight-week Business Basics course. Ventures fast-tracks business development with loans, free business coaching, and leveraging relationships to make vital connections entrepreneurs otherwise would not have. Given the opportunity to expand and scale their business, Ventures creates a pipeline to wholesale markets through its Pike Place Market retail incubator.
PCC supports these efforts with a grant to help Ventures develop customized training for the wholesale arena. Most importantly, PCC helps with coaching and will bring in merchandisers for a panel discussion that's available to interested entrepreneurs before they begin business training. This unique forum will provide rare and valuable access to decision-makers who will give direct input to potential vendors.
PCC's partnership with Ventures is only a year old, but already products from three entrepreneurs will be on shelves this holiday season. Sister Sage creates natural tincture remedies from locally grown herbs. Capuli Club offers organic fruit-infused teas. Sunday Drive Designs provides functional and funny tea towels (read more about them on page 11). Ventures also accepts donations and welcomes volunteers as business training coaches.
FareStart, another Seattle nonprofit, provides tools, training and support services to help disadvantaged people achieve gainful employment in food service and culinary arts. FareStart's goal is to create long-term opportunities for people to become self-sustaining and continue to grow in their job, add value to the community, and transform their future.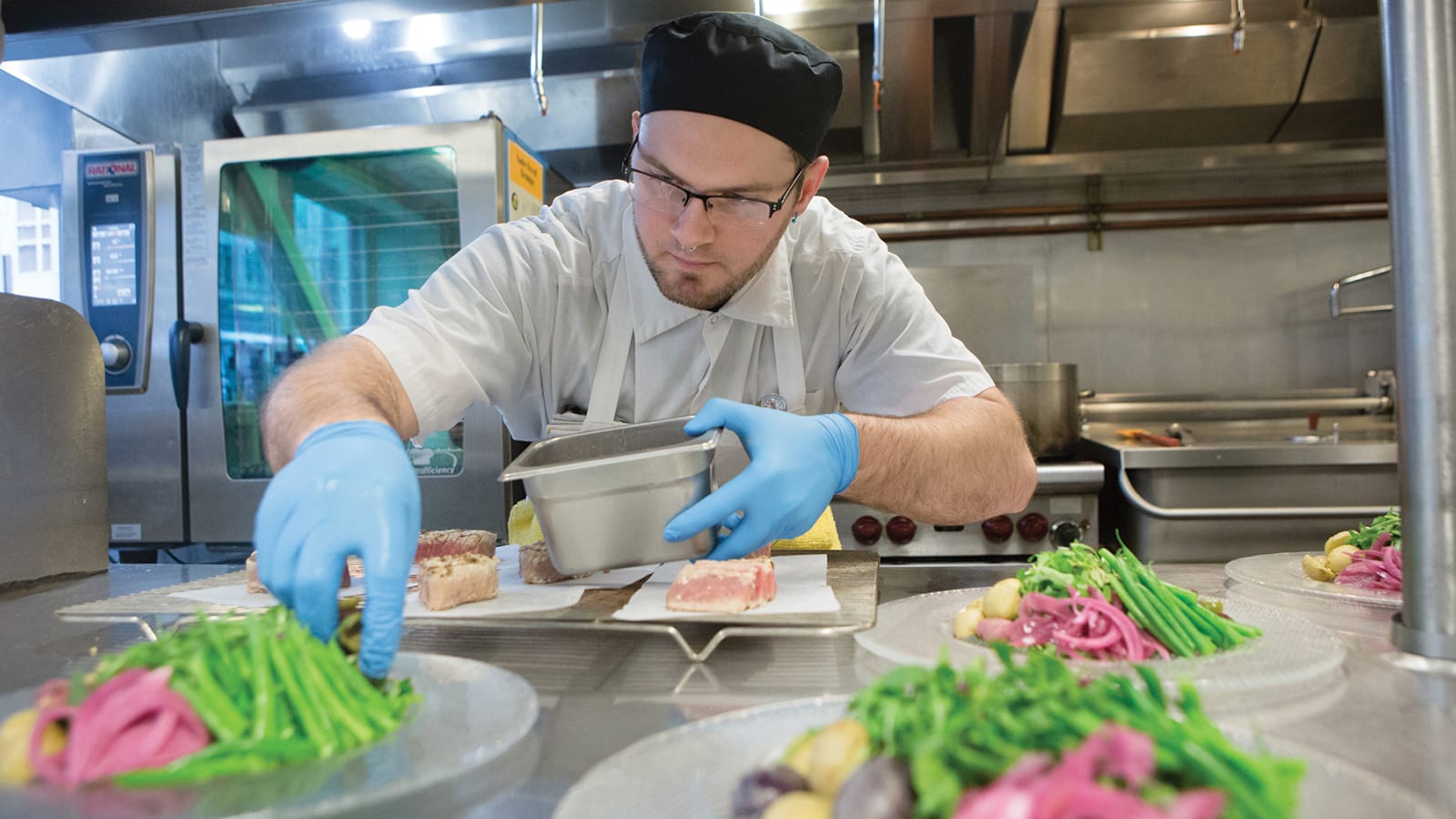 ---
PCC has supported FareStart since 1999. For the last five years, PCC leadership has served on FareStart's board, offering strategic direction, and expanding PCC's commitment. PCC advises FareStart, keeping its curriculum fresh and relevant to the grocery world. PCC's HR staff prepares students by conducting mock interviews with immediate feedback. Today, PCC is one of the top three employers of FareStart graduates, helping ensure that they land safely — and thrive — in a supportive environment.
According to Michelle McDaniel, FareStart chief development officer & VP of national programs, "PCC always has had in its DNA a focus on economic and social responsibility. Our partnership is rooted in defined and shared values including sustainability, authenticity and healthy communities. As PCC has grown, its commitment to the community has evolved and grown at the same pace.
"Everyone from staff to leadership are enthusiastic supporters of our mission and students and it's been amazing to watch it blossom. We graduated 250 people and 92 percent had job offers waiting for them. PCC is a preferred employer because the culture provides a supportive and embracing environment that helps our graduates become self-sustaining, offering opportunities for continued growth."
There are so many more ways that PCC chooses to give back to the community as well. PCC provides support to other co-ops and vendors. For example, through the Farm to School Bagged Apple Program, proceeds from specially marked apples go to support children's programs on food and nutrition. The PCC Food Bank Program supports 13 local food banks, providing meals to our neighbors in need. PCC has invested $1 million in the PCC Farmland Trust to protect and conserve sustainable farmland for future farmer generations. And there are many more.
As we think about giving this holiday season, I invite you to consider how you give and why. How do you connect to your community? What relationships and partnerships do you support and strengthen this holiday season and 365 days a year?
Lynn Bakeman is a freelance writer who believes that everyone has a story to tell.