Gift peace of mind for the holiday
by Rebecca Robinson, M.A.
This article was originally published in November 2018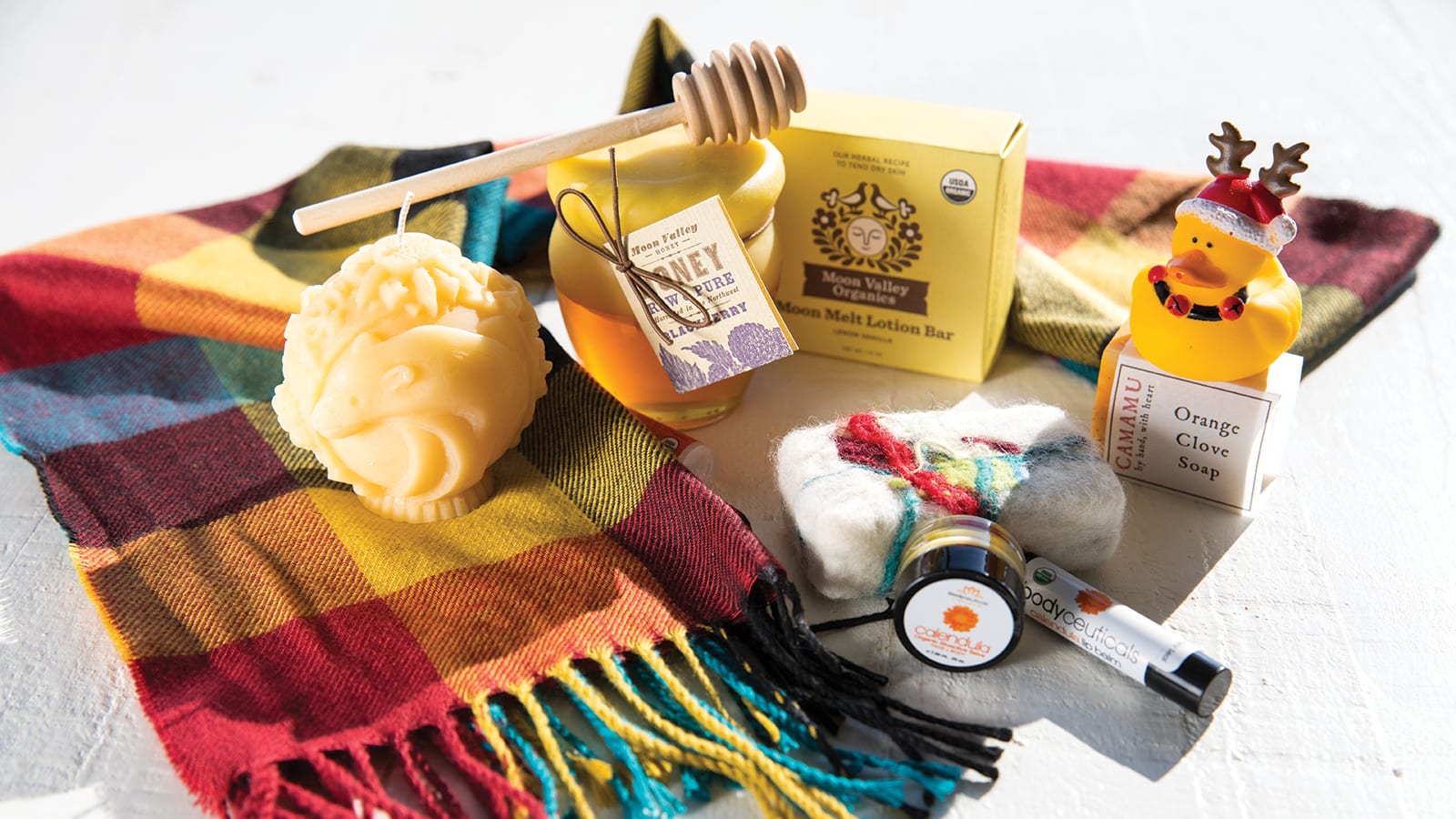 Thinking about gifts this holiday season? Personal body care products make great gifts. At PCC we work diligently to keep harmful toxins out of the products we carry.
Over the last decade, the natural products industry has boomed, creating thousands of options for safer products. PCC is committed to finding the safest, highest quality products available, so you can feel confident that you are giving your loved ones gifts that are free of harmful chemicals. Our soaps, lotions and skin moisturizers don't contain toxic chemicals — relying instead on oils and butters that provide rich nutrients for the skin. These natural products use extracts, botanicals and essential oils that people have been using for generations to clean, soothe and heal the body.
We have several special products that we're featuring this winter season. All of these products are free of parabens and other toxins and contain plant-based oils, botanicals, essential oils, and natural preserving agents such as vitamin E.
Healthy personal care products
Camamu soaps and salts are back after being big hits last year! Camamu felted soaps are a 2-in-1 product — a luxuriously moisturizing soap wrapped in a gently exfoliating felt cloth. These soaps don't contain any harsh detergents or artificial fragrances or colors. They use naturally moisturizing and nutrient-rich oils and butters including olive oil, shea butter, cocoa butter and sustainably harvested palm. This year PCC has a special bath salt from Camamu called Snow Dream, containing strikingly blue-hued cornflowers and essential oils of clary sage, coriander and marjoram.
Juniper Ridge essential oils capture all the scents of a Pacific Northwest winter. PCC offers a range of woodsy smelling choices, including white sage, fir, cedar, and coastal pine. Juniper Ridge uses steam distillation — no harsh chemical extraction — from sustainably wild-harvested plants gathered in the wilderness along the west coast, to produce their essential oils. Juniper Ridge is actively involved in native plant restoration and carefully monitors regrowth in harvest areas. These toxic-free and ecologically-friendly products are a win-win for all!
Moon Valley's Oh So Sweet collection of skin products is perfect for protecting your skin from the dryness of winter. The gift set includes a jar of sustainably-harvested honey, a lotion bar and lip balm. Moon Valley Organics promotes pollinator awareness and education, in addition to creating the simple and sustainable body care products that we love.
Shepard Moon bath salts make the perfect addition to any bath. Alongside our usual assortment of bath salts from Shepard Moon, this holiday season we have limited-edition seasonal products designed specially to help you get through the flu season and cold weather. Look for Frosty's Frozen Fingers, Rudolf's Rednose Remedy, and Santa's Backache Relief. Each bath salt includes a unique combination of essential oils specifically suited to fixing what ails you. Shepard Moon uses only essential oils, botanicals, and salts — no artificial dyes or fragrances.
Bodyceuticals calming facial steam is an intoxicating herbal concoction made of calendula, lavender, chamomile and rose petals. These herbs are designed to gently detoxify, hydrate, and soften skin to give you a radiant glow. Simply mix into a bowl of hot water, drape a towel over your head, and enjoy your instant home spa. Bodyceuticals carefully crafts their products using plants grown on their own certified organic farm or sourced from small family-owned farms. All their products are free of harsh petrochemicals, artificial colors and preservatives.
---
What we don't allow and why: Parabens
Parabens are a class of preservatives found in products including shampoo, conditioner, body lotion, deodorant, facewash and cosmetics.
Parabens are endocrine disruptors, meaning that they interfere with the proper function of the endocrine system. The endocrine system is an information-signaling group of glands throughout the body that secretes hormones to regulate growth, reproductive function, mood, metabolism and sleep. The endocrine system controls a wide range of biological functions and is imperative to healthy growth and development.
Parabens mimic the hormone estrogen by activating the same estrogen receptor as estradiol, the naturally occurring hormone. Manufacturers claim that parabens are excreted from the body relatively quickly, and that therefore they do not accumulate and are safe for consumers. Research in the last decade however has shown otherwise. Parabens do accumulate in the body.
The fact that many products contain multiple parabens and that most people are using multiple products, exposure is occurring through multiple routes. Many people overlook the importance of body care products as a source of toxicity, but the body absorbs a significant amount from topical applications — allowing toxins in body products to enter our blood stream. While many chemicals are used in low doses, consistent application of products containing toxins can add up to a significant source of exposure over one's lifetime.
---
Rebecca Robinson is PCC's social and environmental responsibility program manager.