In the stores
This article was originally published in July 2018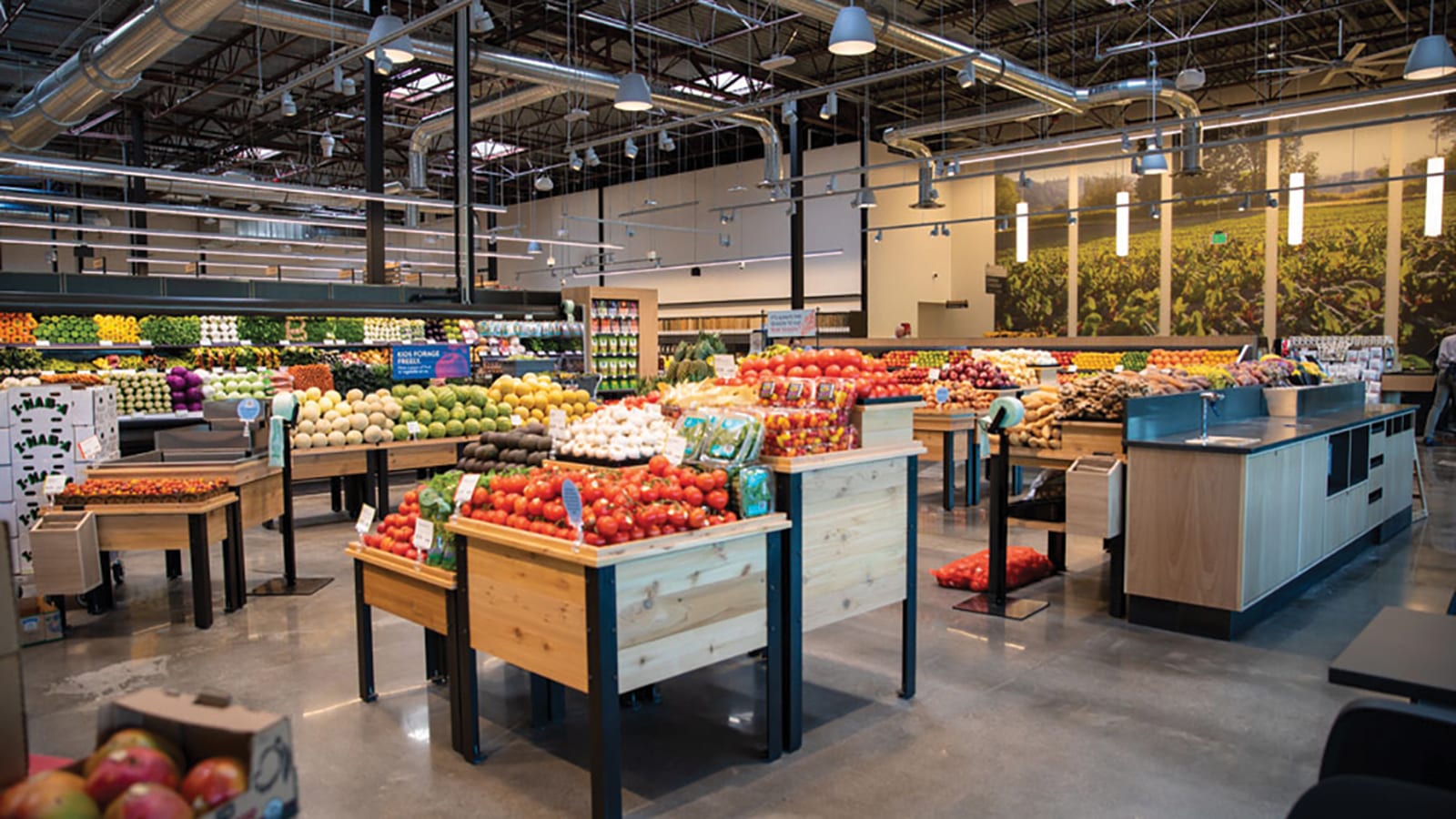 Green building features at Burien
by Brent Kawamura
PCC has been designing stores to reduce its environmental impact since the 1990s. Redmond PCC was the first grocery store in the nation to earn LEED Gold certification. A year later, Edmonds PCC achieved the highest LEED certification of Platinum.
Our new Burien store exemplifies that long-standing commitment to green building. Design features include recycled content finishes, low-maintenance flooring, and low-toxicity paint. Lighting fixtures are highly efficient. We also use Forest Stewardship Council certified wood to build out all our new stores.
Here are some features at Burien:
Green building Certification – Burien PCC is on track to achieve LEED v4 ID+C through the U.S. Green Building Council.
Water efficiency – Low-flow fixtures and faucets reduce water consumption by up to 45 percent.
Materials reuse – To minimize consumption of natural resources, Burien's kitchen equipment, refrigeration cases, and cedar siding came from our West Seattle PCC store, repurposed for reuse.
Transportation – Bike racks at the front entrance support low-carbon transportation.
Energy efficiency – LEDs and skylights reduce lighting energy consumption and welcome natural light into the store.
Renewable energy – The store is operating on 100 percent renewable energy through purchased renewable energy credits.

 
Brent Kawamura is PCC's senior sustainability specialist.
---
Correction:
In the June Sound Consumer, we stated incorrectly that Graham Baba is the lead architect for PCC's new Madison Valley store. MG2 is the lead architect for Madison Valley. We regret the error.
---
customer service stars
July
Angela Maier
Deli helper clerk, Redmond PCC
Angie has been working at Redmond PCC since 2006. She holds a wealth of knowledge about the deli. She has trained countless employees and is the first person many new hires turn to with questions or to ask for help. She is a great mentor. Angie has great ideas and is always customer-focused in her thinking. She works tirelessly to make this store look great and feel like a community.
August
Phurbu Tsering
Cook, Fremont PCC
Phurbu gives phenomenal internal customer service by supporting his coworkers with hands-on help and consistent positivity. Phurbu works overnight, so he is not often seen by customers, and he keeps our soups and many other deli items in stock. He jumps into doing anything needed when he sees it can help in the kitchen, such as clearing the dish pile or staying late to help if the need calls for it.
---
[ Burien Staff Picks ]
To help celebrate our newest store in Burien, we're highlighting some favorite products from the Burien staff.
Summer drinks
GT's Divine Grape kombucha
The GT's Classic Divine Grape has that refreshing fizz I'm looking for on a hot afternoon. (Note: GT's "classic" line of kombuchas come in a black bottle and are only for 21+)
— Luke, Burien POS coordinator
Virgil's Root beer
Because who doesn't love a cold root beer on a warm/hot sunny day?
— Cody, Burien Grocery Lead
Hi Ball Sparkling Energy Water
Grapefruit flavor. It's a great zero sugar energy drink that helps me keep up with my kids!
— Eric Poffenroth, Burien PIC
Liberte whole milk yogurt
Indonesian Vanilla Bean. It's sweet, but not over-powering, and it's in a perfect-sized container for a quick snack.
— Cody, Burien Grocery Lead
Deli favorites
Horchata
Our freshly made deli horchata is a great complement to our Taqueria! And now it will be available for self-serve!!
— the Burien deli staff
PCC's salad bar
We always have a great selection of fresh veggies and our house-made salad dressings are the best!
— Eric Poffenroth, Burien PIC
Thai Steak Salad
This popular deli salad is packed with protein and has just the right spicy kick for warm days.
— Luke, Burien POS coordinator
Egyptian Red Lentil Soup
We love soup and this one is perfect in the summer and winter. It is light but filled with flavor and we have it year-round.
— the Burien deli staff
Meat
PCC carne asada
A chef-inspired recipe. It is so easy to cook on the grill and enjoy!
— Eliza Hollingshead, Burien Store Director
Health and Body Care
Alaffia Antioxidant Face Cream
This locally produced product smells great and has just the right amount of moisture for my normal skin. Alaffia is a wonderful company: donating bikes, school supplies, and eyeglasses to people in need, building schools and empowering women.
— Misty Sundman, Burien HBC Coordinator