The season of giving
Sound Consumer December 2017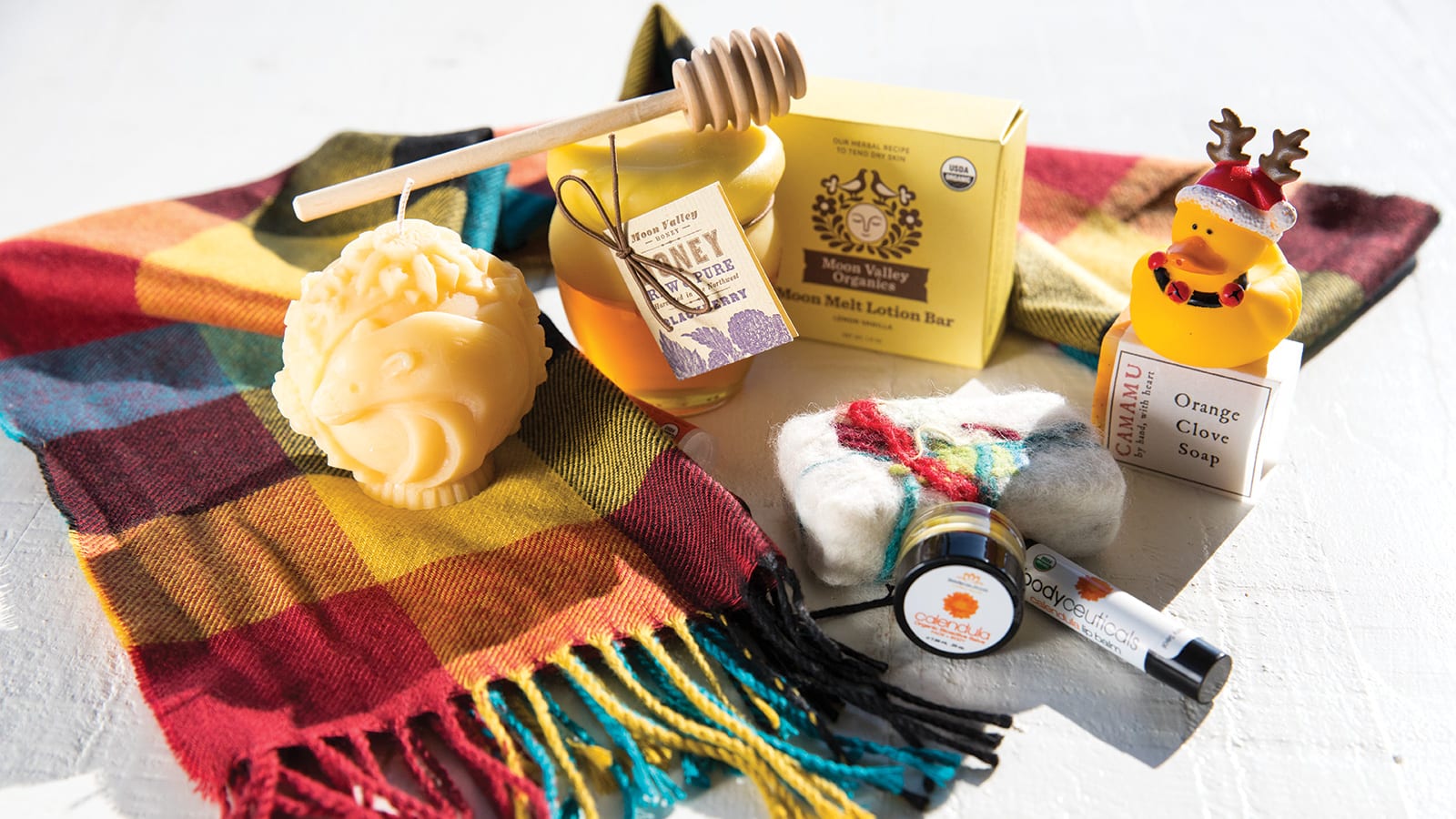 The days are short and the weather is dreary, but we always love December in the Pacific Northwest. Strings of lights hung through tree branches or across kitchen windows add a sparkle of magic to a walk across town. The mountains shine in the distance in their fresh coats of snow. We make time, in December, to join together over warm meals and to appreciate the community of family and friends that matter to us. However you celebrate, this is the season of giving and we have a number of gift options to help you share the joy of this holiday season.
Books
Have a loved one who loves to cook? We recommend the "FareStart Community Cookbook" for fresh ideas for holiday meals. FareStart provides a solution to challenges of homelessness, joblessness, poverty and hunger by providing tools, training and support services to help people find lasting employment in food service and the culinary arts. Their cookbook shares the recipes that are part of the FareStart story. Recipes were contributed by FareStart's many wonderful chefs, including Chef Michael Thomas from Local 360 and Chef Brendan McGill of Hitchcock.
Another highlight on PCC's shelves is "Mother's Secret: A Nutritionist's View of Family and Alzheimer's Disease" by our staff nutritionist, Marilyn Walls. Blending the genres of memoir and scientific research, "Mother's Secret" offers personal experiences along with information about a healthful diet, the benefits of botanicals, and current discoveries about brain function. This powerful story transcends Alzheimer's disease, as it is also a narrative revealing both the loss and glory of one woman's Southern life.
For the kitchen
Introduce a little one you love to cooking with My Baking Pal, a set of cooking tools designed just for children. The appliances are safe and user-friendly and even include adorable faces.
For grownups, we're offering kits to make beer or hard cider, as well as special sets for mixing your own cocktails. Now those are gifts that will spread holiday cheer!
Upgrade your kitchen with pans and cooking tools made by de Buyer, a small, family-owned company in France that dates back to the 1830s. You can see for yourself how amazing they are because we're offering de Buyer demos in four stores this month:
Friday, December 8, 3 to 5 p.m., Issaquah PCC
Saturday, December 9, 11 a.m. to 2 p.m., Edmonds PCC
Friday, December 14, 3 to 5 p.m., Greenlake Village PCC
Saturday, December 15, 11 a.m. to 2 p.m., Redmond PCC
For the home
Light up your holiday table with Big Dipper Wax Works handcrafted beeswax candles. The scent of beeswax candles evokes the abundance of summer on bleak mid-winter nights.
Keep your loved ones warm with Rapti's soft and beautiful silk and cashmere scarves. Or try some stylish hats and gloves from Andes Gifts. Better yet – treat yourself!
There's nothing that fights the doldrums of December like calming or rejuvenating body products. We are offering delightful health and beauty gifts from local producers at less than $20.
Bodyceuticals offers affordable skin care gifts that are certified cruelty-free and made with botanicals grown on an organic and certified bee-friendly farm.
Camamu products will nourish your body and your spirit. Their holiday soaps, scrubs and kits are made with aromatic combinations designed to calm the mind and promote feelings of peace.
Moon Valley's Skin Essential collection will leave you looking and feeling great. Choose from blackberry, mint, lavender or orange, or try Moon Valley's herbal lip balm collection.
With its roots in holistic healing therapy, Shepard Moon's handcrafted bath and body gift bags are sure to be a delight. Consider the "Peace Pail" or the "Love Bucket" as fun gift options.
This is the season to gather by the fire, reflect on the year, and celebrate with generosity toward yourself and others. Remember that the best treasures in life are free, including simply taking the time to gather together with the people you love.
---
[ In Season ]
Organic Citrus
Clementine Mandarin Oranges — from Rich Johansen in Orland, CA
Heirloom Navels and variety Tangerines — from Deer Creek Heights Ranch in Porterville, CA
Minneola Tangelos — from Rucker Farms in Mecca, CA
Cherimoya — from Cunningham Ranch in Fallbrook, CA
[ Staff picks ]
My absolute favorite is the seasonal Theo Chocolate Gingerbread Spice 45% Milk Chocolate. I don't want to confess how many bars I may consume. The family favorite is Snoqualmie Ice Cream Peppermint Gelato and Pumpkin Custard Ice Cream.
I also love our seasonal holiday cooking classes, such as "Biscotti" and "Brittles and Barks."
— Alicia Guy, PCC Office
Macrina Bakery's Chocolate Pecan Babka is sweet, chocolatey, nutty and proudly local. Macrina's Chocolate Pecan Babka is one of my top favorite treats for the holidays. I would eat this sweet, gooey deliciousness for breakfast, snack and dessert if I could! It also pairs well with chai tea or PCC holiday blend coffee.
— Arvin Batingan, PCC Office
Honestly I'm in love with the pumpkin spice Nutpods. It could make for a great cream addition to any dairy-free or vegan baking recipe while being sugar-free and delicious.
— Saralisa Lloyd, Redmond PCC
The cranberry orange relish that the Deli makes is an amazing side dish or garnish. It has been a huge hit in our family for the last couple of years!
— Josh Fox, View Ridge PCC
I love the PCC holiday fudge. It is AMAZING!
— Kerry Dahl, PCC Office