PCC makes "Community" its middle name
This article was originally published in October 2017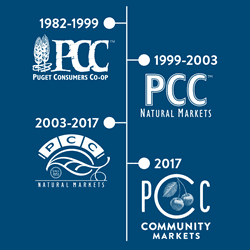 On Sept. 13, PCC celebrated an important milestone. We changed our name from PCC Natural Markets to PCC Community Markets.
With the new name, we also revealed a number of additional changes: a new logo, color scheme, website and aprons for our staff, to name a few. We also are launching a new, local, organic, grass-fed, animal-welfare-certified PCC yogurt in partnership with Pure Éire Dairy – the first of its kind.
One question that members may have is: Why change?
Co-op management brought the recommendation to the PCC Board of Trustees over a year ago for a couple of reasons.
One, when we changed our name to PCC Natural Markets in 1998, "natural" meant more. In grocery, it was a sign of a store where you could find wholesome foods, often organic. When national organic standards took effect in 2002, "natural" food claims suddenly didn't mean much and often misled shoppers.
Two, after talking to members, shoppers, PCC staff and our board of trustees, we learned that the thing you value most about PCC is the community. You're proud that we're community-owned and always will be. You value the relationships we have with local ranchers, farmers and producers. You appreciate that you can trust our shelves to be honest and our staff to be attentive and informed.
Alice Waters said it best: "This is the power of gathering: it inspires us, delightfully, to be more hopeful, more joyful, more thoughtful: in a word, more alive."
Our new name, PCC Community Markets, is a celebration of the passionate group of people we've gathered together through our co-op. It's a celebration of the shared values we've created over shared food and a nod to our modest beginnings as a food club started by a few Seattle families in 1953.