Organic dairy revival
by Molly Goren
This article was originally published in June 2017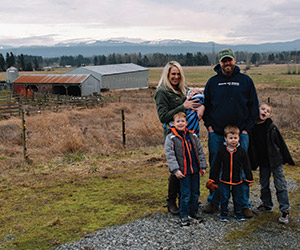 Over the last two years, Ryan and Haylee Mensonides haven't taken more than three days off.
"We're the crazy ones who do this work because we love it," said Ryan.
Raised on his uncle's dairy in Roy, Wash., farming has been in Ryan's blood since he was a little boy. While studying at Washington State University, Ryan spent his summers on the family farm, helping pay his way through school.
After a go at public relations upon graduating, Ryan was called back to the dairy industry and went on to work in a processing plant in California for the next seven years. It was during these years that he met Haylee, a city girl with hopes and dreams that had little to do with farming.
Before they could say "alfalfa," Ryan and Haylee's story of farm life unfolded. Today, they are naturals on their organic dairy farm in Enumclaw, Wash., producing milk for Organic Valley. Ryan maintains the herd of 500 while Haylee manages all of the bookkeeping. Between the tireless work of keeping their farm running, the couple makes time for their other full-time job — raising four small boys.
Thoughtful stewardship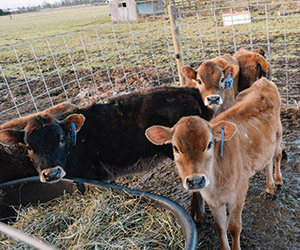 "Although I never envisioned this life, it's an incredible place for our kids to grow up," said Haylee. "They're learning the value of hard work, and to appreciate where things come from. I don't know if I could have taught them that anywhere else!"
Ryan and Haylee care deeply about the health of their land, and as they plan for the future of their business, are committed to organic production and ongoing land stewardship. With the success of their farm over the last few years, they've been thinking hard about ways to grow and sustain their operation.
"Like most small businesses, you need to either get big or diversify to survive," said Ryan. "I want to actually be out there with my cows, caring for the land every day, so for us, diversification was a natural next step."
Great conservation opportunity
After hearing about the 284-acre Mountain View Dairy from a friend at church, Haylee and Ryan had their eye on the land. They saw it as the perfect opportunity to expand and diversify their business, just 30 minutes south of their property in Enumclaw. There was just one small problem: it was worth $2.8 million.
In early 2015, PCC Farmland Trust learned about Mountain View Dairy and began strategizing ways to protect this historic farm, including its quality soils, solid infrastructure and stunning views of Rainier. The property was so valuable, it was platted for 59 estate homes at one point.
Keeping pace with high land prices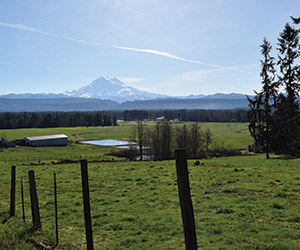 In order to keep pace with land prices as high as Mountain View's and to move quickly to protect farmland when farmers can't, PCC Farmland Trust has been deploying an innovative conservation strategy it calls "Buy-Protect-Sell."
To conserve Mountain View Dairy, the Trust first secured $2.8 million through philanthropic gifts and a conservation bridge loan. Now that the land is off the market, the Trust will protect the farm with a conservation easement to ensure it is never developed. With its development potential removed, the land will become more affordable for farmers in the long run. As the current tenants at Mountain View Dairy, Haylee and Ryan will begin production this fall after transitioning the property to organic, and intend to purchase the land from the Trust in the next seven years.
"At 284 acres, this new piece of land will allow us to graze and grow more feed for our organic dairy cows, produce grass-fed beef, and maybe even cheese to become a more vertically integrated farm," said Ryan. "The possibilities are endless."
Join PCC Farmland Trust at Mountain View Dairy on June 24!
Kick off the summer at Mountain View Dairy in Graham, Wash. Meet the Mensonides family and learn more about PCC Farmland Trust and its campaign to protect sustainable and organic farmland in the Puget Sound region. RSVP at pccfarmlandtrust.org/events.
Molly Goren is the communications manager at PCC Farmland Trust.