Washington wine
by Jeff Cox, PCC wine merchandiser
This article was originally published in March 2017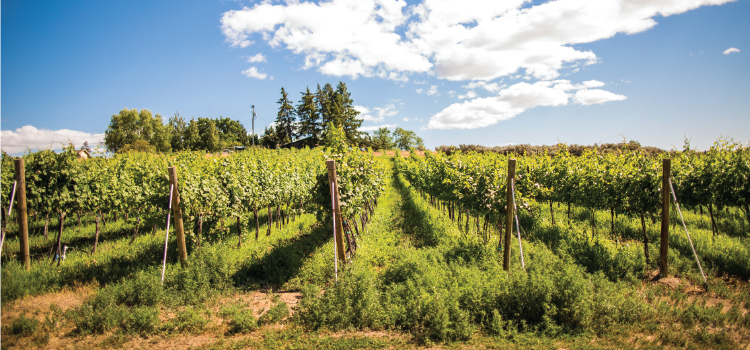 Once upon a time, back when Washington was synonymous with apples and evergreens, a handful of intrepid souls saw a future for wine grapes in our farming-friendly climate and geology. Fast forward from those humble beginnings to the present, to find our delicious slice of Cascadia a major player in world-class wines. Washington wine has arrived, and the best is yet to come.
Once consigned to emulating the success and style of California, its famous sibling to the south, Washington has come of age. An arid, high desert climate and singular geology are the foundation of the vividly unique character of Washington's wine regions. Some of the most inspired, salt-of-the-earth people on the planet are on a mission to translate the inimitable heart and soul of our state into the amazing wines that grace our tables.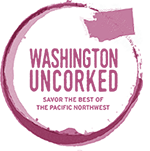 It's our pleasure and passion to collaborate with producers whose work expresses the amazing flavor of our state. Help us celebrate Taste Washington Month by raising a glass (or three), from some of our favorite partners.
Domaine Pouillon, Columbia Gorge
Juliet and Alexis Pouillon's mantra is to partner with Mother Nature, avoid "tinkering" with their wines, and to aid and abet the vineyard to grow wines that are honest and expressive of place. They farm 2.5 acres of biodynamic vineyard, purchasing the balance of their grapes from sustainable vineyards throughout the Columbia Valley. Domaine Pouillon's Ladies and Gentlemen wines are special blends, produced exclusively for PCC.
Syncline Winery, Columbia Gorge
James and Poppie Mantone began Syncline with belief in the potential of a small, sustainably minded family winery committed to producing wines that are expressive of the vineyard. In addition to their biodynamically farmed estate winery, they work with some of the Columbia Valley's premier vineyards, actively participating in their management to grow wines that are profoundly infused with a sense of place.
Dusted Valley, Walla Walla
The Dusted Valley website notes that family working together turns dreams into reality. Corey Braunel, Chad Johnson and their families are walking that talk, producing top-quality wines with a clear sense of place in their Dusted Valley and Boomtown wines, guided by the philosophy that great wine is made in the vineyard. Forty Days and Forty Nights wines are an homage to the series of cataclysmic floods that helped shape Washington wine country thousands of years ago. These PCC-exclusive wines are blended by Corey and your obedient correspondent.
Isenhower Cellars, Walla Walla
Brett and Denise Isenhower's story reads like a uniquely Evergreen realization of the American Dream: move to Washington with winemaking dreams, work incredibly hard, eventually quit the "day job," ride out an economic recession and a few extreme weather challenges — and succeed in making gorgeous, expressive, sustainably farmed wines, fermented on native yeasts. Their I-label wines deliver super quality, pure Washington character and outstanding value.
Naches Heights Vineyard
A farmer from head to boots, Phil Cline was lured from orchard crops to growing grapes by the duo of the industry's growth and wine's seductive siren song. He farms his estate Naches Heights Vineyards organically and biodynamically, and manages a host of other vineyards that are sustainably farmed. Like our other exclusive collaborations, Ahtanum Ridge wines are made to deliver authentic expressions of grape variety and place at an affordable, everyday price.
Terra Blanca/Arch Terrace, Red Mountain
Growing up in the Napa Valley, Keith Pilgrim was infused with wine culture from an early age. A career path as a geologist and oenologist led to the arid, treeless, sagebrush-carpeted slopes of Red Mountain, where Keith and wife ReNae, sensing the region's potential, purchased 300 acres and began planting vines in 1992. The rest is history. Way Out West wines are PCC exclusives, blended by Keith and yours truly to deliver a sense of place and character and offer a superb value.
Chinook Wines, Yakima Valley
Husband and wife team Kay Simon and Clay Mackey are among the pioneers of Washington wine. With quality and consistency as their mantra, they've been producing superbly balanced, authentic Yakima Valley wines for 33 years. Long Live the Kings wines are PCC-exclusive blends. The sale of each bottle $2 is donated to Long Live the Kings, a nonprofit organization dedicated to restoring and preserving wild salmon and steelhead habitat in the Pacific Northwest.
Lost River Winery, Winthrop
One of the few things that could be better than living in the upper Methow Valley is making superb Washington wine in that magical place. In 2001 John Morgan and wife Barbara House made a giant leap (and a career change) from Bellingham to Mazama and hung out a shingle as Lost River Winery. Sourcing grapes from prime vineyard sites, they produce well-balanced wines that are steeped in a sense of terroir.
Salish Sea White is a PCC-exclusive wine that highlights Yakima Valley chenin blanc, truly one of the state's unsung hero grapes.