Choosing sustainable shrimp
by Sara Lavenhar
This article was originally published in July 2016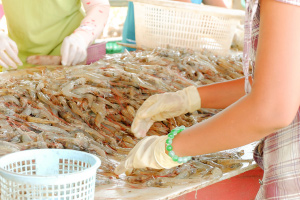 Shrimp remains the most popular seafood in the United States: the typical American consumes around four pounds a year, adding up to more than 1 billion pounds. Almost 90 percent is imported, largely from Southeast Asia and Latin America. Outside of the United States and Canada, both farmed and wild shrimp carry a destructive burden, making it difficult for conscientious eaters to find shrimp that meets their values.
Shrimp aquaculture can have an extraordinarily negative impact on the environment, particularly critical mangrove ecosystems that are clear cut to make way for shrimp ponds. These ponds have high stocking densities and, in an effort to keep the shrimp healthy, farmers often utilize a wide array of chemicals to control pathogens.
If any chemical or bacterial contamination is found on shrimp imports, they're not allowed to enter the United States. But the Food and Drug Administration (FDA) only inspects 1 to 2 percent of all seafood every year, meaning tainted shrimp likely is ending up in American kitchens. The FDA has ramped up testing recently and, subsequently, refusals of imported shrimp have spiked.
Environmental impact
The average intensive shrimp farm yields for only a few years before pollution and disease render the ponds unusable. The industry responds by moving elsewhere, razing more mangrove forests to make way for new ponds. As a result, the leading cause of mangrove destruction is the meteoric growth of the shrimp farming industry in the developing world.
Mangroves, adapted to living in the brackish waters of tropical coasts, serve as nurseries for the fry of three-quarters of the world's tropical and sub-tropical commercial fish. These forests filter out pollutants, preserving the purity of coastal waters; yield prolific renewable natural resources, providing food, firewood, medicines, shelter and tourist income; and buffer coastal communities against the ravages of tsunamis, wave surges and hurricanes.
In addition, mangrove forests are incredible carbon sinks, capable of sequestering far more CO2 than tropical rainforest. Despite making up only 0.7 percent of global forest area, mangroves contribute to about 10 percent of deforestation emissions of greenhouse gasses. Mangrove loss is, therefore, not solely a local issue but a global one.
Social impact
More than 200 million people rely on mangroves for their food and livelihoods. Local communities suffer when local natural resources are exploited for shrimp farming: they lose access to the mangroves that provide their livelihoods.
People themselves are exploited through slave labor, particularly young girls in processing plants. Often, the response to price pressure is to squeeze wages, neglect workplace health and safety regulations, and cut other corners that leave shrimp workers bearing the social cost of "affordable" shrimp.
Wild-caught shrimp is rife with human slavery, particularly in the South China Sea and the Thai fishing fleet. Lured by the promise of better wages, many migrants from Cambodia and Myanmar fall into indentured servitude and slavery, held in floating labor camps and enduring brutal conditions aboard ships, sometimes for many years. Thanks to recent investigations by the Associated Press, the United Nations and other organizations are putting more pressure on countries, such as Thailand, to address human trafficking.
For being so small, shrimp have a big impact on the world from pond to plate.
Better choices
There still are ways to purchase delicious shrimp that support local communities and have a smaller impact on the environment. Wild-caught and farmed shrimp from the United States and Canada are good options — they're the only kind you'll find at PCC.
As a consumer, you can have an even greater impact by asking where your shrimp comes from when you shop or eat at a restaurant. Frozen shrimp at the store should have country of origin labeled on the back, often near the barcode. Ask your favorite restaurants to stop serving imported shrimp and challenge your friends an d family to do the same!
Shrimp at PCC
You'll find only wild U.S. and Canadian shrimp at PCC, in a range of sizes and styles — fresh, frozen, raw and cooked. Some to try:
Wild pink shrimp — Small shrimp from Oregon and Washington, great for shrimp cocktail, shrimp tacos, etc. They always come cooked and shelled, ready to enjoy. Sustainability rating: Green ("Best Choice")
Alaska spot prawns — Sizes range for these succulent, sweet shrimp, a true seasonal delicacy. Sustainability rating: Green ("Best Choice")
Wild Gulf of Mexico shrimp — Medium shrimp good for a barbeque or sauté. It's from Woods Fisheries, a fifth-generation family company in Port St. Joe, Fla. The Woods family uses special equipment to reduce the amount of bycatch, an environmental concern with most wild shrimp. Sustainability rating: Yellow ("Good Alternative")
Sara Lavenhar is co-executive director at the Mangrove Action Project.