Your co-op community, July 2016
This article was originally published in July 2016
Bothell's July 4th Freedom Festival and Grand Parade
Monday, July 4
PCC is the presenting sponsor of Bothell's largest community event, the Grand Parade! Featuring veterans, local businesses, scouts, antique cars, bands and more. The parade starts at 104th and Main Street traveling west down Main Street and then north up Bothell Way to Northeast 188th.
Pancake Breakfast 8:30 to 10:30 a.m. at the downtown firehouse
Children's parade at 11:15 a.m.
Grand Parade begins at noon
---
Parkadilly, Kids Concert, Fair & Fun
Sunday, July 24, noon to 5 p.m.
Lake Sammamish State Park, Free
Parkadilly is a day for kids and families at Lake Sammamish State Park. Enjoy live entertainment by Eli Rosenblatt, Recess Monkey and Mikey Mike; a nature scavenger hunt; arts and crafts; lawn games; trampolines; storytime with King County Library; a grilled hot dogs concession and more! PCC will be there doing Kid Picks taste tests with the TasteMobile. Bring your Discover Pass or get one that day.
---
Columbia City Farmers Market
37th Avenue South and South Edmunds Street, just off Rainier Avenue S
Next to Columbia City PCC
Wednesdays through October 12, 3 to 7 p.m.
Columbia City Farmers Market has been a bustling addition to the neighborhood for nearly 20 years. Pick up some items from the local vendors and then come enjoy lunch at PCC.
---
West Seattle Grand Parade
Saturday, July 23, 11 a.m.
40th Avenue Southwest and Southwest Lander Street
Look for the PCC TasteMobile in this parade that begins at Southwest Lander Street and California Avenue Southwest, and runs south along California to Southwest Edmunds Street. We'll be handing out treats along the way! The parade, occurring annually since 1935, is hosted by the West Seattle Rotary Service Foundation and is one of the oldest and most beloved community events in the Seattle area. It's part of Seafair and includes all of the pirates, clowns, marching bands, drill teams, floats, pagentry and excitement that leads up to the Seafair Torchlight Parade the following weekend.
---
New partner food bank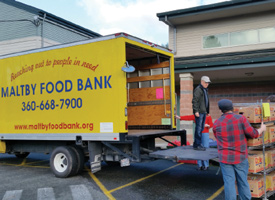 PCC partners with local food banks in each of the neighborhoods it serves to provide nutritious bulk food to local residents in need. With the opening of Bothell PCC, we're happy to announce Maltby Food Bank as our thirteenth partner in the PCC Food Bank Program. This entirely volunteer-based organization serves on average 110 to 120 families per week. Our first packaging party, where bulk foods are packaged into family-sized portions for distribution, will be held on Wednesday, August 10 at 6:30 p.m. at Maltby Food Bank. For more information, visit pccmarkets.com/foodbank.
---
July Food Bank Packaging Parties
Summer volunteers needed! Help your community by packaging bulk foods for our PCC Food Bank Program. Preregistration not required, all ages welcome.
Wednesday, July 6, 7 p.m. – FamilyWorks Food Bank
Thursday, July 7, 7 p.m. – Rainier Valley Food Bank
Monday, July 11, 6:30 p.m. – Kirkland Hopelink Food Bank
Wednesday, July 13, 7 p.m. – North Helpline Food Bank
Monday, July 18, 7 p.m. – Issaquah Food & Clothing Bank
Monday, July 25, 7 p.m. – Westgate Chapel Food Bank
Wednesday, July 27, 7 p.m. – University District Food Bank
Learn more: pccmarkets.com/foodbank.
---
Blood drive
Tuesday, July 5, 10 a.m. to 12:30 p.m., Redmond PCC
Tuesday, July 5, 2 to 5 p.m., Issaquah PCC
Friday, July 15, 10 a.m. to 4 p.m., West Seattle PCC
One donation of blood can save three lives! Bloodworks Northwest will be at various PCC locations in July and August collecting blood. Walk-ins are welcome. Remember to bring your ID. Learn more about donating at bloodworksnw.org/programs/blood.htm.
---
PCC Cooks
Summer quarter begins this July! With returning favorites and brand new classes cooked up by our expert instructor team, we're excited to share a summer of food with you. To start off the quarter, we've brought back Carolina BBQ, with some classic down-home summer feasting, as well as the ever-popular Lime and Coconut, with a whole new menu featuring this distinctive pairing. Make Thai food a part of your weeknight repertoire with 30-Minute Thai Bowls and savor hot-weather-ready Frozen Desserts: Ice Cream, Gelato and Sorbet. We're also thrilled to welcome Guest Chef Sonoko Sakai, who will share her expertise in noodle-making with a class on Traditional Japanese Udon Noodles.
Itching to break away from recipes and embrace spontaneity in the kitchen? Test Kitchen: A Summer without Recipes will give you the confidence and skills to do just that. You'll shop the produce department before working together to create a seasonal four-course menu, learning tons of tips and tricks for recipe-free cooking along the way. Visit PccCooks.com to find out more about upcoming classes.