Quality standards update
This article was originally published in January 2016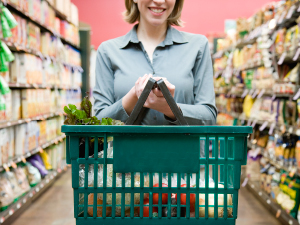 As a consumer-owned grocer, PCC strives to meet the high demands of our customers for continual improvement in product and ingredient integrity. Recently we updated our quality standards for several controversial ingredients — caramel color, titanium dioxide, silicon dioxide and carrageenan.
Caramel color
Caramel color is an ingredient common in soups, sauces, meat alternatives, beer, soda and other foods and drinks. PCC has informed vendors that we no longer are accepting new edible products that contain caramel color, unless they use organic caramel color.
We'll be phasing out products containing any non-organic caramel color within 18 months. We're adopting this standard after learning virtually all caramel colors (except organic caramel color) are artificial. We know you, our customers, simply do not want products with artificial colors.
Before we made the formal announcement to vendors, we had asked one key vendor, Zevia, to stop using caramel color. Two years later, we're happy to say Zevia is the first soda brand to remove caramel color. Zevia credits PCC with "leading the charge" toward this change.
Titanium dioxide and silicon dioxide
PCC also told our vendors we no longer are accepting new edible products that contain titanium dioxide or silicon dioxide. Food-grade titanium dioxide and silicon dioxide often are produced with nanotechnology. Nanotechnology is not regulated and nano materials are not labeled. The U.S. Food and Drug Administration (FDA) has warned manufacturers that products of nanotechnology have novel properties and should not be assumed to be safe. The FDA has recommended manufacturers test their nano products for safety.
At PCC, titanium dioxide generally has been used as a whitening agent in vegan foods such as non-dairy creamers, vegan "cheese" and vegan "meat" analogs. Silicon dioxide appears to be an anticaking agent used to prevent clumping. It's in products such as spice mixes and seasoning blends.
We'll phase out edible products containing these ingredients within 18 months.
Carrageenan
Carrageenan (aka Irish moss) is another ingredient raising concern based on accumulating research showing it causes inflammation in the digestive tract. PCC may accept some non-organic products with carrageenan, but we've told our vendors we're not accepting new, certified organic products with it. We don't believe it should be allowed in organic foods.
We will continue to allow carrageenan in non-organic foods for now — but note we have brought in only two products in the last 14 months that contain carrageenan, and only because there have been no alternatives without it.
We'll give preference to products that do not contain carrageenan or the other artificial colors, stabilizers or products of nanotechnology listed above. During periodic category reviews we'll look to replace products that do.
Comments to FDA on "grass-fed"
Beyond communicating with our vendors, PCC engages in a broader discourse about food policy and integrity by communicating with other consumer organizations and the government on a range of issues. We use input from you, our shoppers, to inform our positions and questions.
In the past several months, for instance, we heard from shoppers who were confused about the "grass-fed" label. They wondered what it meant.
The U.S. Department of Agriculture (USDA) established a voluntary standard for the "grass-fed" label in 2007, but it applies only to meat. If you see a "grass-fed" label on meat, it means the animal was 100-percent grass-fed.
Not so for dairy. Dairy is regulated by the FDA, which has not recognized USDA's definition and has no definition of its own. PCC contacted dairy vendors with "grass-fed" labels on their products and found the meaning varies pretty widely. Some vendors mean 100-percent grass-fed, while others mean the animals grazed on pasture some — but not all — their lives.
We wrote a formal letter of complaint to the FDA, saying consumers expect and assume the grass-fed claim on dairy means the same as it does for meat. We said it's unacceptable that consumers are being misled by some dairy claims and asked the FDA to recognize USDA's definition.
We'll keep you posted on the details of FDA's reply.
No GE salmon at PCC
In November the FDA approved genetically engineered salmon for human consumption. PCC has pledged for years we won't sell it. See our comments to the FDA.