WISErg: A new solution to the old problem of food waste
by Diana Chapman
This article was originally published in June 2015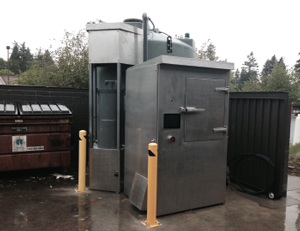 The amount of food waste in our country is estimated at 30 to 40 percent of the food supply. Along with other food retailers, especially those who prepare fresh foods onsite, PCC Natural Markets is part of the problem. For the past five years, PCC also has been part of a new solution.
PCC donates edible food that can't be sold to more than 30 food banks and community organizations. Food scraps are composted and have been at all PCC locations for more than 20 years. Composting is a good alternative to sending food waste to landfill but in 2010, a local start-up — Redmond-based WISErg Corp. — approached PCC with an idea for an even better solution.
The WISErg founders were confident they could repurpose food scraps so that that their nutritive value could be retained. They needed a living laboratory to develop and test their idea. PCC was a perfect candidate. For the next two and a half years, Issaquah PCC was their lab. After numerous tests and course corrections, the first WISErg Harvester™ was installed at the Issaquah store in March 2012.
The WISErg Harvesters at PCC stores each can process 4,000 pounds of food scraps daily.
WISErg's Harvester
The WISErg Harvester is a high-tech, heavy-duty module that processes food scraps at the source to prevent decomposition. A door opens to a hopper, food scraps from a store's produce, deli, meat, seafood and other grocery departments are discarded inside, and a brief grinding cycle begins. During the input process, the date, time, source and weight of each load are recorded automatically, providing valuable information for PCC's waste prevention efforts.
The resulting nutrient-rich solution is pumped into an adjacent tank where it is stabilized by a proprietary mix of single-cell organisms. The WISErg team pumps out the processed material into a truck that transports it to WISErg's refinement facility. It's then held in an uncoupling tank for 24 hours, filtered and moved to a second bioprocessing tank for a second treatment of microorganisms. A series of mechanical filtering technologies is used to polish off the final product. Lab analysis is constant to ensure an optimal formulation of natural vitamins, organic acids, protein, amino acids and antioxidants.
WISErg's system is different from conventional composting, which is a catabolic process that breaks down complex animal and plant waste molecules from waste into simple ones. The catabolic process releases energy in the form of heat and warming gases but degenerates the nutrients in the organic matter.
"In contrast, the WISErg system uses an anabolic process in the presence of oxygen," says Larry LeSueur, president and co-founder of WISErg. "Its use of proprietary organisms stabilizes organic waste and maintains its complex molecular state."

Non-stinky organic fertilizer
The final product is a superior liquid fertilizer, branded as WISErganic and sold at all PCCs. WISErganic is gaining popularity among local farmers because it doesn't smell or clog irrigation lines the way fish-based fertilizers can. It also has been demonstrated to increase crop yields and is certified for use on organic crops.
PCC has three Harvesters — at the Issaquah, Edmonds and Redmond stores — with more to come. Each unit can process up to 4,000 pounds of food scraps daily and does so with minimal noise or odor and without attracting pests, insects or birds. These WISErg Harvesters make it possible for scraps from PCC foods to be repurposed to grow more healthful food in backyard gardens and on local farms. It's a full-circle story not about food wasted — but food valued.
Diana Chapman is PCC's director of sustainability. For more information visit wiserg.com.