Your co-op community, April 2015
This article was originally published in April 2015
Community grant winner
We're excited to announce our first Community Grant of 2015 has been awarded to Mountains to Sound Greenway Trust. This organization leads and inspires action to conserve and enhance the landscape from Puget Sound to the Central Washington region, ensuring a long-term balance between people and nature. It focuses on supporting farmers and increasing awareness of the importance of local food.
The trust recently launched a program that takes culinary students and chefs to local farms to learn about local products and to demonstrate opportunities to use these products. Many schools and groups don't have the funds to participate in these tours. Our grant will help cover the cost to coordinate them, as well as the cost of transportation.
Four times each year, PCC awards a $1,000 grant to a school or nonprofit that exemplifies the spirit of our local community. We especially like programs focused on food and sustainability. To apply visit pccmarkets.com/community/grants.
---
The PCC TasteMobile
Would you like to have the TasteMobile at your next event? The TasteMobile travels around the Seattle area to provide kids with opportunities to experience a broad variety of healthy foods during our Kid Picks events. We also offer useful, entertaining cooking demos for many ages. Learn more at pccmarkets.com/tastemobile.
---
Kindiependent Rock Series
Mount Baker Community Club, 2811 Mount Rainier Drive S., Seattle
Johnny Bregar – Saturday, April 11, 10:30 to 11:30 a.m.
Caspar Babypants – Saturday, April 25, 10:30 to 11:30 a.m.
We'll be at these fun rock 'n' roll shows, making healthy take-home treats with the kids.
---
Voracious Tasting
Thursday, April 23, 7:30 to 10 p.m.
Paramount Theater, 911 Pine St., Seattle
Indulge in an evening of unlimited bites from Seattle's premiere restaurants, food trucks, specialty food artisans, and mixologists in the historic Paramount Theater. PCC sponsors this event benefitting the Neighborhood Farmers Market Alliance. We'll be there sampling our signature fresh fruit galettes. Come give the spinning wheel a whirl to win a fun prize! For tickets and more information visit seattleweekly.com.
---
Chinook Book Earth Month sale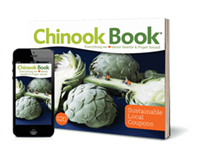 Let's celebrate Earth Day all month with a Chinook Book sale! For the entire month of April, print coupon books are $15, mobile coupon packs are $10, and combo packs are $25. Happy Earth Day!
---
Blood drive
Friday, April 24, 10 a.m. to 4 p.m., West Seattle PCC
Puget Sound Blood Center has a new name: Bloodworks Northwest. Its staff will be at our West Seattle store April 24 with the blood mobile. Please pre-register online, but walk-ins are always welcome. Learn about donating at bloodworksnw.org/programs/blood.htm.
---
New PCC food bank partner
Thursday, April 16, 7 p.m.
Lifelong Food Bank, 210 South Lucile St., Seattle
Would you like to volunteer? Come join us for tasty bites and sparkling cider to toast PCC's new Food Bank Program partner!
The Lifelong Food Bank is our 12th partner in the PCC Food Bank Program. We're looking for volunteers to help package bulk foods into family-sized portions every other month at this new location. This is a great way to meet new friends, get your kids to join in and get teens to fulfill their volunteer hours for school — not to mention a way to get to know this great non-profit organization.
---
Food bank packaging work parties
Help our partnering food banks by donating your time to pack our bulk foods into family-sized portions. Join us:
Wednesday, April 8 at 6:30 p.m.
Redmond Hopelink Food Bank
Monday, April 13 at 7 p.m.
West Seattle Food Bank
Wednesday, April 15 at 7 p.m.
Greenwood Food Bank
Thursday, April 16 at 7 p.m.
Lifelong Food Bank
For more information, including addresses and future dates, see pccmarkets.com/foodbank.
---
Spring food drive
PCC is collecting contributions for our 12 local food bank partners during the entire month of April. Cash donations will be used to purchase healthy bulk foods at wholesale prices. To make a donation, visit your local PCC and look for our colorful displays near the registers, choose your donation amount and have a cashier ring it up. Learn more at pccmarkets.com/foodbank.
---
PCC Cooks
PCC Cooks' spring quarter begins this April, bringing you classes bursting with fresh recipes perfect for the changing season. From celebrating local produce with In Season: Spring Bounty to making Chinese Dumplings, we've got a month packed full of classes featuring a diverse range of flavors and topics to tantalize your taste buds.
Join us for Brazen Braising, where Chef Darin will guide you through the steps of braising meat, poultry and fish, turning underestimated cuts into scrumptious dishes. Craft your own kombucha, sauerkraut and more in Fermented and Cultured Foods with fermentation guru Birgitte Antonsen. Prepare to take advantage of the warmer weather with Fuel for the Athlete, where you'll make fortifying and nutritious whole food snacks ideal for the first bike rides and hikes of the spring!
Interested in teaching at PCC? Find out more at PccCooks.com. Click on "Do You Teach?"