Frozen meat & seafood
This article was originally published in February 2015
Sustainable & convenient
Keeping portions of meat and seafood in the freezer is a great way to make sure you have healthy meal options for busy nights. Portions of frozen fish — cod, salmon, shrimp — can be pan-roasted or baked in no time with a little lemon, wine and butter. Ground beef, turkey or venison make for quick, easy burgers. We also have more decadent options (rabbit and duck) for special occasions.
PCC carries a variety of frozen sausages, chicken nuggets, crab cakes, salmon cakes and shrimp cakes that meet our strict standards. All of PCC's meat and poultry is produced without antibiotics or hormones. Here's what you'll find in the freezer section:
Diestel organic ground turkey: These convenient packages contain only pure, ground, boneless, skinless meat — white or dark — from organic turkeys humanely raised on highly rated Global Animal Partnership (GAP)-certified farms. Non-GMO feed, free of preservatives. Lean with great texture and flavor for chili, meatballs, burgers, meatloaf and more. We also carry free-range (but non-organic) ground turkey from Shelton.
Maple Leaf Gold Label duck: available in our freezer section whole, leg or breast (all raw) or half (fully cooked, just heat!) — are raised in quiet, spacious barns where they have room to roam and constant access to fresh water and feed. Independent experts audit the farms to verify the humane treatment of the ducks.
Cook deliciously with duck fat! Some foodies prefer frying foods in duck fat rather than pork fat, beef fat or even butter. Duck fat is high in beneficial unsaturated fats (it's also a source of saturated fat), and its chemical composition reportedly is closer to olive oil than to butter. It's prized for its rich, deep flavor that coats the palate. Find duck fat in the freezers at PCC.
Nicky Farms rabbit: Rabbit meat has a buttery flavor that's mild compared with other game meats. It's a lean meat that's higher in protein but lower in calories, fat and cholesterol than many other meats, including chicken, beef and pork. It's also one of the most sustainable meats to produce. According to Slow Food USA, rabbit can produce 6 pounds of meat using the same amount of food and water it takes for a cow to produce only 1 pound. PCC carries humanely raised rabbits from Oregon, both whole and in pieces.
Broadleaf ground venison: This venison comes from family-owned farms in New Zealand, where the deer are free to roam, are 100-percent grass-fed, and are raised according to strict animal welfare standards. Venison is exceptionally lean and a 3.5-ounce serving contains only 150 calories, plus plenty of iron, vitamin B-12 and zinc, with only 1 gram of saturated fat.
Shrimp: Frozen shrimp are a great option for quick, nutritious meals. They're low-fat and high protein, and can be added to everything from stir-fries to pasta. PCC carries 1-pound bags of cooked small, peeled pink shrimp from Oregon, perfect for salads, tacos or shrimp cocktail. We also offer larger, shell-on raw shrimp from the Gulf of Mexico. All shrimp at PCC is wild and meets the Monterey Bay Aquarium Seafood Watch program's sustainability criteria.
Fish portions: Look for bags with 4-ounce single-serving portions of frozen Alaskan cod, Alaskan pink salmon and Ecuadorian mahi mahi from Orca Bay.
Frozen more sustainable?
Research shows frozen seafood can be more sustainable than fresh. Frozen fish doesn't need to be shipped as fast as fresh does, so it can be delivered in a more carbon-friendly fashion, such as by train or barge. Don't worry: quality isn't sacrificed. The fish is frozen, often at sea, at the peak of freshness. There's essentially no compromise in texture.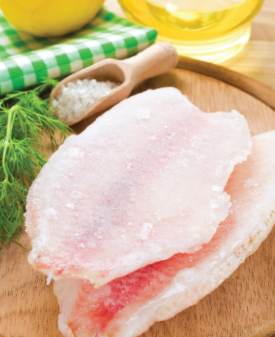 COOKING FROZEN FISH
Did you know that you don't
have to thaw frozen fish?

You'll
have to add a few minutes to the
cook time specified in the recipe to
account for the lack of thawing, but
you can poach, steam, bake, broil
or grill fish straight from the freezer!
Remove the fish from the freezer
and from its packaging.
Rinse the fish under cold water
to remove any frost or ice.
Pat the fish dry with a paper
towel.
Brush the fish with a thin
layer of olive oil or your
favorite marinade, season
with a pinch of salt and
pepper, and get cooking.