Green Cleaning
This article was originally published in April 2014
From all-purpose tile cleaners to phosphate-free dish detergents, PCC carries cleaning products that are safer for
you and the environment.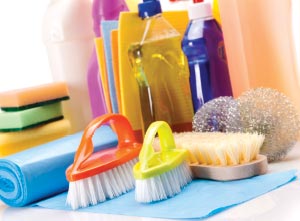 All PCC's cleaning products:
are non-toxic
reduce impact on water quality
and marine life
are kinder to our skin, and some
are hypoallergenic
biodegrade more quickly and more
completely
are not tested on animals
do not create harsh fumes
do not contain fillers or thickeners
Here are some standouts to kick-start your spring cleaning:
Seventh Generation Natural Glass & Surface Cleaner Get a streak-free shine with plant-derived cleaning agents. This formula is safe on glass, mirrors, stainless steel and other surfaces, but most importantly for the fingers and faces pressed up against them!
BIOKLEEN Citrus Essence Bac-Out Multi-Surface Floor Cleaner Biokleen's formula of live enzyme-producing cultures and citrus extracts cleans and deodorizes by going directly after the source that can cause buildup: dirt, oils, grease and food particles. Just spray and wipe or mop. Safe to use on all sealed and water-safe floors: hardwood, laminate, marble, stone, linoleum, vinyl and ceramic tile. Contains no artificial fragrances, colors or preservatives and leaves no residue or harsh fumes.
Bon Ami Powder Cleanser Use this instead of toxic powder cleansers such as Comet, which contains bleach. Bon Ami contains plant-based cleaning agents made from coconut and corn oils, then adds feldspar and the even softer abrasive, limestone. It has soda ash and baking soda, too. The result is a natural, effective cleaner for modern surfaces, including bathroom tiles, tubs and sinks.
CleanWell Botanical Disinfectant All-Purpose Cleaner This citrus-scented, thyme-based cleaner deodorizes and disinfects, reportedly killing more than 99.9 percent of germs, including cold and flu viruses. No rinsing required, even on food contact surfaces and children's toys. The entire package is recyclable, including the all-plastic trigger spray.
Country Save Liquid Dish Detergent This detergent is a workhorse for cutting through grease but contains no enzymes or phosphates. Unlike most dish soaps, it has a mild scent.
Earth Friendly Products Parsley Plus All Surface Cleaner For those who want an alternative to citrus-based all-purpose cleaners, this one brings the fresh smell of fresh parsley into your home. It's very gentle on skin, emits no harsh fumes and vapors, and is made of sustainable ingredients, including plant-based surfactants.
It's great for kitchen countertops, ovens, appliances, sinks, walls, floors, ceramic tile, wood, metal and clothing. It's also safe on any outdoor washable surface, including grills, wooden decks and furniture. Use to remove chewing gum, adhesive, tar, asphalt, oil, lipstick, crayon, pencil marks, wax and tree sap.