Hard ciders for winter nights
This article was originally published in December 2013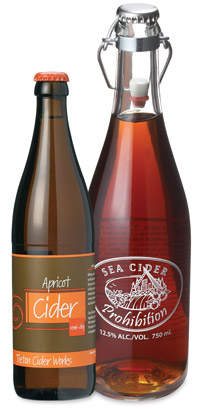 We Northwesterners sure are lucky. Not only do we live in a place abundant with organic, heirloom apples, but it's also a hotspot for turning those apples into delicious, artisan hard ciders. (See Shaking the tree: a booming hard cider industry reaps surprising benefits.)
Cider once was very popular in North America before Prohibition in the early 1900s. Most of the old cider orchards didn't survive the ban, but now cideries are reviving the craft cider tradition — with outstanding results. These are some favorite brands you'll find at PCC.
Sea Cider in Saanichton, B.C., grows more than 60 varieties of certified organic apples to make its cider and also purchases apples from several nearby growers. The apples are pressed at the farm using the traditional "rack and cloth" method, which is labor-intensive but yields old-fashioned flavors. The juice is fermented slowly with champagne yeasts, then aged into dry ciders. Try the Prohibition, aged in bourbon barrels.
Schilling Cider is just a year old, but this Seattle cidery is impressing PCC staff and shoppers with its craft cider in cans. Schilling uses all Washington apples and ale yeast (instead of the more typical champagne yeast), which gives it a more robust taste and extra body. Try the lightly hopped Original; the semi-dry Oak Aged with hints of cinnamon and vanilla; or the Ginger, which has a spicy bite and a crisp finish. Add a scoop of vanilla ice cream for a boozy float!
Tieton Cider Works' fresh-pressed juice comes from apples grown in the Pacific Northwest. The cidery blends American, English and French cider varieties with organically grown dessert apples to capture the best of what each variety brings to the bottle: sweetness, acidity, tannin and aroma. PCC favorites include the Apricot, which is terrific with rich, mild cheeses; and the Cherry, which is an alternative to rosé and delicious with grilled salmon and hard cheeses. If you're an IPA lover, try the Dry Hopped, featuring Yakima Valley Cascade, Fuggle and Palisade hops.
Finnriver Farm & Cidery is a certified organic family farm, located alongside a restored salmon stream on Washington's Olympic Peninsula. Finnriver grows a variety of berries and heirloom apple trees for its wines and ciders. They also glean wild apples from old-time local homesteads and source fruit from regional organic sources in the Pacific Northwest. Try the popular Dry Hopped cider — the crispness of the apple blends with the citrus character of organic Cascade hops for a bright and grassy sparkling cider that's delicious with savory foods and floral cheeses. Also try the Pear, Black Currant and the seasonal special, Ginger Fir.
Seattle Cider Company is one of the city's first cideries since Prohibition, bringing true craft cider back to Seattle. Like the other craft ciders at PCC, this cidery's Dry and Semi-Sweet varieties break the mold of overly sweet cider and bring the natural flavors of Washington apples to the forefront. They're sold in cans at a value price.
Wandering Aengus Ciderworks presses and blends more than 20 cider apple varietals to craft its ciders. The apples are heirloom varietals originating from France, England and pre-prohibition-era America that now are grown in Oregon. The Bloom is a great basic intro to craft cider. It's mild, appley and a good balance of sweet to dry. Try it with
spicy food.