PCC Board of Trustees report, December 2013
This article was originally published in December 2013
Board report
The November board meeting occurred after press time, but the agenda was scheduled to include approval of the 2014 budget and business plan. The nominating committee was expected to release the names of PCC members who will be candidates in the 2014 board election. The committee interviewed seven applicants.
The member relations committee was to discuss plans for the 2014 annual meeting and ask the board for approval of the meeting program.
The next board meeting will be on January 28 at the business office at 5 p.m. Member comment period is at 7 p.m. Member comments are limited to 3 minutes unless additional time previously is approved by the board chair.
Urban agriculture tour
On October 26, the board of Seattle Tilth hosted PCC board and staff members on a tour of three urban agriculture projects — Seattle Youth Garden Works, Bradner Gardens and Seattle's largest urban farm — the Rainier Beach Urban Farm & Wetlands (RBUFW).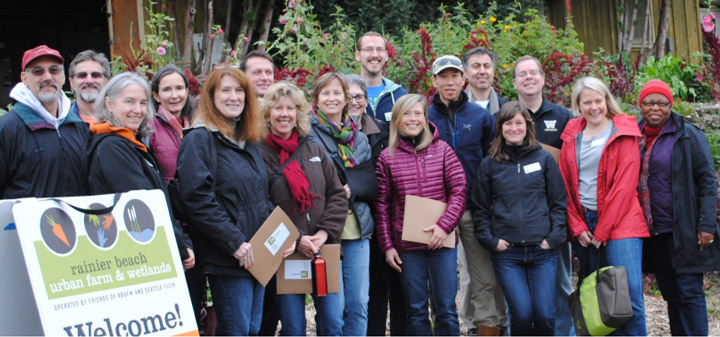 Board development committee chair Julianne Lamsek notes the purpose of the tour was to "learn about the breadth of work Seattle Tilth is doing in our community to inspire and educate people to safeguard our natural resources while building an equitable and sustainable local food system." The committee plans educational opportunities for the board and this educational trip is in line with our board's long-term study track.
Seattle Youth Garden Works provides opportunities for youth ages 16 to 21 to gain a meaningful employment experience in urban agriculture. People from diverse backgrounds come together to grow food and market a diverse selection of vegetables. In the process they develop leadership skills and personal connections to the food system.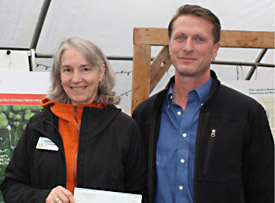 Built in 2000, Bradner Gardens Park is a unique collaborative partnership between the City of Seattle Parks Department, Seattle Tilth, Washington Native Plant Society, King County Master Gardeners, P-Patch and neighborhood residents. All of the park's demonstrations are maintained by volunteers and are 100-percent organic.
At the end of the tour, PCC donated $10,000 in support of Seattle Tilth's ongoing capital campaign to develop RBUFW. The funds will be allocated directly toward the transformation of the long-neglected 10-acre property into a farm offering healthy food and educational opportunities to Seattle's Rainier Beach community.
The farm and all on-site programming are managed by Seattle Tilth and directly benefit the Rainier Beach neighborhood. When fully funded, the revitalized farm will be active year-round, offering fresh produce sold through an on-site market stand, covered outdoor workspace, community kitchen and community gathering place.
"We hope PCC's donation inspires others to step forward and support this wonderful example of people coming together to feed, educate and connect with their neighbors," said Scott McCormick, store director for PCC's nearby Seward Park location, who presented PCC's contribution. "I was honored to present the donation on behalf of PCC. And I enjoyed spending time learning about and being inspired by all the work Seattle Tilth does. The scope of their work and the diverse community they involve is impressive."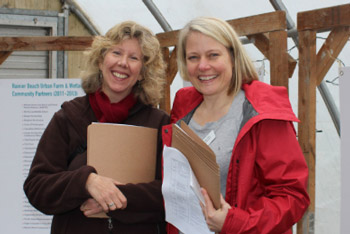 The $2.4 million capital campaign is being carried out by Seattle Tilth, in partnership with the Friends of Rainier Beach Urban Farm and the Seattle Parks Campaign.
"Seattle Tilth and PCC are like-minded organizations that have enjoyed a multiyear partnership focused on local, sustainable agriculture," said Andrea Dwyer, executive director of Seattle Tilth. "This donation is a welcome boost to our capital campaign that, together with other public and private funding, will realize our dream for making the most of the opportunity the Rainier Beach Urban Farm offers residents throughout the Southeast Seattle community."
Sara Walsh, community relations manager for PCC, said, "Seattle Tilth's programs touch and benefit communities throughout the market area served by PCC. Our financial contribution to this capital campaign isn't just a donation; it's a solid investment in the future of a community well-deserving of our support."
The RBUFW Capital Campaign will fund several amenities at the formerly inaccessible farm site. It ultimately will involve the participation of 5,000 community members each year. Students, volunteers, neighbors, naturalists and farmers will come together to produce more than 10 tons of organic produce annually. The property also will support a children's garden, community learning gardens, outdoor classroom spaces, a community market stand, greenhouses for year-round production of organic fruits and vegetables, a fruit orchard, apiaries, native plant nursery and compost center.
For more information, visit seattletilth.org.