64 countries around the world label GE food
by Hudson B. Kingston
This article was originally published in May 2013
Since the commercialization of the first genetically engineered (GE) crops in the 1990s, countries have been trying to create policies that sufficiently regulate and oversee these new technologies.
In the early 2000s the Center for Food Safety and the International Forum on Globalization teamed up to create a GE policy map to show the patchwork of import bans, planting bans, international treaty ratifications, controlled releases, and mandatory labeling laws pertaining to GE foods.
Countries with laws to label GE foods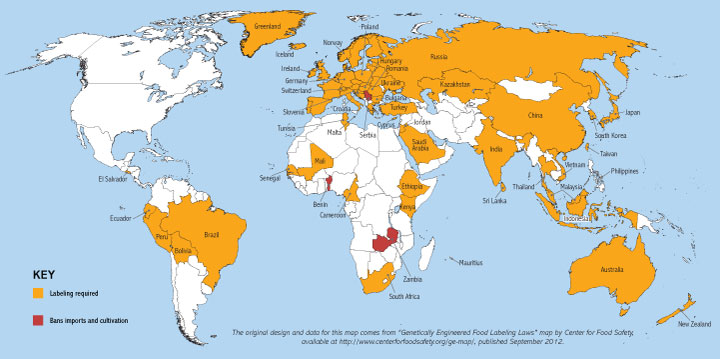 The original design and data for this map comes from "Genetically Engineered Food Labeling Laws" map by Center for Food Safety, available at centerforfoodsafety.org/ge-map/, published September 2012.
Australia
Austria
Belarus
Belgium
Bolivia
Bosnia and Herzegovina
Brazil
Bulgaria
Cameroon
China
Croatia
Cyprus
Czech Republic
Denmark
Ecuador
El Salvador
Estonia
Ethiopia
Finland
France
Germany
Greece
Hungary
Iceland
India
Indonesia
Ireland
Italy
Japan
Jordan
Kazakhstan
Kenya
Latvia
Lithuania
Luxembourg
Malaysia
Mali
Malta
Mauritius
Netherlands
New Zealand
Norway
Peru
Poland
Portugal
Romania
Russia
Saudi Arabia
Senegal
Slovakia
Slovenia
South Africa
South Korea
Spain
Sri Lanka
Sweden
Switzerland
Taiwan
Thailand
Tunisia
Turkey
Ukraine
United Kingdom
Vietnam
Countries increasingly have teamed together to adopt GE labeling laws across borders to improve access to foreign markets. Between the last version of the map in 2005 and today, 24 additional countries have passed mandatory labeling laws, and many more countries have worked to formalize and strengthen their regulatory regimes.
India was the most recent country to adopt a mandatory labeling law at the beginning of 2013. Some countries have no need for a labeling law because they do not allow any GE food, such as Zambia, Benin and Serbia, which all have total bans on GE imports and cultivation. Turkey is now debating becoming the first country to label GE animal products — meat, milk, eggs, cheese and other products — from animals raised on GE feed.
The recently published Center for Food Safety Genetically Engineered Food Labeling Laws map concentrates on mandatory labeling laws across the world, just one of the ways countries regulate GE. The map shows that the 64 countries with labeling requirements span both the developed and developing world.
Our greatest trading partners are countries that require labeling of GE foods, and U.S. food exports abide by their laws.
One trend that is evident from the map over time is that more and more countries have sought to provide their citizens with increased information about GE foods, and once countries have labeling laws in place they do not weaken these standards.
GE food labeling has proved to be a policy that works across countless cultures, benefiting billions of people.
Hudson B. Kingston is Legal Fellow at the Center for Food Safety.