PCC Board of Trustees report, May 2013
This article was originally published in May 2013
Vote in PCC's Annual election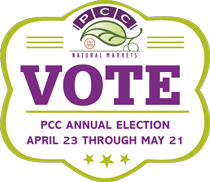 April 23 ­to May 21
You're electing three board members and a new nominating committee.
The special election insert inside your issue of your home-delivered Sound Consumer contains your ballot, biographical information and campaign statements from each candidate, as well as a candidate Q&A designed to prepare you for your voting decisions. The insert also gives a bit of background on the six trustees who the new board members will be joining.
Look also for statements from the 2013-2014 nominating committee candidates. They are Janet Hietter, Tom Monahan, Don Nordness, Mary Simon and Julie Tempest.
All of the campaign materials, including video interviews, are available at pccmarkets.com/election.
You can see and hear the board candidates talk about why they're running. Our website features brief video interviews with each candidate. Watch and listen to them briefly answer these questions:
Why do you want to serve on the board?
What makes PCC a different kind of business?
What experience, skill or perspective will you bring to the board?
A message from your board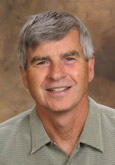 PCC matters! And so does your vote!
PCC has become a significant organization in our region — the largest natural foods co-op in the country, a major employer and a sustainable business leader.
As a PCC member, you help set the direction, values and oversight of this important organization by electing the board of trustees, which in turn establishes PCC's policies and hires the CEO to run our stores.
Please take a few minutes to read about this year's board candidates and vote for the three you feel will best contribute to PCC's future. After all, it's your co-op!
— Bruce Williams, PCC Trustee
Notice of 2013 ballot count meeting
The 2013 ballots will be counted at a public meeting on Monday, May 27 at noon at the co-op office, 4201 Roosevelt Way, N.E. Results will be posted in our stores, office and website by Friday, May 31.
Annual meeting — Tuesday, April 23
We'll publish a report and photos of our annual meeting on our website by May 15 and in the June Sound Consumer.
Available online now are the recipes from the annual meeting menu. Our education theme at the meeting was the importance of organics for consumers, growers and the environment.
Farewell from our two departing board members
"I am filled with great sadness as my first term comes to an end. I have relocated to Los Angeles with my family, and therefore did not apply for a second term. 
"I thoroughly enjoyed my three years on the board and gained valuable knowledge in the consumer-owned food retail industry. I sincerely hope I contributed as much as I took away from this experience! I am so proud to be a part of an organization that embraces sustainability, builds the community, provides consumer education programs, and supports local farmers. 
"I thank you for allowing me the opportunity to be a part of this community."
— Katrina Basic
~~~

"It has been an absolute pleasure and privilege serving as a PCC trustee. During my time on the board, thoughtful governance, expert leadership and member insights continued to result in PCC successfully fulfilling its economic, social and environmental responsibilities in a complex, ever-changing operating environment.
"By relentlessly focusing on high-quality, natural, organic food; supporting local farmers and suppliers; and promoting healthy, sustainable living, PCC continued to improve our quality of life in ever-increasing ways. And, PCC's great people continued to deliver outstanding customer experiences every day.
"Thank you again for the opportunity to serve PCC in such an important role."
— Bryan Pearce