Soil & Sea: reports from our producers
This article was originally published in January 2013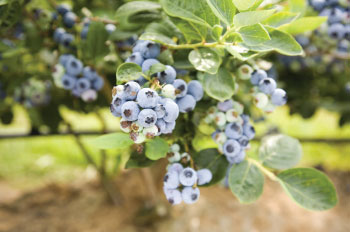 Most of us Seattle-area residents don't often follow the cost of hay, or how fishermen in Alaska are faring — even though what happens on farms, fishing boats, and other places our food is harvested and produced affects our choices for what to eat.
Soil & Sea offers a glimpse into the world of food production many of us never think about or see.
Washington continues to produce more blueberries every year. The state was forecast to have a 70-million-pound crop in 2012, up from 61 million in 2011, and has more than tripled its blueberry production in the past three years.
More than 500 chefs, restaurant owners and culinary leaders are petitioning the U.S. government to require that seafood be traceable to prevent seafood fraud and keep illegal fish out of the U.S. market. They've signed a letter initiated by sustainable seafood advocate and celebrity chef Barton Seaver, which has signatories from nearly all 50 states, including top chefs Mario Batali, Rick Bayless, Daniel Boulud, Thomas Keller, Jacques Pepin and Eric Ripert.
The federal government is renewing antidumping duties on honey from China, pleasing domestic honey producers who say Chinese imports threaten their industry.
Washington apple farmers were relieved when decreased apple crops in the Midwest and East Coast meant processors there were able to absorb Washington-grown apples damaged by hail storms this summer. Otherwise, the fruit would have been useless.
Washington, Oregon, Idaho and California are among 37 states to receive grants in the U.S. Department of Agriculture's (USDA) first-ever round of farm-to-school grants. USDA announced it would give $4.5 million to connect local agricultural producers with more than 3,200 school cafeterias across the country, many of them in rural areas. Grant money will be used to support a broad range of school food efforts, from gardens and field trips to cooking classes for kids and education for farmers new to the demands of school food service.
Quinoa soon may be grown in much of the United States, and some already is growing in Washington. The explosion in world popularity of quinoa in the past six years has quadrupled prices for consumers, but almost no farmers outside of the arid mountains and coastal valleys of Peru, Bolivia, Ecuador and Chile currently grow the protein-rich crop. Washington State University researchers say quinoa can flourish in many parts of North America including the Rocky Mountains, Canada and the Pacific Northwest.
A USDA report shows dairy farmers have found innovative ways to sustain production levels despite high feed prices, drought, heat and lower feed availability and quality that led to a 10,000-head reduction in the beef herd. The report also shows dairy production is shifting away from the West and Southwest to the High Plains, Upper Midwest and East.
Climate change could lead to the extinction of wild Arabica coffee well before the end of this century, according to a new study. Wild Arabica is considered important for the sustainability of the coffee industry due to its considerable genetic diversity. The study finds the Arabicas grown in the world's coffee plantations are from very limited genetic stock and are unlikely to have the flexibility required to cope with climate change and other threats, such as pests and diseases.
Climate change may be killing off Washington State's oysters. Increasing ocean acidification is to blame, scientists suspect.
Thieves have been stealing haystacks since deep drought across much of the country has rendered hay a very valuable crop. One sheriff in Oklahoma put a GPS tracking device in a haystack to crack one case.