Producer spotlight: Del Ray Avocado Co.
This article was originally published in January 2013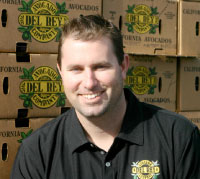 Del Rey Avocado Co. is a family-owned business in Fallbrook, Calif., that has been in operation since 1969. It packs between 25 to 28 percent of all the organic avocados grown in California.
PCC's produce merchandiser, Joe Hardiman, visited one of Del Ray's organic farms, ACW, this fall. ACW is an 800-acre farm that generates its own electricity (it has 10 acres of solar panels) and has its own bee aviary with more than a thousand hives that reportedly make incredible honey. It also has a plant nursery that's developing disease-resistant trees. The owner of the farm is an 85-year-old pathologist who happens to love avocados.
"This is a phenomenal story of successful sustainability," says Hardiman. "In an agricultural area going bust, Del Rey and ACW are adding acreage with their ability to source water and electricity and even labor. Their success is a showcase study in sustainable, quality production."
PCC spoke with sales associate Patrick Lucy about what makes Del Ray's avocados a cut above the rest.
PCC: You run Del Ray with your dad, Bob, and brother, Donny. Tell me a little about your family business.
PL: We're a grower, packer, shipper and importer of avocados. We farm 300 acres ourselves, and about 100 of those are organic. We probably work with about 20 organic farmers, but most of our organic volume comes from three farms including our own, a farm named ACW and Fairfield Farms.
PCC: What are some of the innovative things ACW is doing to improve efficiency?
PL: ACW is its own self-sufficient ranch/city (400 acres of organic and 400 acres of non-organic avocados). They have 10 acres of solar panels that run the electricity for the whole ranch. They produce so much electricity they're actually able to sell electricity back to the state.
Water is the biggest issue for farmers in Southern California, especially for avocado growers. You need a lot of water to farm avocadoes correctly. This is especially true for organic; you almost need to overwater to keep the trees healthy because you can't spray. ACW has 25 wells on the property and four reservoirs to store water. The solar panels help with pumping the water up and down.
PCC: That's pretty cutting-edge thinking. Are there other organic farms being so innovative?
PL: Yes, even the conventional ones are — organic farmers are just a little more progressive in doing it first.
One conventional farm is doing solar panels. We're using reverse osmosis to clean the water and we're trying to store some of that clean water so we don't have to use city water, which is so expensive. We have to think about these efficiencies to compete with imported avocados.
PCC: Tell me about ACW's bee aviary.
PL: Avocados are not self-pollinating. Rather than rent bees, ACW has its own aviary with bees to pollinate its avocado trees. When they're not pollinating the avocado trees, ACW ships the bees to other places, such as Idaho, to pollinate wheat or other crops. They sell their own honey at farmers markets. So nothing goes to waste.
PCC: You said water is a significant problem. Are there other major challenges to growing organic avocados in California?
PL: Water is the issue. Farmers are going to have to cut cost in other ways because water is going to keep getting more expensive. But if you farm avocados correctly you can be really successful and make a living at it.
Organic avocados are 2-3 times more expensive to farm than non-organic because organic fertilizers are about one-third as strong as conventional. They also cost more. You also have to water a little more to keep the trees as healthy as possible.
PCC: I always get really delicious organic avocadoes at PCC, rich with oils and very creamy. This isn't always the case with avocadoes from other stores, which sometimes are watery or moldy even when still hard. What accounts for the range in quality?
PL: Mostly age. PCC and Organiccally Grown Company (OGC) source from California as long as possible. OGC does a good job of conditioning the fruit before it gets to your stores, and your produce managers probably are rotating them properly. We try to get them the freshest fruit.
PCC: What's your foolproof tip for ripening an avocado?
PL: Put it in a paper bag with a banana (to throw off the ethylene), and store in a sunny place to keep it warm.
PCC: What's your favorite way to eat avocados?
PL: My mom makes an avocado "butter" to put on salmon or other fish. It's just avocado, Worcestershire sauce and lemon, mixed together with a little mayo for consistency. Also, we really like avocado bruschetta.