A different take on cheese
This article was originally published in November 2012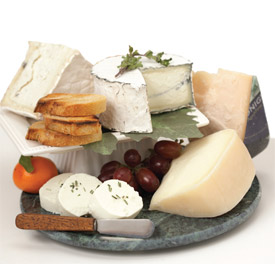 With a sweet-tangy flavor and sometimes salty, grassy undertones, goat and sheep's milk cheeses have been loved around the world throughout history. People often choose them for their health advantages or just their distinctive taste.
Some people with sensitivity to cow's milk may find goat or sheep's milk to be good alternatives because they're easier to digest. It's not clear from scientific research studies exactly why. Some research suggests that specific proteins known to cause allergic reactions may be in cow's milk but largely absent in goat's milk. Other studies have found goat's milk contains some anti-inflammatory compounds.
Here are some you'll find at PCC, with our tasting notes and wine pairings.
Sheep's milk cheeses
Perail Papillon — Made from pure sheep's milk from the Aveyron region of Southern France, Perail is a melt-in-the-mouth cheese with a distinctive, mild flavor. The sheep are pastured at high altitudes where the best-quality grasses are found.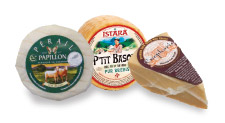 Tasting notes: "tastes like hay/grass," "so light and creamy," "not too rich," "strong taste of sheep," "tastes like I'm standing in the verdant pastures of France."
Wine pairing: Chardonnay
Petit Basque — A hard sheep's milk cheese produced in the Pyrenees Mountains. It's slightly "sheepy," nutty and fruity and, because it's quite mild, it's a good one to start with if you are unfamiliar with sheep's milk cheeses.
Tasting notes: "gradual party in my mouth," "buttery with a hint of nuttiness," "love the caramelly flavor and creamy-dense texture," "great snacking cheese," "mild for sheep's milk."
Wine pairing: Beaujolais, Merlot, Viognier
Ricotta salata — An affordable Italian cheese aged 60 days, with a pleasant milky flavor that's sheepy but fairly mild. It's rather dry so is best shredded over pizza and pasta or crumbled onto salads or grilled vegetables.
Tasting notes: "good replacement for feta"
Wine pairing: Sancerre, Cabernet franc, sparkling wines
Manchego — Made in the La Mancha region of Spain from the milk of sheep of the Manchega breed, this firm, buttery cheese is aged between 60 days and two years. Commonly served with quince paste or marcona almonds.
Tasting notes: "very mild," "creamy with sharp tang," "would be great melted on something."
Wine pairing: Cava, Tempranillo (preferably from Rioja!) or Pinot noir
Ewephoria sheep milk gouda — Hard, dry cheese from Holland with a caramelly sweet, nutty flavor. The farmer's wife says the sheep "eat better than her children" on lush pasture surrounded by a nature preserve. The crunchy cheese is a delightful snack and is delicious melted on pies or dessert breads.
Wine/beer pairing: Amber or brown ales, red Bordeaux, Barolo, Merlot
Roquefort — Made exclusively from the milk of the red Lacaune ewes that graze on a huge plateau in the Aveyron region of France. The taste is complex, creamy and soft, and it pairs well with nuts and sweet fruits, such as figs.
Tasting notes: "way more flavor and bite than expected," "creamy, with mild blue cheese flavor," "like a creamy brie."
Wine pairing: Châteauneuf du Pâpe; dessert wines such as Muscat, Port or Sauternes
Did you know?
Health benefits: Goat's milk cheese is lower in calories, cholesterol and fat than cow's milk cheese. It's also rich in calcium, protein, vitamin D and vitamin B2 and tryptophan — an amino acid that makes us feel happy.
Sheep's milk cheese has more calcium, protein and fat than cow's milk cheese, but it has less cholesterol.
How to store cheese: Once it's opened, wrap leftover cheese in wax paper, then loosely in plastic wrap, and consume within 10 days of purchase. Shelf life depends on the variety. If mold appears on the surface of aged cheese, simply cut it off; the rest is fine to eat.
How to serve cheese: At room temperature, always!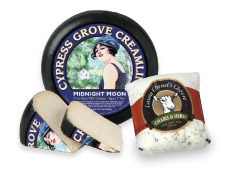 Goat's milk cheeses
Cypress Grove Midnight Moon — Aged at least 12 months, this buttery and slightly nutty cheese has hints of caramel and a sweet, fruity aroma. It's semihard — perfect for eating by the slice on a cheeseboard or melting in a grilled cheese sandwich.
Tasting notes: "staff favorite," "delicious, sharp, rich," "all-time favorite, so clean and bright," "melts in the mouth," "slightly aged-tasting but mild," "hard to describe how delicious this is."
Wine pairing: New World Chardonnay, white Burgundy, sparkling wine, Dolcetto
Billie's Goat cheddar — Young, mild and smooth, with a moist texture, the firmness of traditional cheddar and the distinctive, but not overpowering, sharp flavor of goat's milk cheese.
Tasting notes: "nice flavor, rich," "good standard cheddar for cooking," "sharp, fresh flavor," "smooth," "simple and clean."
Wine pairing: Hard cider, Saison and wheat beers, Barley wine, Beaujolais, sparkling wines
Balarina goat gouda — A pasteurized, aged goat's milk cheese from the Netherlands that's hard enough to grate and is a perfect alternative to Parmesan. It's a classic gouda — nutty with undertones of sweetness.
Tasting notes: "nutty," "sweet," "nice texture," "caramelly," "touch of sweetness."
Wine pairings: Zinfandel, Riesling, Merlot
Cypress Grove Humboldt Fog® — Bold flavor, with an inner layer and an outer coating of ash protecting the creamy inside with a subtle, tangy flavor. Serve a slice atop a fall spinach salad with apple, walnuts and cranberries and a balsamic vinaigrette.
Tasting notes: "sharp, strong blue flavor," "salty," "mushroomy, earthy," "very distinctive."
Wine pairing: Chenin blanc, dry Rieslings, Cabernet franc, Pinot noir, Barolo
Tieton Farm and Creamery chèvre — Lori and Ruth Babcock raise pastured goats and sheep on their farm in Tieton, Wash., near Yakima, and turn the milk from their herd into soft artisan cheeses.
Tasting notes: "really taste the sheep," "dense and creamy," "fresh, lemony taste," "more depth of flavor than some chèvres," "floral, earthy, and beautifully balanced between tang and creaminess."
Wine pairing: Sauvignon blanc, hard cider, sparkling ciders and wines
Laura Chenel chèvre — Laura Chenel is considered the "pioneer" of American goat's milk cheese production. The pure-white cheeses are quintessential chèvres — soft, slightly tangy and versatile. Try the creamy, mild Chabis or the goat log, which can be sliced into rounds, covered in chopped walnuts, baked 'til brown and served atop salad greens.
Tasting notes: "like a dream where you are waking up on clouds of cheese," "salty, creamy, excellent," "tastes very fresh," "I could eat the whole thing."
Wine pairing: Pineau des Charentes, Champagne, Pinot gris, Pinot noir