Washington tree fruit mostly organic?
by Chuck Benbrook, Ph.D.
This article was originally published in November 2012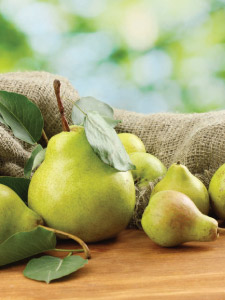 Imagine this headline in 2037: "Washington farmers reach milestone, produce 90 percent of the state's tree-fruit crop organically."
Considerably less than 10 percent of Washington-grown apples, pears and cherries were grown organically in 2012. Is the leap to 90 percent organic in 25 years unrealistic?
A predominantly organic tree-fruit future in the Pacific Northwest (PNW) is not far-fetched. Researchers in the Northwest already are laying the groundwork — so it could come true faster than you think. It's entirely possible that when the next generation of fruit lovers in the PNW reaches adulthood, they will have a harder time finding a non-organic apple than an organic one. 
Northwest innovation
In 2037 as much as 60 percent of Washington's fruit crop may be shipped around the world. The ability to ship high-quality, ripe fruit long distances will become possible by then, due to new harvest and handling technology pioneered in the Northwest today.
Washington State University (WSU) currently is doing groundbreaking research to advance pest management techniques and better understand the ripening process. Public-private sector investments are enhancing the skills of fruit harvesters and advocating for improved earning potential, so that picking fruit is a career path, not a dead end.
The more we invest now in bringing high-quality fruit to market, the more we'll improve harvest operations and contract prices. PNW fruit will be picked riper than the competition, when it's more nutrient-dense and tastier. Encouraging progress is being made in packing sheds across the state toward these 2037 goals. 
One critical breakthrough in opening up future markets in Asia, Europe and other countries will be discovering a way to convert wheat straw and other waste by-products from Washington's fruit and vegetable processing industries into biodegradable cartons composed of cushioned cells for each piece of fruit. Prototypes already are in use.
WSU researchers currently also are working on a way to use lost heat from livestock farm manure digesters — to power the machines making new packaging. Breakthroughs like these will position Washington's tree-fruit industry to prosper from a dual-competitive edge grounded in food quality and energy cost savings. 
Benefit to consumers
For consumers in the Seattle area, the benefit of a mostly organic tree-fruit industry in the not-too-distant future would be striking: the price of Washington organic tree fruits should range from about 10 percent above, to about the same as non-organic prices. 
That's because by 2037, the productivity of organic orchards in Washington could equal — and often exceed — that of non-organic fruit. Advances in science and technology emerging from WSU's 2012 commitment to sustainable and organic research will pay big dividends by 2037 in enhancing product quality and safety. Economies of scale will emerge, lowering the price of fruit without undercutting grower prices. 
Soil scientists at WSU likely will trace the improving productivity of Washington's organic orchards back to increases in soil organic matter. They're currently developing advanced techniques to shift soil microbial communities to help trees fight off diseases and pests, and extend shelf life and product quality.
If the organic tree-fruit industry grows steadily in the next couple of decades at an annual pace of 10 to 15 percent, 90 percent by 2037 will be achievable. As progress is made, there will be a ripple effect of benefits beyond the direct benefit to consumers. The state will be able to cut funding for a variety of pesticide safety programs. There will be less need for programs monitoring the impact of pesticides running off into the state's streams and rivers.
On the remaining non-organic tree-fruit farms, pest managers will take full advantage of a number of innovative strategies pioneered by organic farmers. Their pesticide use will be a fraction of 2012 levels and composed almost exclusively of low-risk materials. While occasional concerns still will arise over pest management methods, the seemingly endless public battles over high-risk pesticides will become a distant memory.
Another happy headline from 2037: "Growth in the organic tree-fruit industry creates more than 1.2 million (or some other big number) new jobs over the past 25 years." Thousands of new businesses will emerge, producing the bio-based inputs needed to build soil quality and combat pests, and efficiently handle, pack, store and ship the super-high-quality fruit of the future.
A realistic vision
Change and innovation will continue in Washington state's tree-fruit industry on both organic and non-organic farms, and the odds are that differences between the two systems will narrow. The question for our generation is whether steps should be taken now to drive this process along more quickly than otherwise possible — through strategic investments in research and development, and infrastructure.
If demand continues to grow at a steady pace, and with systematic efforts driven by public-private sector partnerships, it's conceivable that 90 percent of Washington's tree-fruit industry could be produced organically in 25 years. Whether this happens, and when, is a matter of choice.
Chuck Benbrook is a research professor in WSU's Center for Sustaining Agriculture and Natural Resources. He participated in a June 2012 international symposium in Wenatchee on organic tree-fruit production, sponsored by WSU and several horticultural organizations. Encouraging reports at the conference on innovative solutions emerging on organic tree-fruit farms around the world inspired this piece.