Bread alone
This article was originally published in April 2012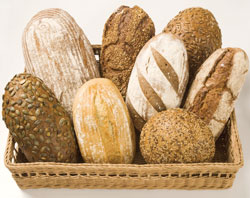 "How can a nation be great if its bread tastes like Kleenex?" wondered the famous chef Julia Child.
We couldn't agree more and, judging from our bread aisle, we've got nothing to worry about in our little corner of the country. We've sought out the best loaves, from hearty whole-grain to classic sourdough.
Here are some staff favorites — all organic — to try in delicious sandwich recipes or simply toasted and eaten with a bit of butter and jam.
Fresh, crusty loaves
PCC signature breads
Organic, hand-formed, artisan breads only in our stores. The loaves are baked and delivered daily by Essential Baking Company. Try the Multigrain Baguette, Oatmeal Raisin, White Italian, Campagnolo, Rosemary Garlic, Sourdough, and Volkhorn (a multigrain, multiseed braided loaf).
Essential Baking Company
Certified organic, artisan breads since 1994.
Essential's Mille Grane is a favorite whole-grain loaf among PCC staff. Its name means "many grains" in Italian and it's full of organic whole seeds and grains. PCC staff also love Essential's Pain du George, made with specially milled whole-wheat flour that lends the loaf a lighter flavor and texture than typical whole-wheat. "It's a simple, crusty whole-wheat bread" says PCC's bread buyer, Robin Cantor.
"If I'm going to buy white bread, I often choose Essential's Rosemary Diamante," says Cantor. "It has a perfectly crunchy crust topped with coarse sea salt and whole rosemary throughout, and is totally delicious."
Convenient sliced breads
Food for Life Ezekiel 4:9
Flourless, organic, sprouted whole-grain breads made with wheat, barley, beans, lentils, millet and spelt. When sprouted and combined, they create a complete protein that closely parallels the protein in milk and eggs. The high-protein bread has a nutty, substantial flavor with no added fat.
The Original Ezekiel 4:9 bears the "Diabetic Friendly" seal indicating the bread is low-glycemic and has a more modest effect on blood glucose than processed, refined flour. Find it in the refrigerated case.
Dave's Killer Bread
Ex-felon Dave Dahl turned his life around after his release from prison when he rejoined his family's baking business. Today the bakery is famous for its organic whole-grain loaves, many with sprouted grains and seeds. About 30 percent of the 240 employees are ex-felons. Dave's Rockin' Rye and Killer Light Good Seed are favorites among PCC staff, and the 21 Grains is a best-seller.
Rudi's Organic Bakery
For those who want plain whole-wheat bread for sandwiches, Rudi's 100 percent Whole Wheat and Honey Sweet Whole Wheat, both best-sellers at PCC, can't be beat: the slices are soft and pillowy, perfect for peanut butter and jelly or other favorite sandwich fillings.
Sprouted grain
When any type of dried grain (or seed) is soaked, drained and kept moist, the grain germinates (i.e., "sprouts"). Why is sprouting beneficial?
More nutritious:
Sprouted grains and seeds store more vitamins and minerals than flours.
Sprouting naturally increases the protein content and decreases the calories and carbohydrates in the grain.
Unsprouted grains contain phytic acid, which interferes with the absorption of calcium, zinc, magnesium, copper and iron. Sprouting neutralizes phytic acid, allowing the body to absorb essential minerals.
Easier to digest:
Sprouting converts the carbohydrates in grains in a way that produces a lower glycemic response in the body. People who are diabetic may do better eating sprouted-grain bread.
People who are sensitive to wheat may find sprouted-wheat bread more tolerable because minimal processing may leave natural enzymes intact, allowing the wheat to be more easily digested.
Sprouted breads at PCC:
Dave's Killer Bread
Food for Life Ezekiel 4:9
Silver Hills Bakery
Tips and tricks
Keep bread in its orginal paper bag, inside a loosely closed plastic bag, in the refrigerator to extend shelf life and retard molding. To freshen before serving, sprinkle with a few drops of water and heat in moderate or hot oven for 2-4 minutes.
Breads freeze well. If you don't plan to finish a whole loaf within a few days, enclose the leftover portion in a plastic bag and freeze up to three months.
To refresh day-old (uncut) loaves, sprinkle with a bit of water and warm in a 400° F oven for about 5 minutes. The crust will regain a crisp texture while the interior is moist and chewy.