Exploring the aisles: Extra-virgin olive oil
Sound Consumer June 2011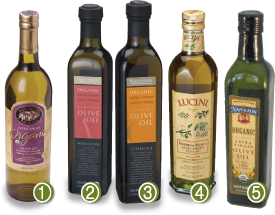 Olive oils, like wine or coffee, have complex tastes and textures that reflect the type of olives, where they're grown, and the care with which they're pressed. Here are some you'll find in our stores.
Napa Valley Naturals organic extra-virgin olive oil — This is our best-selling extra-virgin olive oil, and with good reason: it's slightly spicy and earthy but it won't interfere with other flavors. It's made of Arbequina olives and is a great value — very high quality and reasonably priced.
Spectrum Arbequina organic extra-virgin olive oil — Organic Arbequina olives grown in the Catalonia region of Northern Spain give this unfiltered golden olive oil its rich flavor and buttery texture. It has delicate flavors of artichoke, almonds and apricot with a hint of pepper in the finish.
Spectrum Chemlali organic extra-virgin olive oil — Wild Chemlali olives hand-harvested in Tunisia give this unfiltered organic oil a deep green-gold color and rich, bold flavors. Scents of eucalyptus and mint combine with herbaceous flavors reminiscent of artichokes and fresh-cut grass. The oil has an intense, peppery finish.
Lucini extra-virgin olive oil — The olives for this oil are grown on Tuscan estates high above sea level, where the soil and microclimate are ideal. The trees date back over 100 years. A blend of four types of olives — Frantoio, Moraiolo, Leccino, Pendolino — are hand-picked and pressed within 24 hours and create a green, full-flavored oil with a peppery finish. Lucini's oil has an acidity level less than half that of other extra-virgin olive oils — between 0.2 and 0.4 percent.
Napoleon organic extra-virgin organic olive oil — 100 percent Spanish olives are hand-selected and picked and delivered to the press within 24 hours. The full richness of the olive's natural flavor shines through in this smooth, fruity oil made with a blend of three types of olives: Picual, Hojiblanca and Arbequina.
Tips and terms
Storing olive oil:
All oils, especially unrefined oils, should be refrigerated after opening to prevent rancidity. We suggest keeping a small dispenser of your everyday oil in the pantry for what you'll use in a week or so and keep the larger bottle in the fridge.
Olive oil terms:
Acidity in olive oils is the result of the degree of breakdown of the triacylglycerols into free fatty acids. Freshly pressed oil made carefully from healthy, freshly picked olives normally has a low acidity.
Cold-pressed oils are pressed in a chemical-free mechanical process that extracts oil from soft fruits and nuts with oils that are easy to feel, such as avocados, walnuts and olives. This method of oil extraction avoids using hexane solvents.
Unrefined oils are filtered only lightly to remove large particles. Some may appear cloudy or have visible sediment after sitting. This does not compromise quality. Unrefined extra-virgin olive oils are best used unheated in dressings or with low heat, sautéing or baking.
Learn more in our cooking oil brochure.
Understanding extra-virgin olive oil
Extra-virgin olive oil is pressed without chemicals or heat. The International Olive Oil Council (IOOC) in Madrid has set these criteria for extra-virgin olive oil:
The olives must only be washed and never subjected to any chemical process.
The olives must be cold-pressed at a temperature of 77-82° F, 24 to 48 hours after picking.
The oil must have an acidity of less than 0.8 percent.
The oil must meet the standard for perfect aroma, flavor and texture.
USDA's olive oil standards
In 2010 the USDA adopted, for the first time, legal and scientifically verifiable classifications for olive oil. Now, terms such as virgin, extra-virgin and cold-pressed must conform to international definitions.
The grade standards include mandatory tests for flavor, odor, color, fatty acid composition, and ultraviolet absorption. Optional tests include measures for flash point, heavy metals, pesticide residues and more.