Camelot Downs: A fairytale farm
By Lynne Jordan & Kristin Vogel
This article was originally published in April 2011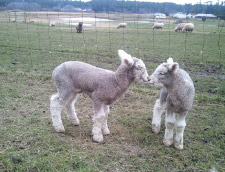 Camelot Downs is the kind of place that leaves a sort of dreamy, picturesque impression in your memory. We recently visited this Whidbey Island farm with a small group of PCC members, PCC Farmland Trust donors, and local conservation specialists.
It's a happy place, with whimsical signs, quacking ducks and geese, and three large dogs who consider it their duty to properly welcome you to the premises. And even the wind and cold of a gray, drizzly day cannot subdue the joy of the sight of … itty bitty baby lambs.
As our group assembled to hear owners Gary and Lois Fisher's story, we learned about sustainable animal husbandry and the importance of loving care. In just a few hours, we saw many examples — including a 3-day-old orphaned lamb, "Tofu," brought inside for special care.
Gary and Lois have been longtime advocates for preserving Colonial breed livestock — those descended from animals brought to America between 1620 and 1820, such as the Southdown and Romney Marsh sheep at Camelot Downs. Not only do these breeds have historical significance, but they also possess strong genetic traits and tend to be very hardy, adaptable animals.
On this day, 30 sheep grazed and played in the light rain alongside heritage chickens, guinea fowl, turkeys, geese and a very protective guard llama! We learned all about lambing season, and that there is a small window of time — 24 to 72 hours — for the mother to develop her bond to her lamb.
The smell of the mother's milk on the lamb helps her identify that, yes, this is her baby. Tofu, the orphaned lamb,was abandoned by his first-time mother. But, no worries, the Fishers are gently hand-raising Tofu in the comfort of their own home.
The Fishers have dedicated their farm — and their second careers — to educating the public about Colonial breed animals through community outreach, 4-H, and tours like this one we were lucky enough to experience.
And now, with the farm's preservation through PCC Farmland Trust, their legacy will live on forever.