Pasta at PCC
This article was originally published in April 2011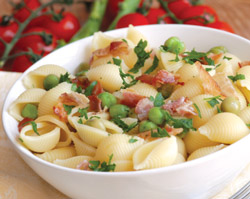 Flour, water, sometimes a little egg — pasta is one of those basic foods, like bread, whose ingredients are so simple they seem not worth mentioning. Or are they?
The pastas you'll find on our shelves are anything but mundane, crafted to suit a variety of diets and dishes. Sure, we have traditional pastas made with fine semolina but be sure to try some of our other varieties, too.
Some are made with spelt, kamut, quinoa, corn or rice. Some are made with healthy sprouted grains. Still others, Japanese noodles called soba, are made of buckwheat, perfect in brothy soups for chilly spring days. From cold pasta salads to steaming Mac and Cheese, our oodles of noodles — packaged or in bulk — are sure to inspire plenty of delicious meals. Here's a sampling:
Montebello pasta — Artisan Italian pasta made from durum wheat semolina, organically grown on small family farms in Italy. The semolina is ground and combined with pure mountain spring water. Instead of flash drying in ovens, the pasta makers dry the pasta slowly in traditional drying rooms. Spaghetti, penne, conchiglie, strozzapreti and more shapes.
Rising Moon organic ravioli and tortellini — Try imaginative flavors such as Feta-Hazelnut with Butternut Squash, Garlic Gorgonzola with Spinach, or Wild Chanterelle Mushroom. Vegans shouldn't miss Spinach ravioli, Butternut Squash ravioli, or the Artichoke and Olive variety. Available in the freezer sections.
Fresh pasta — Fresh pasta, delicate and light, is a pleasure to behold. Ours at PCC — pappardelle, fetuccine, linguine and a range of raviolis — are made with semolina flour and fresh eggs. The dough is kneaded, folded, rolled and cut — all by hand.
Vita Spelt pasta — Spelt is an ancient grain with a nutty flavor. It's a distant cousin to wheat and contains gluten, although some wheat-sensitive people can tolerate spelt-based foods. It's naturally high in fiber and contains significantly more protein than wheat. PCC carries spelt pastas — both refined and whole-grain — in a variety of shapes.
Food for Life sprouted grain pasta — Sprouting seeds, grains and legumes is said to increase digestibility and the bio-availability of nutrients. These hearty pastas are made of organic sprouted whole wheat, barley, millet, lentils, soybeans and spelt.
Eden Kamut 100% spirals – Kamut is an ancient variety of wheat that some wheat-sensitive people may tolerate. Eden Kamut contains gluten. These 100% whole-grain spirals have a delicious nutty, buttery taste and appealing texture.
Soba noodles — Soba noodles are made of buckwheat, which, despite its name, is not wheat and not related to wheat. In Japan, soba is valued for its warming and strengthening qualities. It often is served during cold months in hot broth or in stir-fries but it also can be served in the summer in chilled noodle broth or salads. It's important to cook soba al dente since they're fragile if overcooked.
Udon noodles — A traditional Japanese pasta made of wheat, udon often is served in a hot or chilled Japanese broth (dashi) made from ingredients such as soy sauce (shoyu), sea vegetables (kombu), shiitake mushrooms and mirin. Use udon as you would any pasta in soups or salads with your favorite sauce, or in stir-fries.
Pasta in bulk
Need just a cup of bowties for a pasta salad? Curious how rigatoni holds up in your favorite sauce? Try any of the pastas in our bulk departments. You can buy just what you need and save money and packaging.
Most of our bulk pasta comes from Garden Time Organic, which sources its organic semolina flour from the eastern slopes of the Rocky Mountains in Montana's Teton County. We have lots of shapes to suit your fancy, from spirals to shells to whole wheat lasagna noodles.
Search for pasta in our bulk database.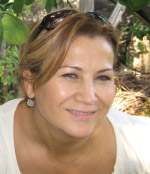 PCC Cooks
Join PCC Cooks Chef Iole Aguero on a culinary adventure to Southern Italy.
Chef Iole Aguero has taught popular cooking classes at PCC for more than 10 years and, this fall, she'll host a wine and food lover's culinary adventure to her native Italy. Guests will sample some of Italy's most celebrated dishes, from spaghetti alle vongole to fresh buffalo mozzarella, wines, olive oils, fresh cheeses and more.
Included: village market excursions, entertaining cooking classes, bistro dining, and wine, cheese and olive oil tastings with the producers. The 11-night journey begins in Rome and travels south to the Amalfi Coast's picturesque Positano, the Basilicata seaside village of Maratea, and ends in stunning Taormina, in Sicily. Don't miss this delicious trip!
For more information call 206-842-9775.