Your co-op, December 2006
This article was originally published in December 2006
PCC's fall member meeting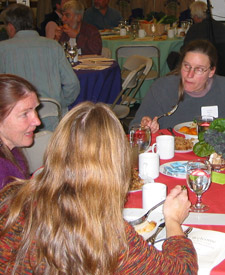 The Center for Urban Horticulture was an ideal setting as more than 150 members met on October 24. The evening began with a fabulous seasonal menu designed by one of our staff nutrition educators, Rita Condon, and prepared by the Fremont deli.
Condon spoke briefly about the importance of buying seasonally and regionally for both nutrition and price. She talked about how easy it would be to recreate the nutritious meal at home.
Condon noted how lucky we are at PCC to have developed long-standing relationships with some local vendors of our dinner menu items, such as Dungeness Organic Produce, which produced Nash's Best carrots; Full Circle Farm, for the hearty organic greens in our fall salad; Island Spring Tofu; and George and Apple Otte's Orchards, for the pears in our dessert.
During the dinner discussion, in addition to member questions that came up, members provided feedback on several questions posed by the board. "We were really eager to hear member perspectives about what makes PCC different," notes Linkage Task Force Chair Linnea Noreen. "So, we thought it would be helpful to put a few questions on the table to stimulate discussion."
Board members and members of the management team served as table captains who facilitated the discussions and took notes on the many interesting exchanges. The questions, along with examples of member feedback, follow. Check the Member Meeting page on our Web site for more member feedback.
Why would you shop at PCC over a conventional grocery store, and why over another natural foods store?
Want to support a local business operating with conscience.
Better selection of natural and organic foods
Great balance of the basics and some of the fun stuff. Wine tastings are great!
Better customer service than competitors.
Great bulk foods.
What prompted you to become a member?
10 percent and 5 percent monthly discounts are great
Commitment to the co-op philosophy
Sense of community, belonging
What is the value of PCC as a co-op?
Co-op ownership structure makes it impossible for investors interested only in profit to take over ownership
PCC is a leader in food for the hungry
Social responsibility (Fair Trade™ products)
Impact on organic farmland preservation via support for PCC Farmland Trust
Wealth of education/information
What added value does membership offer?
The community work PCC does
Sound Consumer and Web site
Cooking classes
Staff benefits
What does that mean to you in terms of how we do business (i.e., what we should be doing)?
It is absolutely imperative that PCC shows the world how it looks when food [production] and delivery is done right
Should have more written information in stores about products
Open more locations
More labeling (the "dirty dozen" of produce, local products)
The board will use the feedback as it prepares for a retreat in February when, in addition to other topics, it will review our Ends policies. If you weren't able to get to the meeting but wish to give feedback on these questions, email the board at board@pccmarkets.com or visit the member meetings page on our Web site.
Each of our member meetings includes an educational segment and for this meeting the topic was PCC! The board asked management to give the members an operational overview that would highlight the ways we're different from our competition and how being a co-op affects the way we're able to do business.
Moderated by CEO Tracy Wolpert, the panel of management personnel talked about PCC's efforts in sustainability, membership, community outreach, public affairs and merchandising. Member comments following the presentations included "I'm proud to be a part of this organization."
Sustainability award
Congratulations to Lori Ross, PCC's director of store development, who was honored as "Finalist" in the "Facility Operator/Manager" category of the 2006 BetterBricks Awards competition. BetterBricks is an initiative of the Northwest Energy Efficiency Alliance, an organization dedicated to making energy-efficient products available in the Northwest.
At the award ceremony with 200 design industry leaders, Ross was honored for integrating sustainable building practices and energy efficiency into new PCC locations. PCC Fremont, for instance, has solar panels, photocells and occupancy sensors to turn off lighting when unneeded.
At both the Fremont and Redmond PCC stores, hot water/HVAC systems are integrated with refrigeration installations. At Redmond, extensive natural light allows electric lighting to be controlled by sensors, and exhaust hoods operate only when they sense smoke or steam.
The result? Energy bills are down, equipment is more efficient, and PCC stores are more comfortable for customers.
Upcoming Talk to the Board dates
Sunday, Dec. 17, PCC Fremont, 2 to 4 p.m.
Saturday, January 27, PCC Greenlake, 1 to 3 p.m.