Flood relief fund for Ames Creek farmers
by Alicia Guy
This article was originally published in December 2006
(December 2006) — The PCC Farmland Trust has established a fund to help farmers at the Ames Creek Farm recover from devastating floodwaters last month. Shoppers can donate right at the registers of any PCC store to the Organic Farmer Fund for Emergency Relief (OFFER).
The heavy rain in November inundated farms across Western Washington. Ames Creek Farm in Carnation, purchased this year by the PCC Farmland Trust, was completely submerged by the deluge of water pouring over the banks of the Snoqualmie River.
All three farmers on the Ames Creek property lost their fall and winter crops still numerous in the fields. Michaele Blakely, the only farmer living on the site, had prepared for the flood by moving equipment, animal feed, freezers, chickens and the Thanksgiving turkeys to the highest ground on the farm.
But the record flood level brought a foot of water even over the high spot. The turkeys flew up into the trees and most of the laying chickens found high perches; however, Michaele lost her meat chickens.
The rest of the farm was under muddy water, including the house with most of her personal belongings. The water carried away two freezers and other farm equipment. Michaele and her son, Blake, secured things the best they could, but there just wasn't time to get everything out.
Floodwaters have spilled from the confines of usually placid rivers for thousands of years. It's what makes the farmland so fertile and well suited to agriculture. But that gift of good earth is wrapped in vulnerability. It's a chance farmers are willing to take.
As a community that enjoys the pleasures of a year-round supply of locally grown food, we can stand behind hard-working Washington farmers when nature's whims get the best of them. Read more about how the farmers are doing online at www.pccfarmlandtrust.org.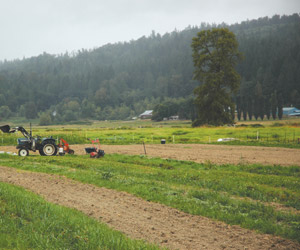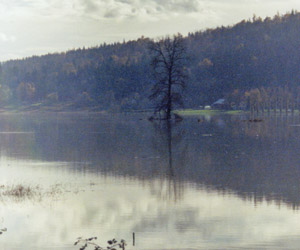 This is a photo of Michaele's farm looking southwest, from behind the barn and house area. The PCC Farmland Trust property line is about where the large tree is in the foreground.