Sowing seeds of gratitude
by Debra Daniels Zeller
This article was originally published in December 2006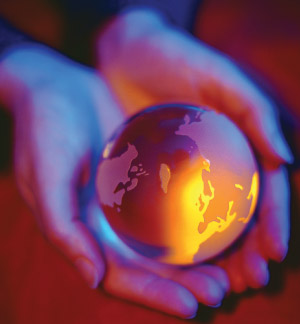 (December 2006) — Is the planet on your gift list this season? If not, ponder this: the earth sustains 75 billion tons of life. This place we call home is a complex living system, an interactive network of water, rock, soil and air.
From vast oceans that regulate earth's climate and transport nutrients around the world to green forests that enrich our atmosphere and fertile farmlands that feed us, the world is filled with diverse life forms. From billions of microbial critters in the soil, to orcas in Puget Sound and the abundant harvests that grace our tables — everything that lives is connected to everything else.
Gifts to the earth don't require deep pockets, just that we make pro-planet choices. Every earth-friendly action helps preserve our landscapes for future generations.
"Our costs are in the present but our accountability extends into the future," says Steve Phillips from Port Madison Farm on Bainbridge Island. "Live your life as an example for those who follow."
Like everyday exercise that improves your health, planet-keeping routines replace old habits to make this world a healthier, more nurturing place to live.
What are the most important things we can do to improve environmental sustainability and support local food producers? The question was posed to farmers and friends in our community and the following suggestions and comments were gathered.
Cultivate relationships with food producers
"Purchase food from local farmers" was the most popular response. JoanE McIntyre from Rent's Due Ranch in Stanwood summed it up in a simple, practical way: "Spend more money on local food than entertainment."
Americans readily spend 50 dollars for a concert or sporting event and mall parking lots are filled every weekend with recreational shoppers, yet many are reluctant to part with a dollar more per pound for sustainably grown apples.
"People want to buy food with a social conscience at Wal-Mart prices," says Wade Bennett from Rockridge Orchards in Enumclaw.
Seventy percent of Americans admit they shop for entertainment, seeking satisfaction from jewelry, clothes, cameras or recliners, yet studies have shown that what most people long for are relationships and a sense of purpose in life. Buying locally grown foods and supporting our farming community helps us sustain relationships that nourish our bodies and souls.
Maintaining a commitment to local, seasonal foods imparts a sense of place and time. From apple pie and baked squash in fall and winter to grilled corn-on-the-cob and lavender-blueberry sorbet in summer, what we eat connects us to the seasons and ties us to the earth; our purchases transcend the money for product exchange and become a bridge that nourishes our souls and helps sustain the farming community that feeds us.
"Get to know your farmer. The next phase is hiring your own farmer!" says Bennett. The more impersonal and distant the corporate world becomes, the more we crave businesses that offer personal connections. Farming is no exception. We pay mechanics, personal trainers or computer gurus generous living wages.
Connecting the apple we purchase to a farmer's livelihood is essential to make the leap from buying industrialized, factory food that robs the environment to supporting a sustainable food system.
According to the American Farm Bureau, one U.S. farmer feeds 129 people, and a growing number of farmers are managing sustainable systems. As food-growing artisans, these earth stewards outwit pests and endure weather challenges to conjure food from soil infused with nutrients from mulch and compost. This new breed of American farmer encourages native pollinators, supports migratory birds and predatory insects that keep pests in check, and maintains our waterways.
While a Wal-Mart receipt might feel like a bargain when less money leaves the wallet, the deal struck at the cash register obscures the effects these purchases have on landscapes in our own backyard. The true costs of the industrial, factory farm model aren't reflected on the receipt; "externalities" are the costs absorbed by others.
Commodity export crops, such as corn and soy, suck up government subsidies and fossil fuels, and pollute the environment with chemicals. Since 1950, one-third or more of the rich topsoil on American farmland has washed away. The earth exacts its own penalty. At the end of the day, when it comes to the balance sheet, sustainably grown food is the best bargain around.
When we no longer deny problems, we can roll up our shirt-sleeves and get connected. "Food facilitates relationship building. It builds community. It's revolutionary," says Judy Kirkhuff, market master for Ballard Farmers' Market.
"Isn't there a good feeling when you can proudly tell your family or guests that dinner came from a farmer just a few miles away?" asks Steve Evans, King County Farm Specialist. "Buying local puts 'a face on food.' A dollar spent on a locally produced item is cycled through the economy many more times than something produced outside the area." Crimson beets grown by Nash Huber, apples and pears harvested from Scott Leach's and Apple and George Otte's orchards, cauliflower from JoanE McIntyre at Rent's Due Ranch — these are real foods from planet-keepers who enrich our lives.
Check your ride
In the aftermath of the film, "An Inconvenient Truth," global warming was covered in nearly every magazine and newspaper across the country. The planet is running a fever and it's no secret that our car culture shares a good portion of the blame. The solutions are up to each of us.
"Make fewer trips to the grocery store. Visit a farm by bike or carpool," says apple grower Dorie Belisle from BelleWood Acres in Lynden.
"Drive your car to a bus stop!" says Blake Johnston from Growing Things.
Or, "carpool to kid activities," says Sarah Cooke from Cooke Scientific, a local wetlands delineation service.
Walk or ride a bike when only going a few blocks. Start a food network email list with neighbors: gather grocery lists and swap food shopping days.
Turn it off
"Turn off your lights," says Michaele Blakely from Growing Things. "We spend $35 a month on electricity to run our farm. You'd be surprised at how much energy is saved by just turning things off."
"Unplug your television," echoes Kirkhuff. "Anything that has a remote or can be put into a standby mode siphons electricity." Increased development, population, fisheries and farm irrigation put additional demands on our hydroelectric system. Electricity requires fossil fuels to produce it.
"Global warming is an issue that we're all going to face," says Evans. "Meteorologists predict that this area will be warmer and that we'll have less snow in the mountains. It appears water availability will be a bigger issue for local farms." With bone-dry summers, Eastern Washington farms will need additional irrigation.
Let it grow
"Plan a spring garden with flowers that attract bees for increased pollination. Consider anything in the aster family, sunflowers, daisies, calendula, herbs, sedum, clover, and also poppies, bee balm and fruit trees. I don't mow my lawn until the clover is finished blooming," says local beekeeper and botanist Kate McWiggins.
"Bumblebees are crazy about lavender," adds Josh Nettlebeck from Tahuya River Apiaries. While perusing your spring seed catalog, choose plants with birds and butterflies in mind, too.
Leave trees in your yard. They anchor soil, reduce runoff, store carbon dioxide and provide wildlife habitat. Snags are attractive to nesting birds and conifers provide propolis (a natural antibiotic, antiviral substance) for honeybees.
"I'm not looking for reasons to give up. I'm looking for reasons to go on." —

from "Hope" by Wendell Berry
Walk your talk
Gifts to the planet don't come in fancy packages but they fill our lives with a sense of purpose — a connection to our farming neighbors and the place we live. When we buy heirloom apples from a local farmer, ditch the car and take the bus, turn off the computer, plan a spring garden to attract bees and influence others to be a better planet-keepers, we change the planet's future, one action at a time.
"The world needs fewer sound bites and more people of substance who are just helping others as they move through life." says Phillips of Port Madison Farm.
"Practice what you preach," says Liz Eggers from Grouse Mountain Farm near Chelan. Being a role model encourages others to adopt earth-friendly practices.
"Most PCC shoppers already support local producers. But there's a wider community out there. Help raise community awareness," says Roger Wechsler of Samish Bay Cheese. Wherever we go, our choices can illuminate the path for others to follow.
Just over a decade ago, a study by the U.S. Fish and Wildlife Service revealed that 82.5 million people feed birds in their backyards. When that many people can dip into their wallets consistently to feed birds, consider the possibilities if millions more people adopt habits that nourish the planet and sustain local farmers.
Cultivate your own planet-keeping actions and watch them grow as others adopt and use them. Sow a few seeds, bring others into the loop – one by one each gift to the planet enhances the future.
Debra Daniels-Zeller is a freelance writer and author of "Local Vegetarian Cooking: Inspired Recipes Celebrating Northwest Farms". She is a longtime PCC Cooks instructor.