PCC Farmland Trust
This article was originally published in June 2006
PCC Farmland Trust saves King County farm
The PCC Farmland Trust celebrates the preservation of another farm, its third, for organic production in Washington. The 178-acre farm previously was owned and farmed by the Van Ess family. Read more about the new farm.
Organic farm walk
Monday, June 5
Thundering Hooves, Touchet, Wash.
Join a fun and informative tour of Thundering Hooves, a fourth-generation, 400-acre family farm in the Walla Walla Valley. The farm includes 174 acres saved by the PCC Farmland Trust and features 100 percent grass-fed livestock and poultry on certified organic pastures. For more information and tour prices, contact Nancy at 206-442-7620 or nancy@tilthproducers.org.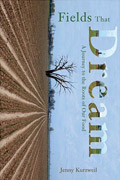 Fields That Dream donates to the Trust
Meet the farmers of the University District Farmers Market in this informative book by Jenny Kurzweil. A former Seattleite, Jenny shares an insightful view into the lives and struggles of some of Western Washington's local farmers who practice sustainable methods.
You can help support these farmers and the preservation of organic farmland by buying the book. Fifty percent of the proceeds go to the PCC Farmland Trust. Meet the author and learn more when Jenny Kurzweil visits some of Seattle's farmer's markets and bookstores in July. Visit www.fulcrum-books.com and browse "Author events."
Consider giving a gift to last a lifetime
This Father's Day, honor the ones you love with a contribution to the PCC Farmland Trust. Your gift helps save organic farmland forever. You can donate online, call 206-547-9855, or send an email inquiry to farmlandtrust@pccmarkets.com