Delicious, natural choices for memorable meals
This article was originally published in November 2004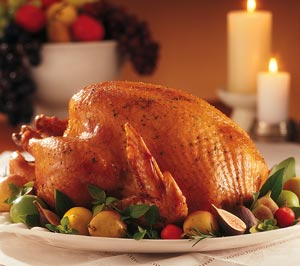 This month, as we gather 'round to give thanks, thoughts turn to families, friends and, of course, food. If your holiday menu calls for a delicious centerpiece, you can trust PCC for dozens of great-tasting natural meat choices.
When you buy all-natural meat, you really can taste the difference. Why? The meat at PCC is raised naturally without artificial growth hormones or antibiotics, which means it has a pure, flavorful and delicious taste.
Our meat is also raised on all-vegetarian diets, so you can trust that it's not only tender and delicious, but also healthy and safe for your family. Our partnerships with trusted suppliers like the Diestel Family Ranch, Oregon Country Beef, Organic Prairie, Umpqua Valley Lamb and Beeler's All-Natural Pork ensure the highest quality standards for our entire selection of meat — from the ranch to your dinner table.
Turkey time
This year, in anticipation of the Thanksgiving holiday, PCC is stocking up on our wildly popular Diestel turkeys. Tender and flavorful, these ranch-raised turkeys are never given antibiotics. Never frozen, Diestel turkeys are raised naturally on wholesome, all-vegetarian grain and soybeans for healthy, delicious tastes.
We also feature Heidi's Hens, a certified organic choice from the Diestel family for the purest, all-natural flavor. Demand for these Thanksgiving turkeys grows every year.
We encourage you to order your turkey in advance by calling or stopping by any PCC meat department. We will be taking Thanksgiving orders from November 1 through November 24, and December holiday orders from December 1 through December 23.
Locations, directions and hours for our stores:
Just Desserts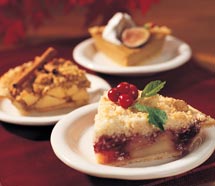 Turkey and the trimmings may take center stage on your dinner table this month, but a sweet ending to a hearty fall meal is always appreciated.
(November 2004) — When the dishes are cleared, the coffee poured and the post-feast conversation begins, delight your guests with a bit of sweetness from PCC.
Our deli-made pies, cookies and cakes are baked fresh daily from recipes developed by the talented folks in our delis. We also feature a selection of pastries and desserts from some of Seattle's most well-known bakeries.
"For desserts and baked goods, our delis focus on what we do best, which includes baking fresh cookies from scratch and creating cakes, pies and other desserts — including many vegan options — using alternative ingredients," said deli merchandiser Jan Thompson. "Then, for variety and choice, we have partnered with local artisan bakeries to bring even more variety to our markets."
These local bakeries include Fremont's Essential Baking Company, which in addition to market-fresh pastries, provides PCC delis with handcrafted, artisan-made chocolates made with the finest, all-natural ingredients. Capitol Hill's La Panzanella, known for its hard-crusted breads, also keeps our cases filled with rustic, Italian-style desserts including a traditional chocolate-caramel-walnut tart.
Chocolate mousse éclairs and the tea-infused Earl Grey torte from Ballard's Empress of Desserts are always favorites. And your guests are sure to love the bourbon pecan tarts, blueberry cheesecakes and carrot cakes from Seattle's Paris Delights.
Gingerbread pudding cake
---
This deliciously spicy cake gets its moist, crumbly texture from organic blackstrap molasses and hot apple cider, which is carefully poured over the batter before baking. Serve warm topped with whipped cream or side with a scoop of vanilla ice cream.
2 1/2 cups whole-wheat pastry flour
1 1/2 teaspoons baking soda
1 1/4 teaspoon ground ginger
1 teaspoon ground cinnamon
1 teaspoon salt
1 teaspoon cloves
1/4 teaspoon ground nutmeg
1/2 cup (1 stick) butter, softened
1/2 cup granulated sugar
1 egg
1 cup organic blackstrap molasses
1 cup water
3/4 cup firmly packed brown sugar
1 1/2 cups hot apple cider or apple juice
1/3 cup butter, melted
Combine flour, baking soda, ginger, cinnamon, salt, cloves and nutmeg in a medium bowl; set aside.
Beat 1/2 cup butter and sugar in large bowl at medium speed until creamy. Add egg; continue beating until well mixed. Reduce speed to low. Beat, alternately adding flour mixture with molasses and 1 cup water, beating after each addition until blended. Pour batter into a 13 x 9-inch baking pan; sprinkle with 3/4 cup brown sugar.
Combine 1 1/2 cups hot cider and 1/3 cup melted butter and carefully pour over top of batter. Bake for 45 to 50 minutes or until gingerbread is cracked on top and toothpick inserted in center comes out clean.
Look for more delicious desserts in our recipe database.