Farming the future at WSU
by Bonnie Rice, Washington Sustainable Food and Farming Network, and Erika Schreder, Washington Toxics Coalition
This article was originally published in September 2004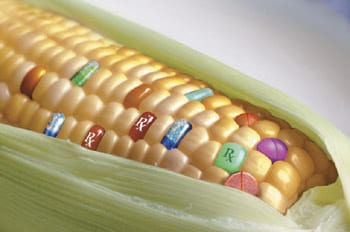 September 2004) — The future of agriculture in Washington is in many ways dependent on the actions and programs at Washington State University, the state's main public agricultural research and education institution. WSU provides technical advice to farmers and ranchers, conducts research, trains future farmers and gardeners, and does community outreach on agriculture and food system issues.
Historically, WSU's programs have prioritized an industrial, chemical-dependent agriculture model that has resulted in low profits for growers as well as environmental problems. WSU's research has not kept up with the need for new production and marketing alternatives that help family farmers and ranchers succeed while providing consumers with fresh, healthy food and protecting the environment.
But in recent years that has begun to change. Since the late 1990's, the Washington Sustainable Food & Farming Network's (the Network) advocacy efforts, with the help of a handful of visionary faculty within WSU, have been instrumental in fostering new programs at WSU that support sustainable and organic agriculture and small family farms.
WSU now has a strong statewide Small Farms Program and has undertaken some innovative organic research projects, established certified organic research ground at some of its facilities, and will be offering the nation's first organic farming major beginning winter 2005. As noted in the Organic Farming Research Foundation's report "State of the States: Organic Systems Research at Land Grant Institutions 2001-2003," "Washington State has made the most progress of any of the states in formalizing organic research and education programs since the last State of the States report [in 2001]."
The Network is now working closely with WSU's Center for Sustaining Agriculture and Natural Resources (CSANR) to obtain state funding for a new, innovative program called the Biologically Intensive Agriculture and Organic Farming (BIOAg) Program.
This comprehensive program addresses the need for economically viable, environmentally sound and socially responsible solutions that work for Washington growers and farm workers, and that meet the public demand for a sustainable food system (see sidebar). The BIOAg Program has the potential to develop solutions for both organic and non-organic growers and ranchers.
Many of you helped to secure $350,000 in federal funding for the program in 2003 and 2004 by taking part in PCC's letter-writing campaign to Sen. Patty Murray (D-Wash.) and U.S. Rep.George Nethercutt (R-Wash.) asking them to support the program. Now we need your help again. Substantial additional funding must be secured from the Washington State Legislature for the BIOAg Program to really take off and have the desired impact "on the ground."
WSU's Center for Sustaining Agriculture and Natural Resources has requested that $3.5 million for the BIOAg Program be included in a special agriculture funding initiative that WSU is developing right now, for the next legislative session beginning January 2005. This special funding initiative is on top of WSU's regular budget request to the legislature.
With $3.5 million in funding, the BIOAg Program could have a major impact on Washington's agriculture. It could give growers important tools they need, provide consumers with nutritious, organic, and sustainably-produced food, increase environmental stewardship on farms, raise farm profitability and foster rural economic development. Full implementation of the BIOAg Program can launch WSU as a visionary, forward-thinking national leader in support of sustainable and organic agriculture.
However, WSU's President, Lane Rawlins, wants to take the University in a different direction. WSU is positioning itself to become a world class center for biotechnology and to be a leader in developing and promoting "biopharming"— the use of genetically modified plants and animals, including food crops, to manufacture pharmaceuticals and industrial chemicals (see A primer on biopharming, Sound Consumer, September 2004).
WSU plans to ask Washington state to invest $320 million over the next six years to help WSU build a biotechnology center, beginning with its upcoming 2005 legislative funding request.1 College of Agriculture, Human and Natural Resources Interim Dean James Cook sees biopharming as a critical part of the biotechnology center and a centerpiece of WSU's work on agriculture in the future; biopharming is a key part of WSU's special agriculture funding initiative for 2005. There has been no consultation by WSU with any sector of agriculture on the initiative — it is being developed internally on a fast track with no input from any constituents.
PCC and the Network have many questions and concerns about biopharming and particularly WSU's role in promoting it. WSU is part of the "land grant system" of public universities created by Congress in 1862 with a special mission to serve agriculture, perform research in the public interest, and help rural communities and family farms thrive. Though WSU's leadership seems to have come to the conclusion that biopharming is the answer for many of the problems facing agriculture today, there's no data to back up their claim that it is the best opportunity for "value-added" agriculture. In fact, it may be just the opposite.
The Network is working to ensure that sustainable agriculture and the BIOAg Program, not biopharming, is a major component of WSU's 2005 agriculture funding initiative. We are also raising the issues and concerns surrounding biopharming with the public and state policymakers, particularly as WSU moves ahead with its plans to set a new direction and request significant public funds for a biotechnology center and associated biopharming programs.
This is the time for people who want healthy farms and healthy food to be a strong voice for sustainable alternatives and raise critical concerns and foster discussion about public funding of controversial new technologies such as biopharming — particularly when the profits from these technologies will go primarily to multinational corporations — not farmers or rural communities.
How you can help support the WSU campaign
WSU needs to hear from you that BIOAg — not biopharming — should be a funding priority as it develops its legislative funding initiative. Write by September 30 to WSU President Lane Rawlins, WSU, P.O. Box 646430, Pullman, WA 99164-6430, or email him at presidentsoffice@wsu.edu to express your support for the BIOAg Program.


Urge President Rawlins to include full funding of the BIOAg Program in the University's 2005-7 biennial budget request. Please send a copy of your letter to the Network address below so we can keep track of how many people are contacting WSU.
Become a member of the Network and give a financial contribution to support the WSU campaign. The Network is a membership-based organization and a large part of our work is funded by our members. Individual annual memberships begin at $30.


Please make checks to Tilth Producers (a 501(c)3 organization and the Network's fiscal sponsor) and send to the Network: Washington Sustainable Food & Farming Network, P.O. Box 6054, Bellingham, WA 98227-6054.

In October, PCC will sponsor a letter-writing campaign in our stores to Washington state legislators urging full support for the BIOAg Program and calling attention to the issues and controversy surrounding biopharming. PCC's letter-writing campaign to legislators last fall played an important role in helping the Network secure federal funding for the BIOAg Program.
Who is WSFFN?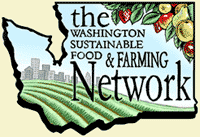 Created in 1997, the Washington Sustainable Food and Farming Network (the Network) is a broad-based, statewide advocacy organization for sustainable agriculture and family farms in Washington. The Network has built relationships among farmers, the natural foods industry, environmental organizations, anti-hunger groups, social justice advocates, faith-based communities, educators and others concerned with food, health, environmental and equity issues.
PCC has been a member of the Network for many years. PCC's involvement was a critical factor in the Network's success in influencing WSU's last legislative funding initiative in the late 1990's. Last fall, PCC's letter-writing campaign to Congress played an important role in the Network's campaign to secure federal funding for the first Organic Cropping Research and Education program at WSU.
WSFFN accomplishments:
Allocation of $350,000 in federal funds for organic research at WSU
Creation of WSU's Small Farms Program to serve the research needs of small farmers statewide
Policy changes within the state Department of Health to allow low-income mothers in the Women, Infants & Children (WIC) program to purchase organic food in grocery stores with WIC coupons
As part of a national effort, helping to stop commercialization of genetically-modified wheat in the United States.
Creation and funding of $800,000 for Washington State Department of Agriculture's Small Farm and Direct Marketing Program.
For more information, see www.wsffn.org.