Honor your mother, remember loved ones: help save farmland
by Jody Aliesan, Director, Farmland Fund
This article was originally published in May 2004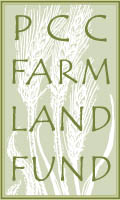 (May 2004)
---
This month two holidays allow us to acknowledge important people: our mothers, and those who have passed on. Honor your mother with a gift in her name. She'll love that you're saving farmland.
Help save the Bennington Place
The Farmland Fund has saved another farm — 174 acres in the Walla Walla Valley called The Bennington Place. Now we're raising $250,000 to repay the loan for the down payment. Every dollar contributed will be matched by Leona Bronstein and the Quixote Foundation up to a combined total of $70,000. See The Farmland Fund steps over the mountains to save a new farm, (Sound Consumer, March 2004) for more information.
Special thanks goes to the non-profit Whit Press for creating the anthology In Praise of Fertile Land to benefit the Farmland Fund. All proceeds from sales of the book in PCC stores help save the Bennington Place. Poetry saves farmland!

Pike Brewery gives 50¢ on every six-pack purchased at PCC in May
Pike Brewery was founded in the Pike Place Market in 1989. The Market may not be the heart of Seattle, but it sure is the stomach … and great food has always been a part of who we are. In 1996, we opened our large, award-winning brewpub just south of the Market and at the same time installed a larger brewery to meet demand.
Apart from brewing great beer, we feel it's important to take other actions to help keep our planet healthy: our brewettle is fired by steam; we give our spent grain to a farmer in Enumclaw; we use a biofilter with live microbes to reduce the aroma from our brewery; we buy local produce for our pub (delivered by handtruck); and we were proud to serve Pike beer at the Sustainable Seattle conference on April 1.
We are very pleased to help support The Farmland Fund, and we urge you to join us in this worthy cause: for every six-pack of Pike beer purchased at PCC in May, Pike Brewery will donate 50 cents to help save the Bennington Place.
— Rick Tamer, Pike Brewing
Thundering Hooves family farm tour June 12
The Huesby Family wishes to thank The PCC Farmland Fund and all those who contributed toward the purchase of the Bennington Place next to our Walla Walla Valley ranch.

We'd like to invite you to tour our farm and the land you helped save on Saturday, June 12, from 1 to 4 p.m. Farmland Fund donors and their families and our Thundering Hooves customers are welcome. Please RSVP by May 31 via our Web site email (www.ThunderingHooves.net). We'll post the details as we get closer to the event.
On that day we'll walk and talk about self-sustaining soil, the grassland, sunlight harvesting and living local economies, while we greet the turkeys, chickens, sheep, goats, cattle and pigs roaming the pastures and maturing into Pasture Finished status. We'll also walk the Bennington Place and share our emerging hopes and visions for this land.
While you are here, please visit our newly purchased meat shop to learn how your meats are processed, stop by our local Farmer's Market (9 a.m. to noon), take in lunch in our revitalized downtown community or tour one of several local award-winning wineries.
We look forward to meeting our urban partners in this joint quest for quality food and sustainable living.
Thankfully Yours, The Huesby Family
Wal-Mart wins court appeal; Shipley Fields project ends
In 2002, Farmland Fund donors contributed to protect 40 acres of deep Dungeness River bottomland called the Shipley Fields. These fields are upstream from our Delta Farm, near the Olympic Peninsula community of Sequim.
In early 2003, Wal-Mart shocked this small town with the announcement of its plan to build an 181,000-square-foot superstore and 22-acre parking lot on land adjacent to and uphill from the Shipley Fields.
Local nonprofit group Sequim First, the Jamestown S'klallam Tribe and Clallam County immediately appealed the plans concerned that polluted storm water from the parking lot would drain into a public drinking-water aquifer, private wells, an irrigation ditch, and the river itself.
Sequim's newspaper questioned the approval process; a continuing stream of letters opposed the plan. After two marathon hearings, one lasting well after midnight, the City nonetheless gave Wal-Mart a formal go-ahead — without requiring an Environmental Impact Statement (EIS). The decision was made behind closed doors with no opportunity for public comment.
Sequim First responded by filing suit in Clallam County Superior Court to require an EIS. Farmland Fund donors contributed nearly $4,000 to help with legal expenses. After the final hearing in February and a year of hard work, the six-page decision handed down on March 19 rejected the appeal. By then, Wal-Mart's bulldozers were already on the land.
If the Fund were to purchase a conservation easement on the Shipley Fields under these conditions, it would be responsible for monitoring Wal-Mart's behavior and enforcing the easement's terms in perpetuity — a position likely to result in chronic and costly litigation. Acknowledging these altered circumstances and with great regret, the Fund therefore must withdraw from its effort to protect this land.
All donors to the Fund who directed their 2002 contributions to protection of the Shipley Fields will receive letters this May, providing an opportunity to redirect their gifts to other Farmland Fund projects. If you intended your gift for the Shipley Fields and haven't received a letter by the end of May, please contact the Fund at 206-547-1222 or by email at jody.aliesan@pccmarkets.com Contributions to help Sequim First cover their remaining legal costs can be sent to them at P.O. Box 431, Sequim, WA 98382.
Donor Roster (March 1-31, 2004)
Anonymous: 27
C. & M.L. Adams
Stephen Anacker & Lisa King
Carolyn Anderson
Marcia K. Appleton
Cedar Acosta Armbruster
John & Judy Armstrong
Eric Askilsrud
Mike August
Lori & Ruth Babcock
John D. Ballard
Abigail Barden
Kathryn Batson
Martha Beard
Earl & Ann Beede
Jeffrey & Magali Belt
Reshma & Mark Berryman
Jim Bodeen
Andrea Bolliger
Gro A. Buer
Julie Burtt
Carla Carroll
Dee & Terri Cole
Mary Anne Coles
Carolee Colter
Emily L. Cook
Kathy Copeland
Bill Corr & Pam Mills
Ginelle Cousins
Lourene Criddle
Gloria Derbewka
R.D. Dickerson
Janet & Jon Dowell
Ruth S. Dunlop
Linda Ellsworth
Mary E. Embleton
Pamela M. Engler
Jennifer & Jeff Ernst
Michael Flint
Jeremy C. Fox
Polly Freeman
Sarah Gardner/Adam Wolf
Susan Gillespie
Marcia A. Glover
Sally Goodwin, M.D.
Laura Grignon & Greg Langkamp
David Gross & Kelly Sweet
MaryElizabeth "Meg" Gruwell
Jeffrey Hamblin
Derek Hart & Karen A. Lewis
Esther Hazelet
Antje Helfrich & Nancy L. Shawn
Mary Jane Helmann
J.A. & C.E. Hollis
Irene Holroyd & Patrick Perkins
Sheila Hosner
Joel & Cynthia Huesby
Betty H. Hughes
Pam Kalian
Virginia A. Kelley
Frank Langer
Marjorie F. & William P. Laughlin
Rick & Missy LeDuc
Margo Leishman & Bil Moorhead
Ronald D. Long
Gail Malizia
Julie B. Margulies
T. Jack Matsui
Deena C. McCloskey
A. F. McErlich
Lyn McKay
Katherine P. Medak
Joyce J. Michelson
Sheila & Jim Molnar
Bruce Naftaly
Maren Nelson
Sabrina Oesterle
Christy Papadakis
Aline Parker
Rebecca M. Peck
Joanne Polayes
Michael Popiwny
Frances R. Posel
Wanda & Rebecca Raven
J. Bruce & Sharon Reeder
Roberta L. Rigby
Alexander Rist
Leigh Ann & Steve Robinson
Deborah L. Roemer
Joanna Rogulski & Christoph Bichsel
Beverly Marshall Saling
Carla Saulter
Jim & Loretta Scott
Linda K. Shaw
Anita Shelton
Mary Simon
Laurie J. Simpson
B. Sinclair
Stephani Siudmak
Howard Stambor
Patricia Stambor
Renee Such
Eric Thorsen
Norman F. Tjaden
Kathy Trani
Kelsey Vaughn
Betty Lou Wagner
Andy & Wendy Walker
Barbara Warden
Mary White
Sarah Wilfert
Jennifer Winters & Tony Earle
Caryn & Matt Woodward
Wendy Zieve
Employees of the State of Washington
In honor
Oogie
In memory
Anna E. Armstrong
Marjorie O'kuma, gardener
PCC Staff
More than one hundred PCC staff members make voluntary payroll deductions twice a month.
Foundations
The Quixote Foundation
Businesses and Organizations
Amgen Foundation (matching)
Choice Organic Teas
Clean Earth/PureAyre
Fountain-Light Electric
Microsoft Matching Gifts Program
Organic Valley
Family of Farms
Restaurant Le Gourmand
TalkingRain
Beverage Company
Wildwood Harvest Foods
---
The PCC Farmland Fund works to secure and preserve threatened farmland in Washington State and move it into organic production. For more information, see the PCC Farmland Fund web page.