Make it from scratch — Have a Slow Food Thanksgiving
This article was originally published in November 2002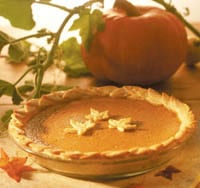 (November 2002)
---
Pecan Pie
This recipe substitutes honey and maple syrup for corn syrup, which typically is non-organic and includes genetically engineered corn. These ingredients are wholesome and natural, but this is not a low-fat or low-calorie pie. Cutting the pie into 10 to 12 slices provides just enough, without being too much of this rich dessert.
Yield: one 9-inch pie
3 eggs (or 1 egg yolk and 3 egg whites, or equivalent Ener-G powdered egg replacer)
1/2 cup honey
1/3 cup maple syrup
2 teaspoons vanilla
1/8 teaspoon salt (optional)
2 tablespoons unrefined sesame oil (or butter)
1 1/2 cups broken pieces pecans
One unbaked 9-inch bottom crust, chilled.
Preheat oven to 400 degrees F. If using butter, melt and cool. In a mixing bowl, beat eggs with whisk, then add sweeteners, vanilla and salt, plus oil or butter. Fold in nut pieces.
Pour into pie crust and bake for 10 minutes, reduce heat to 350 degrees F and continue baking for additional 25 minutes until set but not dry.
Best served warm, but may be cooled to room temperature. Top with nonfat frozen vanilla yogurt or ice cream!
---
No-eggs, No-dairy Tofu Pumpkin Pie
1 pound tofu, drained
1 can pumpkin (or 21/2 cups mashed cooked pumpkin, winter squash, yams, or sweet potatoes)
Juice of one lemon
1 tablespoon pumpkin pie spice
(or 1 1/2 teaspoons cinnamon, 1/2 teaspoon ginger, 1/2 teaspoon allspice, 1/2 teaspoon nutmeg)
1 tablespoon vanilla
1/2 cup honey
1/2 cup molasses (or 1/4 cup molasses and 1/4 cup barley malt sweetener)
9-inch pie crust
Blend all filling ingredients until very smooth. Pour mixture into a 9-inch crust and bake in a preheated 350 degree F oven for 60 to 70 minutes. Pie should take on the same appearance of doneness as a regular pumpkin pie, and will be quite firm. It will become thoroughly firm as it cools. Refrigerate for at least an hour before serving.
---
Two alternative pie crusts
Wheat-free Pie Crust
1/3 cup barley flour
1/3 cup soy flour, or
  (1/6 cup soy, 1/6 cup brown rice flour,) or
  (1/3 cup partly ground whole sesame seed meal)
1/3 teaspoon salt
1/4 cup water
3 tablespoons oil
Stir flours together with salt directly in a 9- to 10-inch pie pan. In a cup, mix three tablespoons oil and three tablespoons water with wire whisk until emulsified (mixed well). Add to flour slowly, stirring with fork; lightly knead in pan and flatten, pressing into shape with fingers. Lightly prick bottom and sides with fork tines. For prebaked crust, bake 10 minutes at 400 degrees F; otherwise proceed according to recipe.
Above recipe adapted from "The Oats, Peas, Beans and Barley Cookbook," by E. Y. Cottrell, Woodbridge Publishing.
Nut and Crumb Pie Crust
Makes one bottom crust for one 9-inch pie. (This recipe also works well with wheat-free crumbs.)
3/4 cup finely ground nuts (from 2/3 cup nuts)
1/2 cup fine dry bread, cracker, or cookie crumbs
2 tablespoons oil, melted butter, juice, or water
1 tablespoon honey or fruit concentrate (such as Mystic Lake)
Mix and press into pie plate. Works best as a pre-baked crust. Bake at 350 degrees F for 8 to 10 minutes. Cool and fill as desired.
Adapted from "American Wholefoods Cuisine," by N. & D. Goldbeck, Plume Publishers.
---
Green Kale Waldorf Salad
Serves 4 to 6
Cashew Dressing
1 cup cashew nuts
1/2 cup orange juice
1/2 cup water
4 tablespoons lemon juice or to taste
2 teaspoons Dijon mustard
pinch of salt
Salad
1/2 cup walnuts (or sunflower seeds)
3/4 pound or 1 bunch curly green kale
2 apples, sweet and firm (or 1 apple and 1 pear)
2 oranges
1/2 cup apricots, figs, dates, or raisins, chopped
1 cup red grapes
Leave the walnuts raw or toast them in the oven at 250 degrees F for 8 to 10 minutes. Chop into rough pieces.
Rinse the kale thoroughly to remove any dirt. Remove the core and cut into very fine strips. Rinse the apples and cut each one into 4 wedges. Remove the seeds and cut into small diagonal slices. Peel the oranges with a knife and slice into wedges.
Mix all ingredients together. Before serving, mix in the dressing with the salad.
Recipe by Chef Birgitte Antonsen, Head Chef at Café Ambrosia and PCC FoodWorks instructor. She also offers private cooking classes and personal chef services. Call Birgitte at 425-640-2952.
---
For more great recipes, see our Recipe database.