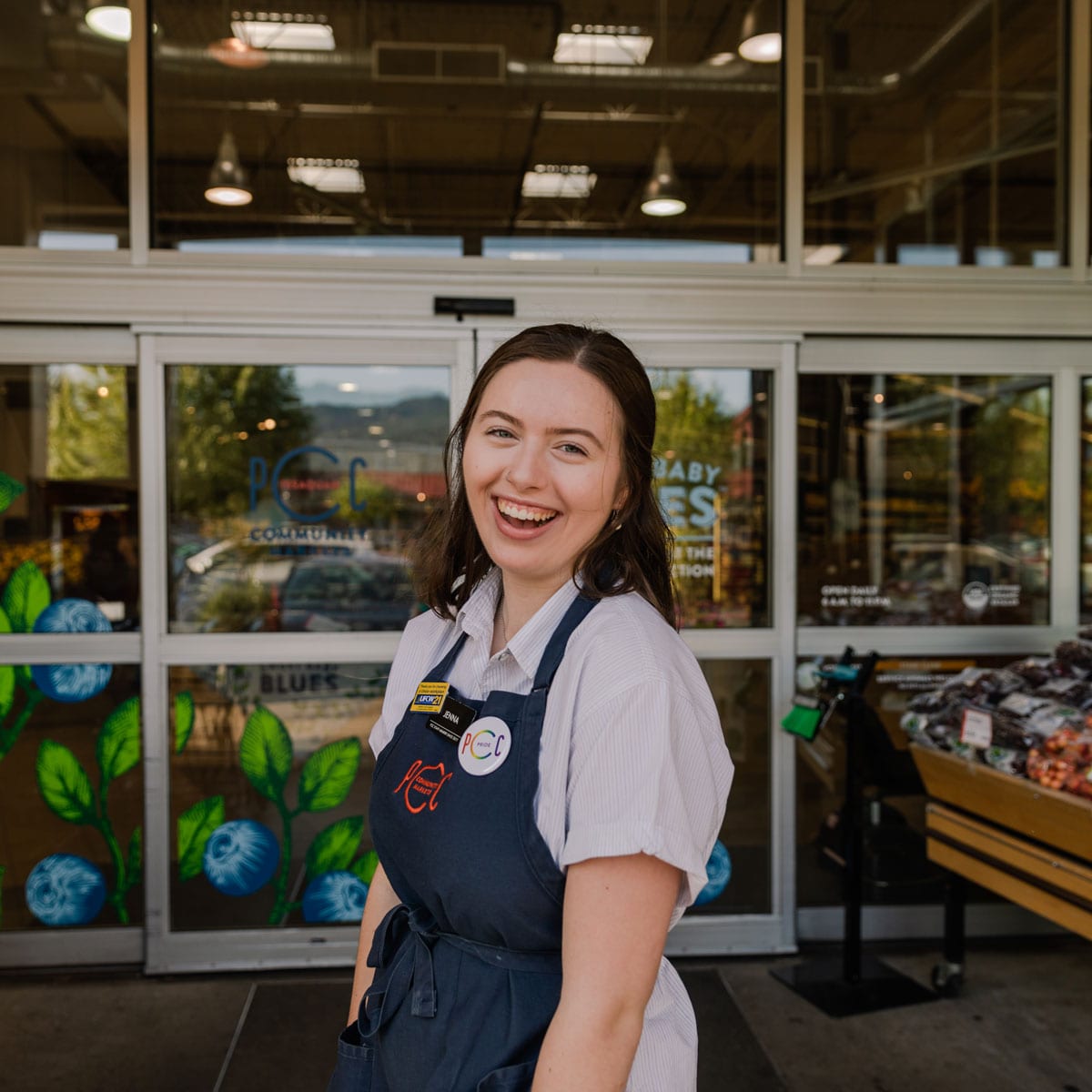 This profile was originally published in October 2019
Jenna Brandt
Courtesy Clerk | Issaquah
You'll recognize Jenna Brandt, Courtesy Clerk at Issaquah PCC because she's always smiling. Just ask her coworkers or the dozens of customers she interacts with on a regular basis.
The former shy girl says her job "talking to people all day" helped her become more outgoing. She's been vegan for the past few years and loves chatting up customers about what recipes they're making with the seasonal fruits and veggies in their carts.
The high school senior has worked for PCC for about a year and a half, however her memories go back to when she was a kid, shopping for groceries with her parents. Jenna remembers the staff being so nice and liked that the co-op had partnerships with local farms. So, when it was time for her first job, she knew PCC would be a perfect fit.
As it turns out, Jenna is a perfect fit for PCC. She attends Running Start through her high school, which means she takes college classes several days a week, giving her a lot of flexibility — something she really likes about both her school and work life. Another thing she likes? The paid time off PCC provides.
On days she works after class, Jenna spends some time on homework, then heads in for her evening shift.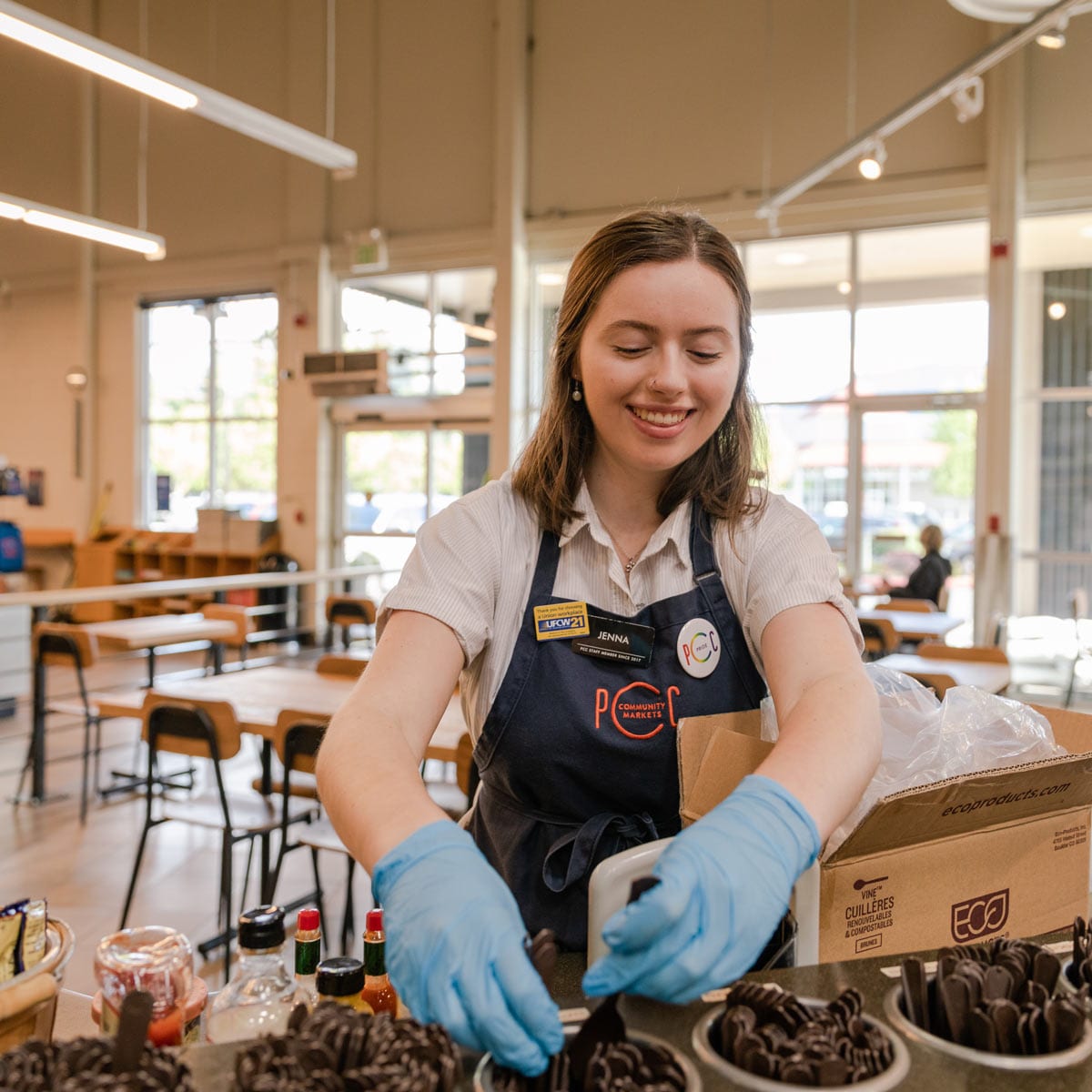 5:00 p.m
Jenna is an extremely upbeat, go-with-the-flow kind of person, so she's happy just about anywhere, from packing groceries into reusable bags at the registers to collecting carts from the parking lot outside.
6:00 p.m.
It's time for Jenna's routine store check, which includes making sure there are no hazards like wet floors or spills in the aisles. She also does the nightly "temp walk" to ensure the freezers and refrigeration cases are at the correct temperatures.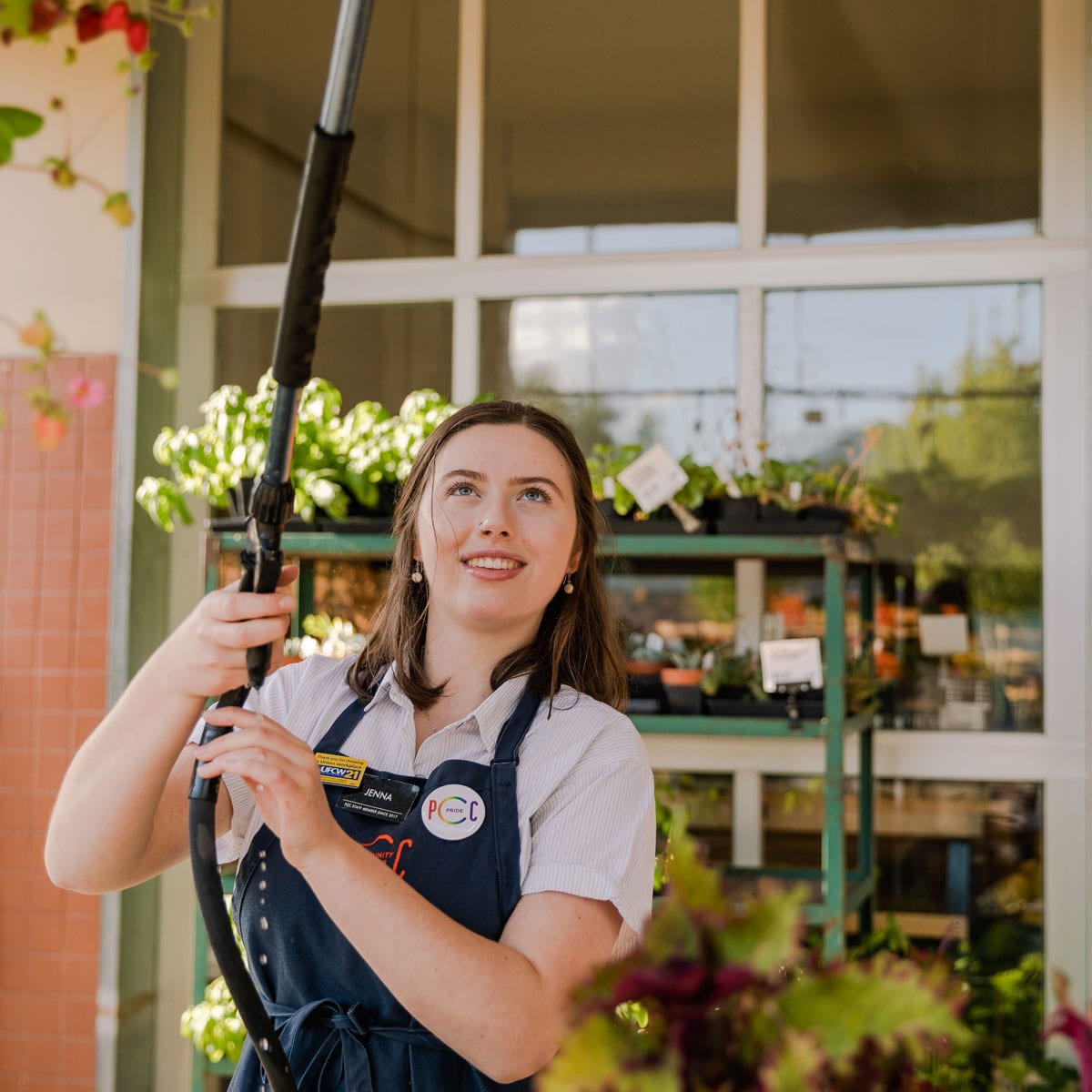 6:45 p.m.
Even when she's on break, Jenna's bright, engaging personality shines through. She genuinely cares about her customers and coworkers, often asking how they're doing. And if she thinks you need it, you might get one of her famous pep talks.
While she's one of the youngest staff members at her store, Jenna says everyone has made her feel so comfortable. "There's a sense of community you won't find anywhere else," she says.
7:00 p.m.
During the last part of her shift, Jenna spends her time bagging groceries and getting the store ready for closing, which includes things like sweeping floors, cleaning the eating area or, if it's warm outside, watering the plants, herbs and flowers in front of the store.
She calls PCC "one of her happy places" but when she's not working, Jenna likes to see movies with her friends, hang out at Rattlesnake Lake in nearby North Bend and make recipes from the vegan cookbook her coworker gave her, including her newest favorite: soba noodle salad with peanut sauce and veggies.