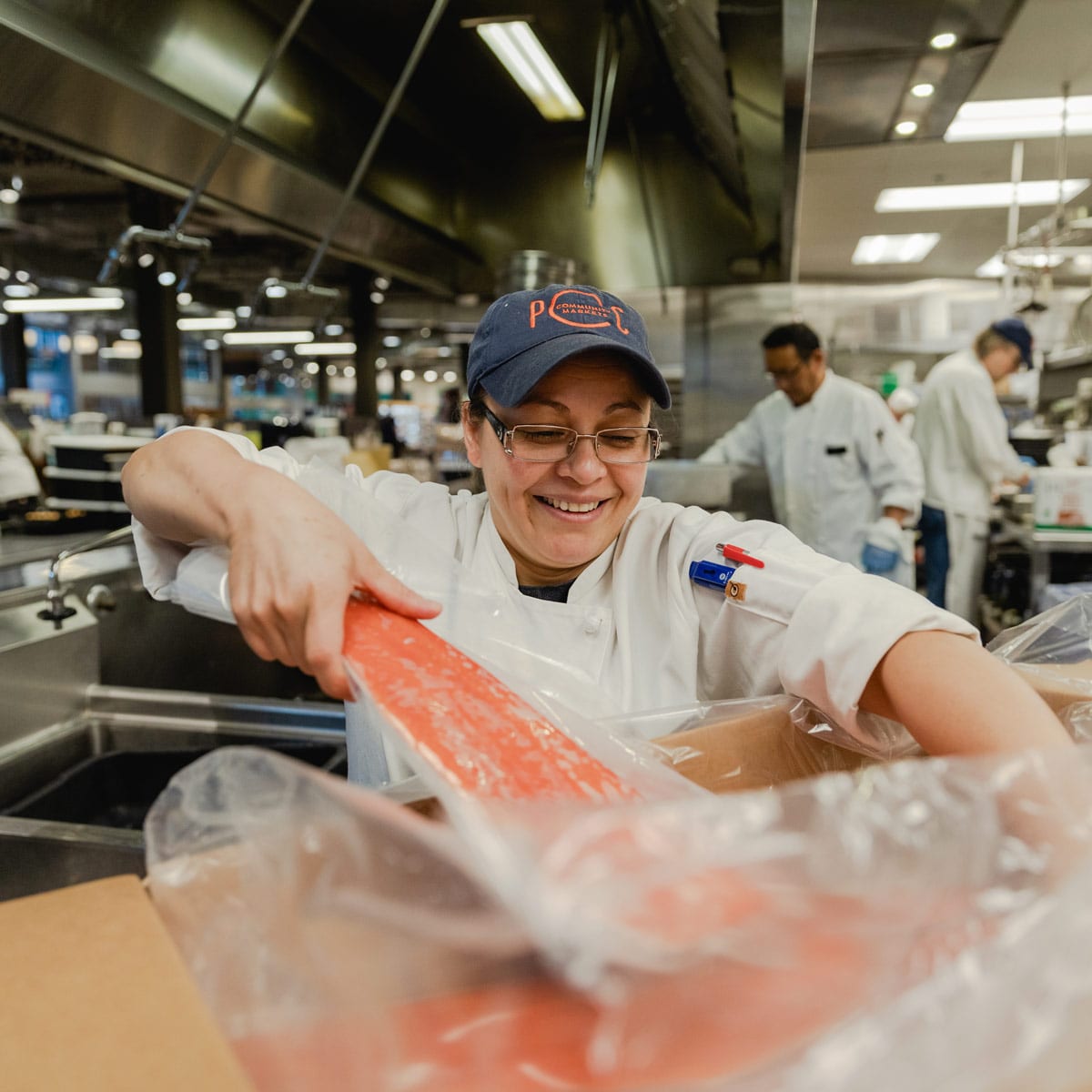 This profile was originally published in October 2019
Aury Barrientos
Cook | Columbia City
If you're one of the regulars at Columbia City PCC, you probably know Aury Barrientos. But what you might not know is that the soft-spoken, cheerful cook has worked for the co-op since 2009, a few years after relocating with her family from the Petén region of Guatemala.
Aury got her start at the Kirkland store, then moved to Issaquah PCC and finally to Columbia City PCC when it opened in 2016. She says she's learned so much from working here — specifically, how to cook. She's an extremely fast learner, having picked up everything she needs to know on the job. Another skill she's picked up? Speaking a new language. By listening to her customers and coworkers, she's improved her English, adding that "it's better than an ESL class."
Aury's alarm goes off at 4 a.m., long before her husband and baby boy are awake. She leaves her house in West Seattle by 4:30 a.m., just in case there's traffic or the bridge is up (which often it is).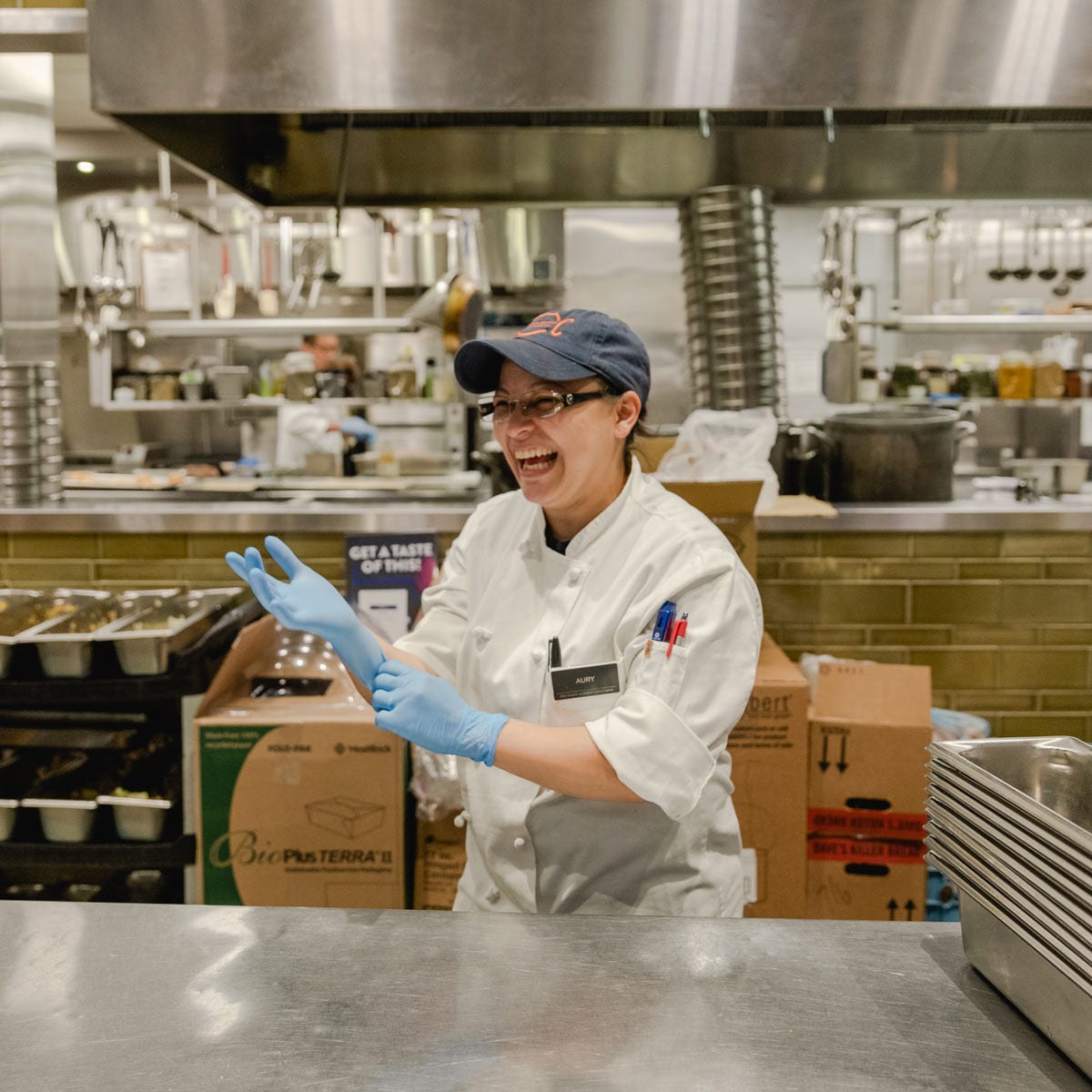 5:00 a.m.
Her first priority is making sure special orders are ready for the day — Aury is passionate about these being right. She's extremely organized too, so she doesn't get overwhelmed by all the platters and scratch-made salads waiting to be picked up.
6:00 a.m.
Soups and hot bar items go out as customers start to come in. And once everything's set up, "the real work starts." Depending on the day, Aury could be cooking up Buffalo Chicken Wings, Roasted Tomato Pasta Salad or Grilled Sockeye Salmon — a PCC and Pacific Northwest favorite.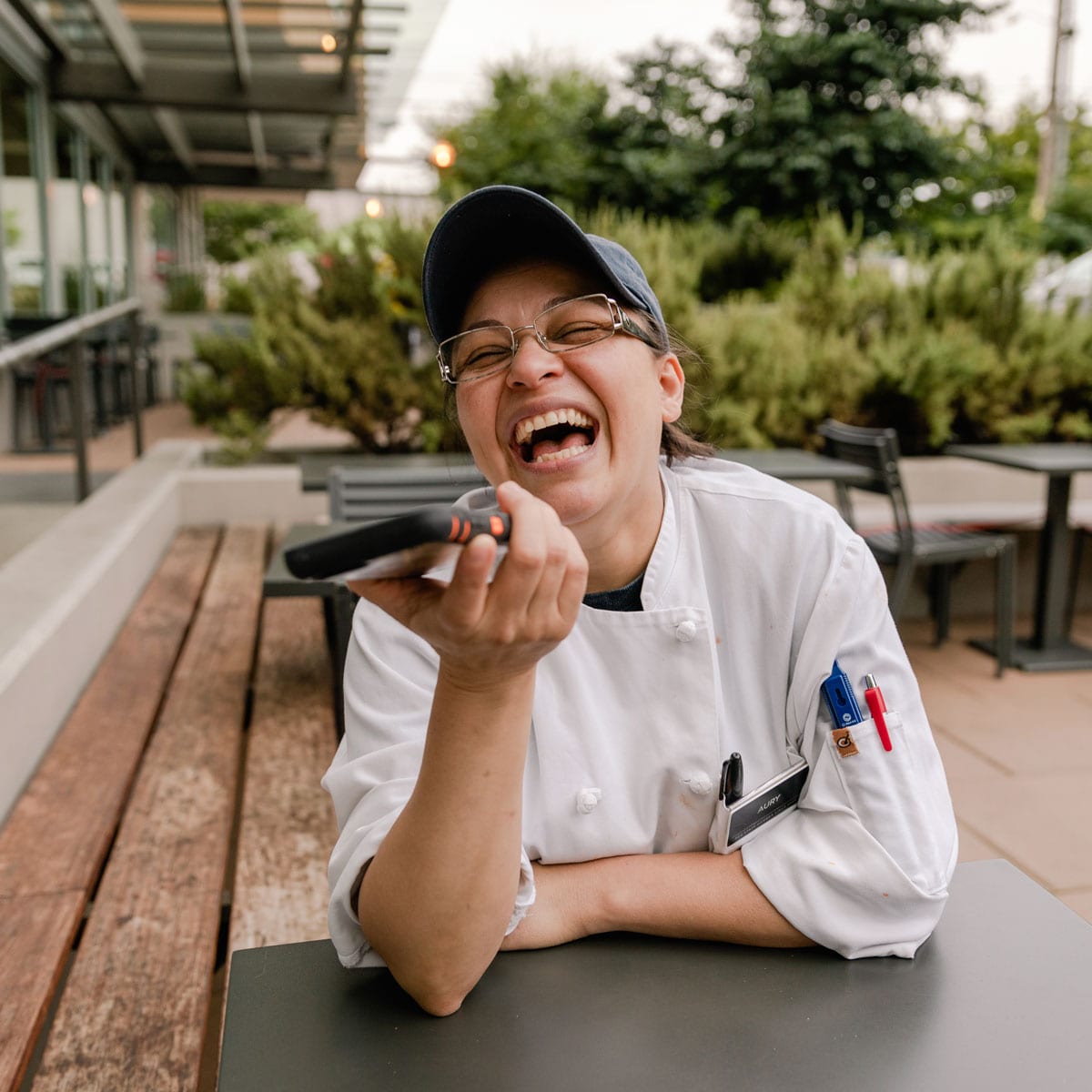 8:20 a.m.
She's excited to take her first break, but not for the reason you might expect. Aury gets on the phone with her baby to say good morning. When he was born two years ago, she was able to take 12 weeks of maternity leave, plus another four weeks of vacation time, making their first four months together priceless.
10:00 a.m.
Aury is back to cooking the day's feast, which means more soups, stews and because "it gets pretty hot in there," more steamed-up glasses.
1:00 p.m.
With the lunch crowd in full effect, Aury makes herself available to answer any questions from her customers, like how spicy the Pepper Beef is or if the African Peanut Soup is vegan (FYI, it is).
1:30 p.m.
Her shift ends by early afternoon; however, her day is just getting started. After work, Aury picks up her son from daycare and heads to the park to play or to read one of his dinosaur books. Once evening rolls around, she's usually too tired to cook, so Aury relies on PCC's hot bar to refuel at dinnertime, taking advantage of her 15% staff discount. Her favorite dish right now? Asparagus Ravioli Salad.
When she's not working or spending time with her husband and son, Aury is extremely involved with her church. She spends a lot of time organizing activities for the women's group she leads, including Bible study socials and fundraisers selling homemade tamales and Salvadorian food.