Community grant: Bellevue Lifespring
This article was originally published in December 2015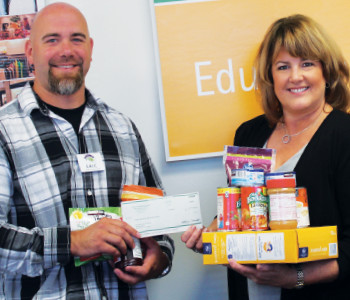 Pictured: Eric Branthwaite, Redmond PCC Assistant Store Director and Jennifer Fischer, Executive Director of Bellevue LifeSpring.
We're excited to announce that our fourth and final Community Grant of 2015 has been awarded to Bellevue LifeSpring.
This nonprofit organization serves children and their families living in poverty in Bellevue, Wash. Its mission is to foster stability and self-sufficiency for Bellevue children and their families through programs that feed, clothe and educate.
Despite the belief about the affluence of Bellevue, nearly 4,000 children are living near or below the federal poverty line. Bellevue LifeSpring's Breaktime-Mealtime program provides these children with the nutritious meals they need to learn and succeed during breaks from school. Each meal box contains breakfast, lunch and a snack for each day of the break and a grocery store gift card for perishable foods. Boxes are provided for all the children in the family, the contents of which are reviewed by a nutritionist. Breaktime-Mealtime provided a total of 3,115 boxes and 82,760 meals in the 2013–2014 school year. In addition, 61,000 snacks were provided to students in summer school classes.
Every dollar of our grant will provide one meal for a child in need. Learn more about PCC Community Grants.