Become a liver lover
This article was originally published in October 2015
It's high time to rethink liver's reputation. When cooked properly, it's absolutely delicious — rich and tender like no other meat. And, while its role is to process toxins, it doesn't store them. It actually neutralizes them, thanks to its powerful mix of nutrients.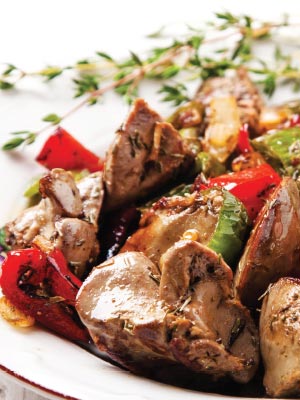 The liver available at PCC is from organic chickens, pastured lamb or grass-fed beef; it's been cleaned and trimmed for easy preparation. Liver is known for its strong flavor, but when accessorized correctly this is actually a benefit to your recipes. Chicken livers are the mildest (and commonly found at Seattle's upscale restaurants as mousse these days), while beef liver is, perhaps not surprisingly, the strongest tasting. Lamb liver is a delightful in-between choice, both in its surprising tenderness and its moderately intense flavor. While it's almost unknown to those who grew up in the U.S., it's a common choice throughout the Mediterranean.
Need reasons aside from flavor to give liver a try? There are plenty, particularly when looking at the nutritional profiles of liver from animals raised on healthy pastures. Liver has been called "nature's most concentrated source of vitamin A" and also offers abundant iron, folic acid, copper, choline, vitamins E and K, and CoQ10.
In our online recipe collection, you'll find updated versions of two classics (Chicken Liver Mousse and Beef Liver and Onions). With proper cooking techniques, these two are entirely delicious. If lamb liver has piqued your interest, try the delicious Washington version of a common Turkish kebab, with liver, smoked sausage and apples.
Find recipes
Find recipes for Liver and Onions, Chicken Liver Mousse, Sautéed Chicken Livers and Peppers and Lamb Liver Kebabs.