Community and features
This article was originally published in June 2014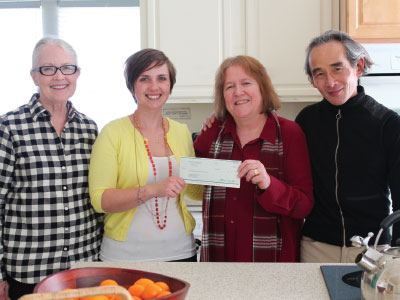 And the award goes to…
We're delighted to announce that our second Community Grant has been awarded to the Kids Kitchen program run by Gilda's Club, on Capitol Hill in Seattle. Gilda's Club offers community-based programs of social, emotional and educational support for people living with cancer along with their families and friends. Founded in 2002 by Anna Gottlieb and Sally Benson, Kids Kitchen is just one component of the year-round Family Cancer Support Program. All children in the program have been affected by cancer, and Kids Kitchen helps these children gain skills and self-confidence as their family adjusts to a new normal.
Kids Kitchen teaches kids to plan and prepare healthy, balanced, tasty and affordable meals — and they get to eat what they prepare that day, sharing food with other children in similar life circumstances. The recipes are designed for children to replicate at home, which is particularly useful in families with an ill parent.
Our $1,000 award allows Gilda's Club to expand the Kids Kitchen from once to twice per month.
Big Day of Play
Mount Baker Rowing and Sailing Center
Sunday, June 29, 11 a.m. to 3 p.m.
Seattle Parks and Recreation Department has a new location for this free, family-friendly event. You'll find pop-up play adventures and libraries, basketball and bicycling activities, and Lake Washington boating and paddling activities. Look for two PCC trucks offering cooking demos and helping kids assemble healthy trail mix from scratch.
Check out our web videos
Make simple summer pickles
With three different vegetables and a simple blend of spices, these quick pickles are bright and crisp. Watch video »
Visit the Rainier Valley Food Bank
The PCC Food Bank Program supports eleven food banks thanks to the donations and volunteer efforts of our staff and customers. Watch video »
Make Kale Pesto
Jackie Freeman makes truly kid-friendly Kale Pesto with four-year-old Kazou and his mom, Sharon. Watch video »