8 refreshingly brilliant shades of white
by Jeff Cox, Wine and Beer Merchandiser
This article was originally published in July 2012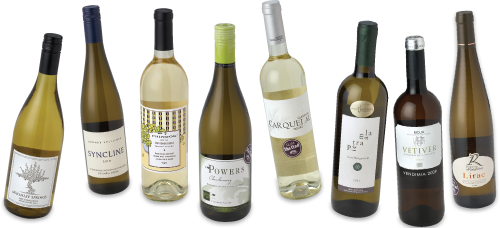 We don't usually say "white" when talking about flavors — or colors. But just as white light combines all the colors of the rainbow, white wines offer a world of brilliant flavors to be sipped, discovered and savored. Fill your glass and color your summer with these beauties!
McKinley Springs "Confluence" White Add to list — This reminds us of fine late spring or early summer days when the air is lush with the fragrance of a bazillion blossoms. A blend of chenin blanc and viognier, it shows notes of white flowers, fresh clover and ripe nectarines. Voluptuous, but crisp and agile, its perfectly ripe fruit character dances on the palate.
Syncline Grüner Veltliner Add to list — A gorgeous shade in the Cascadian palette of flavors, this wine marries the Old World character of the variety with a distinct accent of Northwest character. Notes of meadow grass, ripe tangerine and white pepper sing high harmony over a lush mouthful of crisp fruit that moves with exuberance, balance and grace.
Chinook Sauvignon Blanc Add to list — Truly great things never go out of style! One of our perennial favorites, this elegant sauvignon offers luscious flavors of late-summer fruits such as melon and peach, with bright notes of citrus and a kiss of new wood. A generous but crisply balanced texture makes it a great match for a wide variety of Northwest seafood and fresh seasonal produce.
Powers Chardonnay "Farmland Trust" Add to list — The sleeker, brighter, racier side of Chardonnay, this is a rodeo cowboy paying respectful homage to the lean, dancing-on-point beauties of Chablis. Downright sunny in disposition, kiwi and juicy lemon fruit ride from the glass into a sunset scented with cool stones and high lonesome sagebrush. It'll dance with anything fresh, especially tuna, shellfish, grilled vegetables, seasonal greens and local cheeses.
Quinta do Carqueijal Branco Add to list Cerceal, Fernão Pires, Malvasia Fina — they're a sultry samba of syllables and the three grape varieties that harmonize to fill your glass with amazing, exotic flavors. Notes of pear, a hint of tropical fruit and almond blossoms weave a generous texture, with wafts of wild herb and cool minerals to offer counterpoint, while crisp acidity lends a bright shimmer.
Terre Margaritelli "Pietramala" Add to list — This estate's biodynamically grown wines capture the essential flavors of Umbria. A blend of grecchetto and trebbiano, its luscious, focused fruit is accented with notes of Meyer lemon, salt air, wild herbs, citrus blossom honey and a hint of green olive. Intriguing, enchanting and as delicious as it is unique.
Ontañon "Vetiver" Crianza Rioja Add to list — While the word "Rioja" is nearly synonymous with red wines, the region is the source of enchanting white wines that give a racy expression of minerally terroir. Made of 100 percent viura, this brilliant wine offers aromas and flavors of juicy citrus and tangy kiwi fruit, accented with a hint of exotic spice and a suggestion of chili pepper. Fabulous with grilled fish or vegetables (and a natural with paella, of course).
Domaine la Rocalière Lirac Blanc Add to list — Grenache blanc is one of those grapes that seldom gets much respect but is capable of amazing beauty and depth when grown in the right place, with loving care. Such is the case here, where it weaves a texture of sleek citrus and crisp melon fruit. Nuances of jasmine, verbena and honeysuckle add a bright shimmer to the texture, then segue to a long, fresh finish.