PCC pizza, made fresh in our delis
This article was originally published in April 2012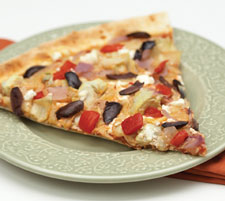 We offer pizza for every occasion — ready-to-eat pies for a quick meal or party or take-and-bake pizza to enjoy at home with family and friends.
Taste the delicious difference in our quality ingredients: Organic dough made with whole-wheat flour, organic sauce, fresh whole-milk mozzarella and feta cheeses, organic vegetables and flavorful meats.
Baking at home? Look below for instructions.
Take-and-bake pizzas
Available at all stores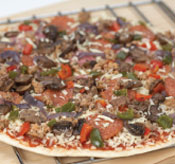 We offer our signature pizzas at every PCC location. Our take-and-bake pizzas are made fresh.
Pizzas will come on a slightly baked, organic crust that can be slid directly onto the oven rack or on a pizza stone. They're made with organic tomato sauce and are topped with an excellent whole-milk mozzarella cheese that melts just right and is free of rBGH.
Cheese — Whole-milk mozzarella cheese, pizza sauce.
Pepperoni — Uncured pepperoni, mozzarella, pizza sauce.
PCC Supreme — Uncured pepperoni, PCC's own Italian sausage, and roasted mushrooms, onions and peppers.
Roasted Vegetable — Roasted onions, mushrooms and peppers, mozzarella, pizza sauce.
Vegan Pesto — Layers of pesto and pizza sauce, artichokes, roasted tomatoes and mushrooms, and kalamata olives.

To bake: Remove plastic wrap. Preheat oven 425° F. Slide pizza off cardboard onto baking surface or directly onto oven rack. Bake for 8 to 10 minutes or until cheese bubbles. Remove from oven and let sit 2 minutes before serving.

Nutrition info: Nutrition info on our take-and-bake pizzas.