What's in store for September
This article was originally published in September 2011
A sampling of the thousands of all-natural items you'll find at your neighborhood PCC. Also explore the newest products to grace our shelves.
In the meat department


Local, organic chicken

Thanks to a natural way of life, PCC Organic Chicken features fantastic flavor that can be enjoyed across a spectrum of cuisines. The chicken is raised just a short drive from our stores on farms nestled throughout the Skagit Valley by Draper Valley Farms, based in Mt. Vernon, Wash. Inside the barns, the chickens are allowed to run about in a non-crowded environment, with natural daylight, fresh air and 24-hour access to clean water and feed. They have means to the outdoors and eat a certified organic diet of GMO-free corn, soy and vitamins. They're never given antibiotics or hormones at any time.

Try our recipe for Chicken, Andouille and Sweet Pepper Jambalaya and Gorgonzola Chicken with Grapes and Figs.
---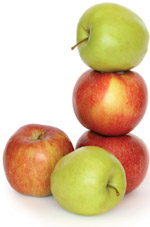 In the produce department


Alluring apples

With summer winding down, apple season is gearing up, and when you live in Washington state, that means there's a seemingly endless supply of apple varieties. We regularly carry eight different apple options, from the tarter Pink Lady to the classic Granny Smith. George and Apple Otte of River Valley Organics in Tonasket, Wash., help us kick off this time of year with their crunchy treats. Their organic Gala apples are irresistibly sweet and juicy with a snappy, crisp texture, making them the perfect snack and an ideal dessert apple. Sweet, organic Honeycrisp apples also will arrive from the Ottes in mid-September.

To learn more about River Valley Organics and to take a trip through their orchards.
---
In health and body care


Gluten-free options for your skin

As the first retailer in the nation to be endorsed by the Gluten Intolerance Group, PCC offers more than just food when it comes to gluten-free products. Our selection of gluten-free body care allows those with sensitivities to safely hydrate their skin with nourishing lotions, creams and body butters.

Desert Essence Organics offers gluten-free hand and body lotions in enticing scents like Coconut Lime and Spicy Vanilla Chai. Tired hands? Try their Pumpkin Spice Hand Repair Cream. Hugo Naturals All Over Lotion is rich and creamy, absorbs quickly and provides deep, lasting hydration. Choose from Lemon Verbena & Bergamot, Vanilla & Sweet Orange and more. The Organic Shea Cream from Organic Essence provides lasting comfort, and it's packaged in a biodegradable jar. And Acure Organics' luscious, gluten-free lotions in combos such as Mandarin Orange + Mango and Lavender + Lotus Flower will quickly liven up skin.

For a complete list of our gluten-free health and body care products, visit our database.