Editor's picks for January
This article was originally published in January 2011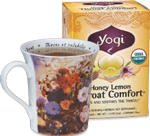 Yogi Throat Comfort Tea
When stricken with a scratchy, sore throat, fire up the teakettle, grab your favorite mug, and open a box of Throat Comfort tea. This soothing blend quickly works its magic, providing relief to irritable throats. Featuring a combination of slippery elm bark and mullein, this certified organic herbal formula also contains wild cherry bark for comfort, and licorice root for a slightly sweet flavor. Plus, it's locally made by Yogi in Eugene, Ore.
Also try: Traditional Medicinals Organic Throat Coat tea and Just for Kids Organic Throat Coat tea. And why not brighten up your desk with a decorated mug from PCC?
---

Wild Carrot Herbals Ginger Body Butter
Specifically formulated for those living in the Pacific Northwest, this rich butter will help you nurture your skin during the winter. Ginger-infused oil helps warm up damp, cold skin and stimulates circulation, while organic coconut oil, raw shea butter and virgin coconut butter nourish and hydrate. Locally made in Rickreall, Ore., this body butter is your new best friend!
---
Take a PCC Cooks class, host a party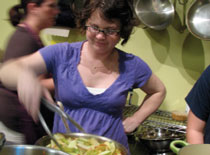 Infuse a little warmth and fun into the cool, winter months by taking a PCC Cooks class. Then host a gathering and share your newfound knowledge with friends by whipping up the recipes you've learned.
Try your hand at canning, learn how to make a Japanese one-pot dish, put together a gluten-free tapas party or discover exciting dishes from Cuba and the Caribbean. Explore our class offerings by picking up a PCC Cooks catalog in store, or browse classes online.